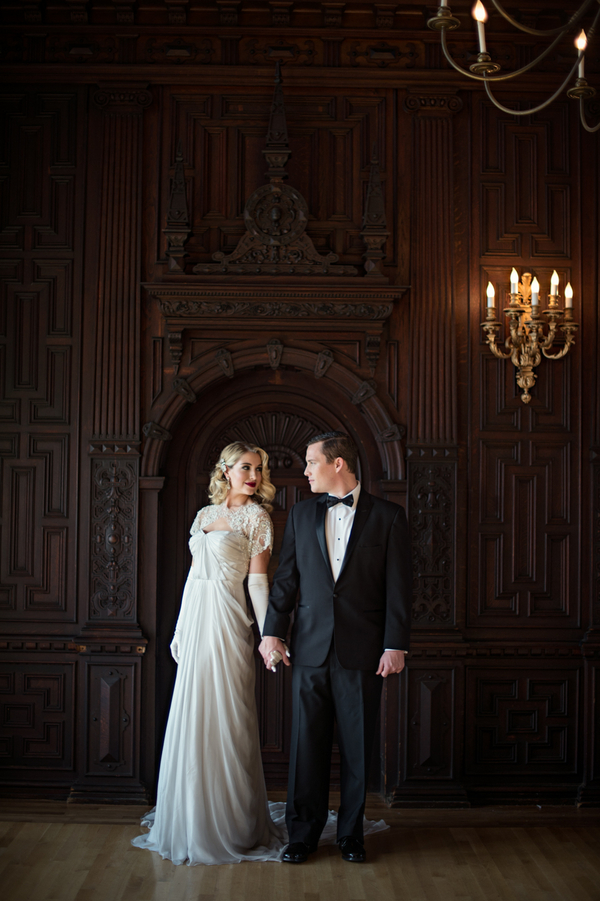 Classic Gatsby Wedding Inspiration
Seriously, ladies, prepare to swoon . . . then to swoon again . . . because this Gatsby wedding inspiration is beyond beautiful.  Ivory pearls.  Art deco stationery.  Fine china, sparkling linens, white feather details and breathtaking vintage garb.  Held on an overcast day at the New England seaside mansion, the Connecticut wedding venue Branford House, this shoot from Jubilee Events screams with a 1920s opulence, glamor, and romance that will leave you dazzled and wishing for more!  Photos by Hartford wedding photographer Carla Ten Eyck Photography!
THEME
The Great Gatsby
COLORS
Ivory, Blush, Jade, Gold
FLOWERS
Peonies, Orchids, Lilies, Hydrangeas, Anemones
PERFECT FOR
This look is perfect for someone who wants high glamour with a hint of vintage. In some looks, we took vintage literally, while in others, we were inspired by it and paired it with modern designs.
ITEMS TO INCORPORATE
The mansion's timeless, turn of the century beauty was further accentuated by a vintage sofa and tufted velvet chairs from New England Country Rentals. The lavish tablescape had a delicately sequined linen paired with mismatched antique floral china and Irish linen napkins trimmed in lace. The billowing flower arrangements from Hana Floral Design were the perfect finishing touch!
SIGNATURE COCKTAIL
Something with champagne, definitely! You could have a champagne bar with various types of bubbly and for a truly modern take, introduce champagne cocktails with various infusions such as lavender, ginger, pear, or raspberries!
TAKE IT UP A NOTCH
I love the idea of hiring a vintage band to play during cocktail hour to transport guests through music back through time; don't be afraid to bring in big, bold statements like lighting (chandeliers) and various lounge vignettes that compliment the style.
WHAT TO WEAR
From Beth Chapman, Fashion Stylist: The 1920's are one of my favorite eras for fashion. There was so much opulence and originality in the style of dress. I evoked the era with art deco inspired gowns incorporating beading and feathers. I selected several different looks, including a daytime look, to fully embrace the story of The Great Gatsby. For the daytime look (which ironically, we scrambled to shoot before sunset), I chose a Guiperre lace sheath by Ivy and Aster and feather trimmed cloche by my favorite hat designer, Bijou Van Ness. The look was completed by vintage bucks with a little heel. We also had Mr. Gatsby sporting a pair of bucks along with his tan suite from Valentino Tailors. As a more relaxed formal look, I styled the model in a long sleeve satin faced chiffon gown in a luxurious shade of grey from Ivy and Aster. We envisioned this as the perfect gown for Daisy to wear while joining her friends for cocktails on the veranda. The more formal gowns were by Rivini and Ivy & Aster. Of course, we couldn't represent the 1920's without long, luxurious gloves. Much of the jewelry used in the shoot was vintage from the era of The Great Gatsby by The Something Old Collection . Other pieces used were vintage inspired filigree, by Maria Elena. I selected a reception look for both the bride and the groom. I styled the bride in a short feathery confection from Ivy & Aster with a fabulous black vintage inspired headpiece from Maria Elena. The groom changed up his look by switching to an ivory dinner jacket. I just adore the idea of a second look for the groom as well! And of course, the more dapper the better, for Mr. Gatsby!
And be sure to check out this gorgeous behind-the-scenes video of the shoot by Jeremy White and Steve DePino!
Shoot Professionals
Photography: Carla Ten Eyck Photography | Planning & Design: Jubilee Events | Venue: Branford House | Florals: Hana Floral Design | Rentals: New England Country Rentals | Linens: Nuage Designs | Stationery: Coral Pheasant | Cinematography: Jeremy White and Steve DePino | Cake: Ana Parzych Cakes | Hair: Jennie Kay Beauty | Makeup: d.d. Nickel | Fashion Styling: Beth Chapman of The White Dress by the Shore | Gowns: Rivini and Ivy & Aster | Jewelry: Maria Elena and The Something Old Collection | Beaded Cape: Ivy & Aster | Tuxedos & Suit: Valentino Tailors | Feather Stole: The Bridal Dresser | Gloves: Carolina Amato