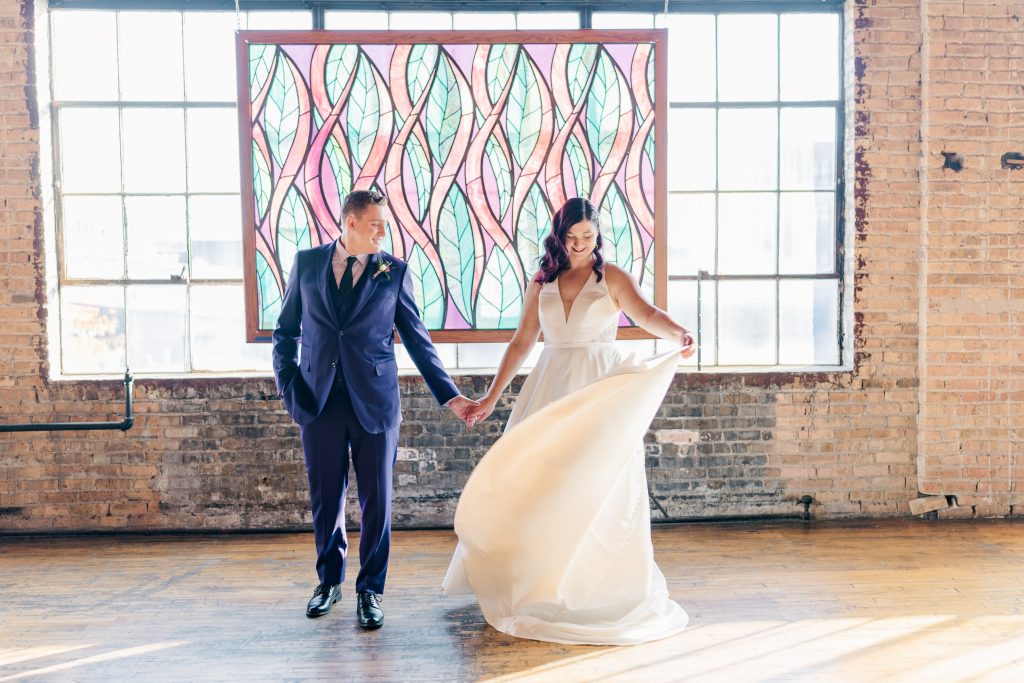 Chelsea and Tilo's Vintage Wedding at Salvage One
A decade-long journey from the start of Chelsea and Tilo's courtship led them to a significant milestone – their wedding at Salvage One. Amid the whirlwind of purchasing their first home and settling in, they embraced the adventure of wedding planning, which culminated in a joyous October 2022 celebration.
The couple's wedding theme was nothing short of captivating – a fusion of vintage Hollywood glam with a touch of steampunk flair. This unique blend created an ambience that was both elegant and whimsically unconventional.
The decision to hold the event at Salvage One turned out to be a perfect match for Chelsea and Tilo's vision. The venue's cozy and eclectic charm, punctuated by a captivating array of artifacts, provided a backdrop that required minimal additional decoration. Its inherent character harmonized seamlessly with the couple's vintage and eclectic vibes, resulting in an inviting atmosphere.
In a departure from tradition, Chelsea and Tilo centered their wedding day around joy and connection. They handpicked traditions that resonated with them, ensuring that the day was a delightful experience for themselves and their guests. Choosing not to have a conventional wedding party, they engaged their closest friends and family in various meaningful roles throughout the day, from pre-ceremony moments to capturing cherished memories in portrait sessions. Additionally, their ceremony was officiated by a long-time friend who knew them both as individuals and as a couple. Although concise, the ceremony was and heartfelt and their personally written vows spoke volumes about their shared life.
Their reception was set ablaze by the skilled DJ Spencer of Style Matters, who orchestrated the perfect medley of dances and ignited the dance floor with the iconic "Time Warp" from Rocky Horror Picture Show. During the celebrations, guests were free to explore the artifacts and curiosities that surrounded them within Salvage One's unique setting. Additionally, the couple treated their guests to an assortment of pie flavors from Hoosier Mama Pie Company.
Tilo and Chelsea's wedding was more than a celebration; it was an expression of their enduring love and partnership. Their vintage glam theme and amalgamation of unconventional elements made their wedding a reflection of the life they made together.

VENDORS

---