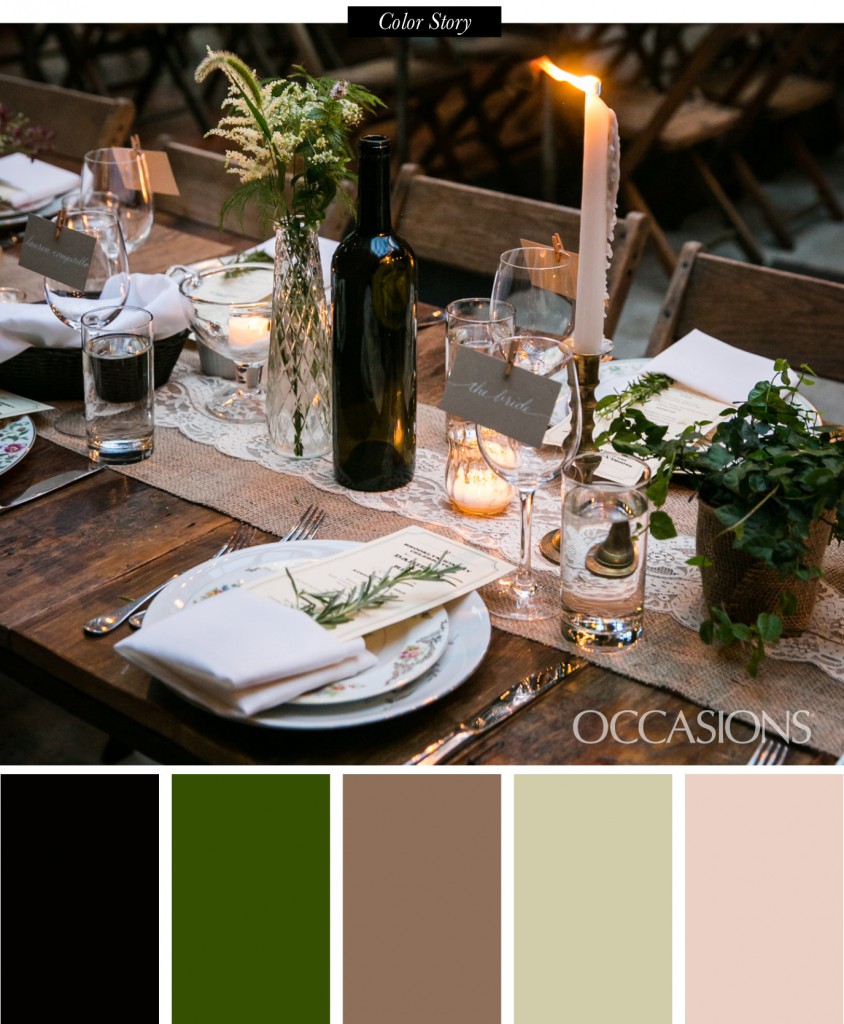 Brooklyn, New York Wedding at Brooklyn Winery by Kelly Williams Photographer
Intimate and elegant, the August wedding of Danielle and Rich at the Brooklyn Winery couldn't have been more perfectly suited to the bride and groom, the ultimate reality of the wedding they'd been dreaming of.  Guests were greeted with wine and candlelight as they entered a bright, glass-ceilinged room to witness the couple promise one another forever, the bride's own sister presiding.  Vintage decor of cafe lights and green garlands, lace and candlelight, spilled over into the reception area where guests enjoyed fare by Brooklyn Winery including a raw seafood bar, gourmet cheeses, and delectable passed appetizers.  Dinner was served French style with both fried chicken and crusted sole for guests to enjoy to their hearts' content alongside an array of sides and a dessert bar scrumptious enough to tempt any sweet tooth.  Entertainment by Scratch kept the dance floor hopping, where the newlyweds joined their guests for a long, beautiful night of love and precious memories.  The bride and groom exited the affair amid the well-wishes and cheers of family and friends, a honeymoon in Paris ahead.  This warm celebration of love is brought to you by Kelly Williams Photographer!
Tell us how you met. Was it love at first sight, blind date, friends forever?
We met at work! It took over a year for us to get together but after we went on our first date we were boyfriend and girlfriend in less than a month.
Smartest savings…
We got our invitations and programs from Minted.com, because at the end of the day, spending a ton on invitations doesn't really make sense!

Now for the proposal…details!
We got engaged in Italy! Rich rented a private villa on the Almafi coast for my birthday. It was the night we arrived and we were getting ready for dinner. I remember curling my hair and Rich insisting that I come out on the terrace for wine. I was like yeah, yeah, I'll be right there, but was taking my sweet time. When I was done getting ready we were having wine, the sun was setting, and he popped the question!
Tell us about your wedding gown.
My gown was a lace cap sleeve dress from Theia which I purchased at Lovely Bride NYC.

Tell us about your venue.
Rich and I have lived in Brooklyn, a borough of NYC for a few years. We love everything about Brooklyn, how distinct its character is, and wanted to have our wedding be in the place we love so much and call home. After we became engaged we waited 3 months to look at venues but the Brooklyn Winery was always top of mind. We went on a January afternoon to meet the owner and check out the space, and left an hour later knowing this was the venue for us. Brooklyn Winery and the amazing vendors we chose created a space and event that was reflective of our personalities.
What were your playful twists that made the event unique?
We had wine and champagne available when guests arrived so everyone has a drink during the ceremony! We really stayed away from doing anything too traditional or expected, We chose not to have a wedding party and kept it as small of an event as we could.
What was the best wedding advice you received?
To have the wedding you want, not what others want you to have. Don't get pressured into what family or friends think you should do – the day is about you and your spouse.
Was there a specific theme or style?
It was very natural and vintage. We wanted a warm & intimate setting which was accomplished while maintaining the "Brooklyn" persona. Our floral designer, Brittany Summers (also known as Miss Fancy Plants) strung cafe lights and amazing floral garland from the ceiling and constructed the most amazing floral aisle runner boxes. The lighting was very warm and dim. The long tables were adorned with lace table runners, candle light, bud vases and larger floral centerpieces. It was casual and warm and inviting. Nothing cheesy or too expected!
Did you DIY any of the details?
My husband designed our seat chart and had it printed on a board to look like a chalkboard. We had long tables to we needed to give people not only the table but also selected their seats. Once they got to the table we had Kraft paper place cards (we used a calligrapher) clothes pinned to their wine glass. My husband also made a sign for our Instagram hashtag which we thought was a cute idea.
Tell us about the food and desserts.
We still get compliments about our food! The cocktail hour and dinner was catered by the Brooklyn Winery. Cocktail hour consisted of a raw bar of oysters, shrimp and other seafood. We had local cheese and charcuterie plates and passed appetizers that were circulated like wasabi salmon and turkey meatballs with golden raisins. Guests were able to have two different types of proteins at dinner and could help them selves to sides and the salad. The salad we chose was a watercress salad with pomegranate seeds and pecorino. That was served family style. For dinner we had fried chicken and parmesan crusted sole with a beurre blanc sauce. The guests were served French style and could have both the chicken and fish and as much as they wanted. Our sides were macaroni and cheese and string beans with almonds. For dessert we opted to not get a wedding cake and instead did a dessert bar! We had pies from Butter & Scotch and donuts from Dough Brooklyn (both Brooklyn based ). We had sticky toffee trifle, s'more pies, banana toffee, and sour cherry pies from Butter & Scotch. The donuts we picked were amazing. Cafe au lait, toasted coconut, hibiscus and salted chocolate.
What kind of energy did your entertainment give the event?
We had a beautiful string trio from Central Park strings play during our ceremony.. They played everything from the Beatles to Sigur Rose and Etta James. Our DJ from Scratch records was awesome. She played classics from Sam Cooke, Elvis And Pink Floyd during our cocktail ceremony to upbeat indie pop and 50's-80"s classics during the party.
What was the most memorable moment?
There were so many amazing moments. I think two really stand out though. After the ceremony we were taken back to the bridal suite area so we could hang out for a little before joining everyone at cocktail hour. It was just the two of us, having champagne and some appetizers and it gave us a few minutes to just realize we were married and to enjoy that little bit of time alone. Another moment was at dinner. I was looking around this romantically lit room and everyone was conversing and eating and having a great time. We just felt loved.
Wedding Professionals
Venue & Catering: Brooklyn Winery | Photography: Kelly Williams Photographer | Floral: Miss Fancy Plants | DJ: Scratch | String Trio: Central Park Strings | Desserts: Butter & Scotch and Dough Brooklyn | Favors: Grady's Cold Brew | Photobooth: Magbooth | Invitations & Programs: Minted