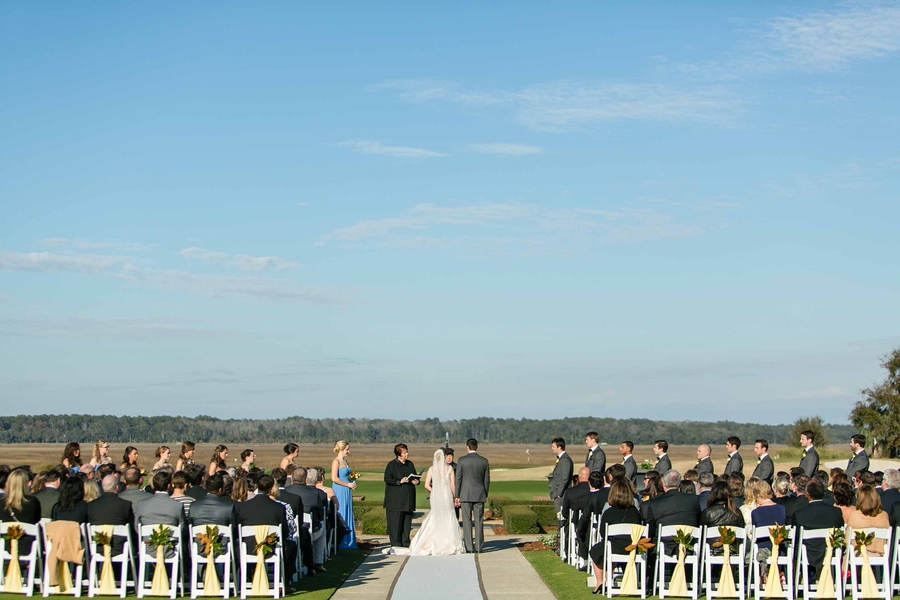 Bluffton, South Carolina Wedding at Belfair Plantation by J.Ashley Photography
A college professor performing the ceremony. Photos of Venice. Touches of magnolias seen from the bouquets to the wedding cake.  Megan and Brian's nuptials in beautiful Bluffton, South Carolina were rich with details of the couple's beautiful journey as a pair. The bride beamed with smiles as she shared a first look with her groom, the site of her in her silk, ivory gown stealing his breath away. Wisps of cloud brushed across the bright blue sky above the lawn where the ceremony took place, guests watching with joy as the couple was declared husband and wife. All journeyed inside South Carolina wedding venue Belfair Plantation for the reception, magnolia leaf escort cards guiding guests to their tables for a three course dinner, a dessert of lemon wedding cake with raspberry filling a sweetly satisfying conclusion to the meal. The Emerald Empire soon had both young and old out on the dance floor, the tunes keeping the party going hours into the night! The celebration is brought to you by Georgia destination wedding photographer J.Ashley Photography!
Please give us an overview of the event.
Our wedding and reception were at Belfair Plantation in Bluffton, SC, and the natural scenery there was so gorgeous that we didn't need to add much to it. Simple and romantic.

Tell us about your wedding gown and what your wedding party wore.
My dress was a Martina Liana gown, silk V-neck with plunging back and a chapel train from her Fall 2013 collection in Candlelight with a Swarovski crystal belt. Bridesmaids dresses were strapless chiffon gowns by Bill Levkoff in cornflower, and the groom and groomsmen wore charcoal tuxedos by Black by Vera Wang.
Tell us how you met. Was it love at first sight, blind date, friends forever?
We introduced ourselves in passing a few months before going to Italy, but didn't really interact or get to know each other until we started studying abroad in the fall of 2008. The house- Casa Artom- housed 18 students from Wake Forest University and our professor, so you really get to know someone quickly when you're together all the time. We were fortunate to travel all around Europe together during that semester and began dating during that time as well (we don't have an exact date as to when it happened).

Don't sweat…
The wedding programs and reception menus. I made the design for the top of them, then typed and printed them out myself. I used card stock, and just cut them in half. Seriously- people are going to throw them away immediately afterward, and your budget will always be tight anyway!
Smartest savings…
Our photographer, Jessica Ashley of J.Ashley Photography. I was living in Atlanta for medical school, and the wedding was in SC, so I'd initially looked into getting a different photographer for engagement pictures. Jessica's package (engagement + wedding photos) with travel cost was less than the estimates I was receiving for wedding photos alone in the Hilton Head. Plus, I was able to receive digital copies of all of the pictures from both the engagement and wedding shoots.

Was there a specific theme or style?
No, but Brian and I tried to combine a lot of important- and very distinct!- ideas from our lives. We met in Venice, Italy while we were studying abroad during our junior year at Wake Forest University. Our table numbers are various sepia pictures of Venice, our menu included risotto and caprese salad bite and other Mediterranean influences, our yellow roses were appropriately named "limoncello roses" (although that was just a fortunate coincidence!), and we had a gelato cart (from Pino Gelato) as a late night treat. The program director of our abroad program (and Wake Forest professor), David Hagy, even did a reading during the ceremony. In a nod to Wake Forest, we incorporated magnolia leaves into the floral arrangements (in reference to the Magnolia Quad), and were married by Dr. Susan Borwick, another professor at our school. Our cake had magnolias drawn into the fondant- it was a work of art that was also delicious.

Did you DIY any of the details?
So. as a medical student myself, this was not something I had any time for! My only contribution was to print the photos of Venice and write table numbers on them. My wedding planner, Jennifer Leiti of Embellished Events, made stands for the table numbers out of wine corks and wrote our guests names/their table numbers on magnolia leaves.
Tell us about the food and desserts.
The food was so good when we went for our tasting that Brian and I made sure we were going to have dinner ourselves that evening- none of that "I'm too busy to eat" business! We did a seated three course dinner- salad, main course, dessert. Our main course consisted of a dual-plated entree of roasted chicken and bacon-wrapped jumbo shrimp, so we didn't have to ask for menu choices on our response cards or worry about kitchen mix=ups or difficult ordering. Our sides were passed around family style, which I think helped make our 10-top tables more interactive. We had parmesan risotto, haricots vertes, and ginger carrots to pass. Our wedding cake was a lemon cake with raspberry filling and lemon buttercream, made by Ashlee Perkins at Tier Luxury Cakes. It was so delicious that I made sure to have a slice the next day before leaving on my honeymoon!
Now for the proposal…details!
I came up to New Jersey from Atlanta to be with Brian for Christmas in December of 2012. Brian had gotten me tickets for a Broadway play for my birthday (which was a few days earlier), so we had a fun day in New York City planned. We eventually ended up in Bryant Park, where there was a Christmas festival that was very reminiscent of one we went to in Venice while studying there. Brian completely surprised me by pulling the ring out of his jacket and getting down on one knee- I had no idea this was coming. We went to dinner at one of our favorite restaurants, before he surprised me again by taking me to another restaurant where both of our families met us. It was a great way to tell everyone our big news!

Splurge on…
The band!!!! Emerald Empire's performance at the reception was worth every penny alone, but they also played during the reception and during the cocktail hour. Their musicians are so talented – they can play multiple instruments and rotate who's singing- so we got even more bang for our buck.

What were your playful twists that made the event unique?
Neither of us are a fan of throwing the bouquet and garter. Instead, we did an anniversary dance, where all married couples go to the dance floor and the band leader sends them off until the last couple on the dance floor is the one married the longest. That was my great aunt Mary Lou and her her husband, Martin Williamson. They've been married for 44 years, and we gave them the bouquet as a nod to their continued love and commitment to each other. They were very surprised at the outcome!

If there was one thing you could change, what would it be?
Absolutely nothing- it was the perfect day for us!

What was the best wedding advice you received?
"You love him, and he loves you. The rest is just fluff!" From my Aunt Sara.

To view more country club wedding venues, click here.
Wedding Professionals
Venue & Catering: Belfair Plantation | Photography: J.Ashley Photography | Floral & Decor: A Floral Affair | Event Planner: Jennifer Leiti of Embellished Events | Band: The Emerald Empire | Stationery: Wedding Paper Divas | Transportation: Silver Oak Transportation | Hair & Makeup: All About Me | Cake: Tier Luxury Cakes | Gelato: Pino Gelato | Wedding Dress: Lana Addison Bridal