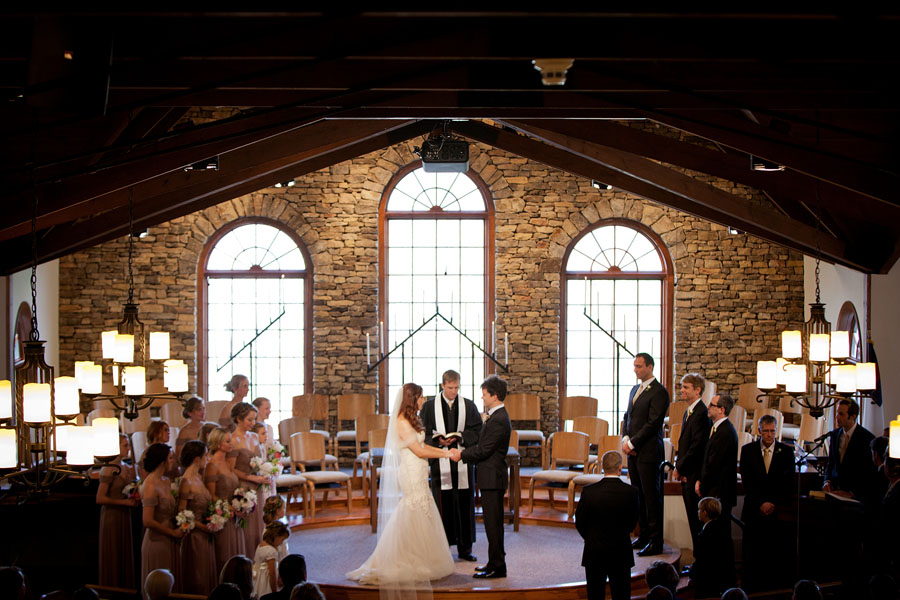 Big Canoe, Georgia Wedding at The Chimneys at Big Canoe by Love Like Weddings
Warmth, light, and love abounded in the wedding celebration of Jennifer and David amid the elegance of the tree-shaded Big Canoe Chapel in the North Georgia Mountains.  The November affair in the morning light glowed nearly as bright as Jennifer's smile as she walked down the aisle in a champagne Liancarlo gown toward her waiting groom.  The flower girls wore dresses of white while the beige gowns of the bridesmaids exuded the warmth and simplicity of autumn.  Natural decor awaited guests as they made their way to the reception.  A hot chocolate bar, candy station, and a meal of Southern barbeque and nine different wedding cake flavors awaited guests.  The local band Pioneer Chicken Stand played tunes that got everyone dancing, even breaking out a cover of Sting's "Fields of Gold" for Jennifer and David's first dance.  After a sunset drive down the mountain that evening, the newlyweds hosted a party for their family and friends at the The Tavern of Wolfscratch Village before setting off for their honeymoon.  Captured by Love Like Weddings!
Tell us how you met. Was it love at first sight, blind date, friends forever?
We met at a Salsa dancing party thrown by a mutual friend, Matt Keller —- four years later, he was the MC of our wedding! I wouldn't say it was love at first site, but David did get my number. The next week we had a casual lunch with friends, and then we all went to his car in the parking lot to hear the latest song he had recorded. David is a wonderful musician, he plays the piano like a cross between Jerry Lee Lewis and The Edge. There is a wildness and an unselfconscious beauty in his music that is just incredible. Looking back now, I can see that was the moment I fell in love with him. Of course it would take us both almost a year of friendship before we realized it how we each felt!
Please give us an overview of the event.
We got married at Big Canoe Chapel and had our reception at The Chimneys at Big Canoe — both located in the Big Canoe community in the North Georgia Mountains.

Did you DIY any of the details?
I tried to DIY as little as possible. I'm not crafty, and I didn't want to burden my bridesmaids with more than they were doing already — they all have families, full time jobs. The night we all had wine and stuffed 250 wedding invite and rsvp envelopes was plenty of DIY for us. Luckily though, one of bridesmaids, Jessica Dodd is an incredibly talented Art Director in Atlanta. As her gift to us, she designed our digital "Save the Dates" — they were inspired by Vintage Swiss Postcards. I wanted to capture the feeling of travel and adventure that brought David and I together, and for the guests to feel excited about the ceremony location — especially since some of them would be coming from far away! She also created the sticker for our candy bags, and handmade and bound (seriously!) our Guest Book. She was my DIY design guru and I was so glad to have her help.
What was the most memorable moment?
Coming up the stairs at the Chapel, taking my dad's arm, turning and seeing the whole church full of people, everyone beaming smiles, and then seeing David standing at the end of the aisle. There are some parts of the day that are a blur, but I'll never forget that moment.

Tell us about your wedding gown and what your wedding party wore.
My wedding gown was Liancarlo, bought at sample sale at Kelly's Closet in Atlanta Georgia. They are an incredible store with the most unique collection of designers in the South East. Once I picked my gown, I asked my sister Rebecca, who is a jewelry designer and has amazing taste, to pick out the bridesmaids dresses. I gave her a strict budget and let her choose. These were the dresses she picked — I have to admit, at first I wasn't too sure. The store we ordered them from didn't have any exact sample colors in stock, but Rebecca convinced me they were the right choice. I'm so glad I trusted her! When they came in I loved them, and they blended beautifully with my champagne dress, the pale pink junior bridesmaid dresses and the cream flower girl dresses. I wanted all the colors to flow together — a nod to the fall leaf colors, with out copying them literally. I was so happy with how it all came together.
Splurge on….
Your dress fitting. You can score a deal on a dress — but spend the money on a great seamstress to make sure that it fits you perfectly! My dress took seven (7!) fittings, but it was worth it. It was beautiful, I didn't spend all having to hike it up and it fit like a glove.
What were your playful twists that made the event unique?
At the end of the day, we didn't put a lot of thought into personalizing details. We just didn't have a lot of money to spend on little extras or personalizing — our guest list was so big that every dollar had to count. Instead, we choose a setting full of natural beauty, that wouldn't require spending a fortune on decorations. We did our best to pick a day that would be the peak of fall leaf color — David even looked up regional leaf color maps going back 20 years to try to find when the colors would be best! We talked to locals in the area, people that worked in the shops, and they all said early November was the time. Once we had the setting, we just focused on feeding our guest well and finding a great band that would get everyone dancing.
Tell us about the food and desserts.
We had some great southern BBQ and 9 different cake flavors. Boy., I got so much grief over those 9 cakes leading up to the wedding! People said, "But everyone will want to try all the flavors! But people will eat more than one slice person!" I would laugh and say, "But that's the whole point!" Sure enough, they were a hit. We had a delicious bakery, "Metrotrainment Bakery" in Atlanta Georgia made them for us. I had them make the icing designs all the same — that handmade whipped icing look, like Grandma made them herself. There were some fierce debates over whether the Ancho Chocolate Chili or the Peanut Butter Chocolate Mousse cake was the best! Personally I loved our wedding cake flavor the most, Cuatros Leches. All those cakes and our beautiful little wedding cake cost us less than half of what a single wedding cake to feed all our guest would have been. Instead of paying extra for decorations, our designer Meredith added some extra greenery. They looked rustic, beautiful and delicious.
Smartest savings…
The cakes and the BBQ — they were big cost savers for us, and so delicious! Food doesn't have to be expensive or fancy to be a hit — just pick a great vendor who is willing to work with you to get the price point and style that you want, and be open to new ideas. 
What kind of energy did your entertainment give the event?
At first I tried to do band research online, but it was too overwhelming — and too pricey! So instead, David and drove around to different bars and restaurants in the area (it didn't take long, Jasper Georgia is really small town!) and asked them who their favorite local bands were. Hands down, everyone told us, "Pioneer Chicken Stand Band". They played Blue Grass covers of 70s and 80s classic rock hits, and they could even get the grandma's dancing. They were perfect! And even better still, since the band leader actually lived in Big Canoe, and they could play another gig that night (because our reception was during the day) they gave a great discount on their fee. They were classy, wonderful guys, and even created a blue grass cover to String's "Fields of Gold" to be our first dance song.
Don't sweat…
Don't give into the pressure to be good at everything, or have it all figured it all out. Instead, do your research, find vendors who are great at what they do, who you click with personally, and be really honest with them about what you do and don't want. Then leave them alone and trust them to do their jobs well. More often than not, they'll come up with something even better than you could have imagined!
If there was one thing you could change, what would it be?
Nothing. Honestly. We spent so much time in the beginning being truthful about what we really wanted, and where we wanted to spend our money, that we didn't have a single penny wasted. Our vendors were great, they stretched our dollars really far, and the weekend was everything we dreamed it would be and more!
Wedding Professionals
Photography: Love Like Weddings | Venue: The Chimneys at Big Canoe | Catering: Talk of the Town | Florals: Amy Osaba Events | Cake: Metrotainment Bakery | Bridal Portrait Hair & Makeup: Claudia Mejerle | Wedding Day Hair & Makeup: Love Makeup Hair | Entertainment: Pioneer Chicken Stand |  Invitations & Programs: simplyput | Save the Dates, Candy Bags & Guest Book: Jessica Dodd