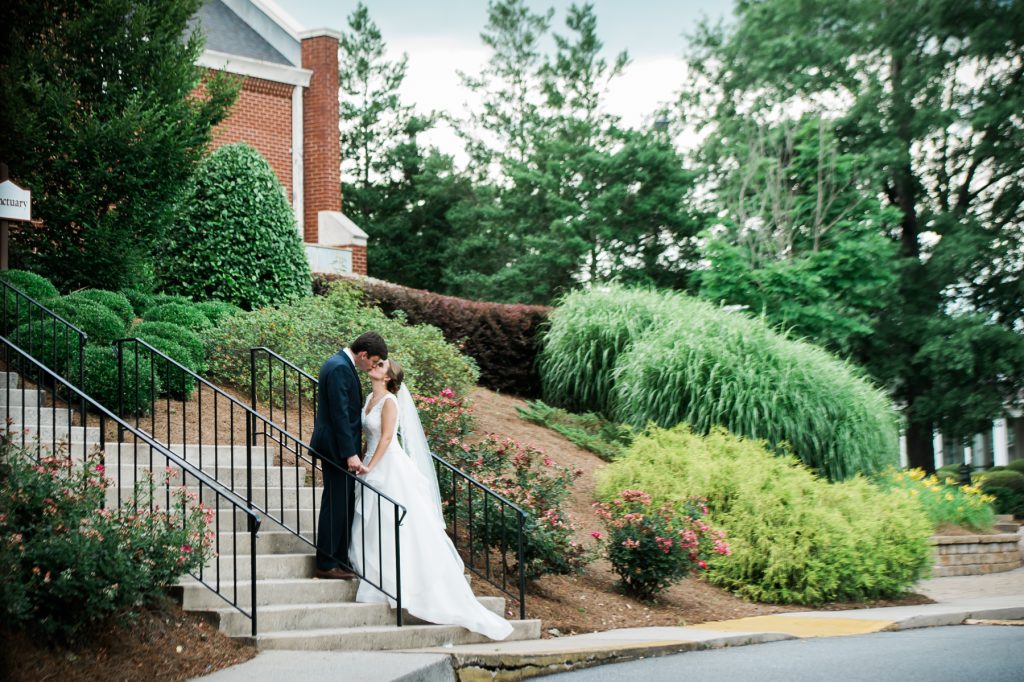 Auburn Love in a Georgia Town
Ryan and Tara met when she was a sophomore in college and he was a freshman. She led a Bible study for freshman at a campus ministry and Ryan came. He was quiet and seemingly standoffish, but everyone was a little fascinated by his intelligence and quiet nature. Tara was a little annoyed that he didn't immediately talk more, but thought he was interesting and wanted to be his friend. Over the next three years, they became friends and spent time together in groups. They both dated other people, but after they started dating each other, they admitted that they would've been interested in each other had they known the other person would be.
As they spent more time together, Tara realized how easy Ryan was to talk to and how humble he was. The summer before Ryan's senior year when they were both in Auburn, they started spending more time together, as neither of them had their roommates around that summer. Ryan would come meet Tara on campus to talk to her for a while in-between classes. Two of their mutual friends were working at hotels in Panama City, so they decided to take a weekend trip together and hang out. On the way there, Tara wondered what they would talk about for 4 hours in the car.
Tara and Ryan ended up having a good time, and their attitude changed toward each other over that weekend. Tara recalls saying "I don't know if we'll date, but if we do, we'll definitely get married".
In the weeks following, they spent more time together trying to get to know each other in a different way to see if this was something they wanted to try. In August, Ryan took Tara on their first official date and the rest is history. Tara can truly say that Ryan is the only man she has wanted to commit to without reservation. If there is any threat to her happiness whatsoever, Ryan makes it his primary mission to identify the threat and eliminate it immediately. Ryan always has exactly the right balance between challenging Tara and comforting her. He is truly a servant, and is always deepening her trust in the Lord and her knowledge of Him. Ryan tells her how easy she is to talk to and how comfortable she makes him feel. According to Ryan, he appreciates Tara's intelligence, humor, empathy, and dedication to the Lord. They are a true case of opposites attract: an emotional extrovert and an intellectual introvert.
Ryan proposed after 10 months of dating. They had talked about getting married and had planned on it, but she didn't imagine a proposal until a little later. One weekend in August, Tara went to visit Ryan in his hometown. He told her his parents had planned to take her out to dinner. They went a little early, and stopped at the town square in Collierville. He walked Tara to the gazebo, and there was a note with Tara's name on it. Tara read it, and by the time she was finished, he was on one knee. He surprised Tara by inviting her parents to dinner that night in Collierville, and they all celebrated together that night!
---
---