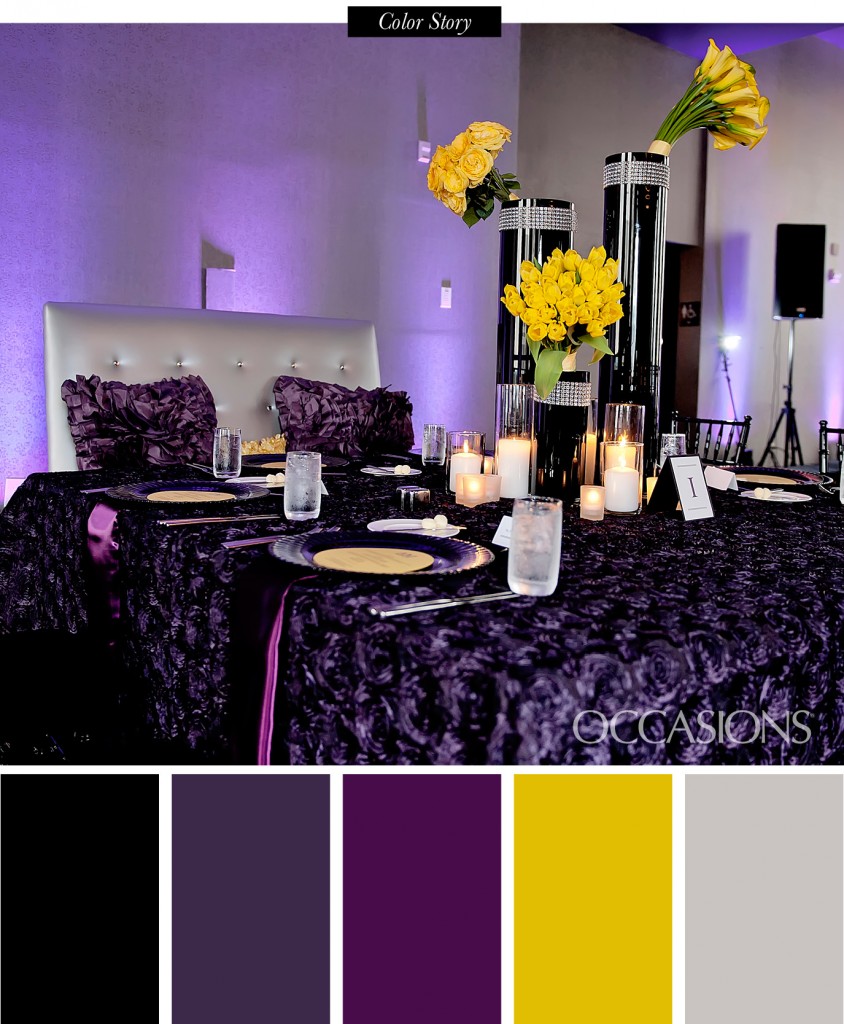 Atlanta Wedding at W Atlanta – Midtown by Milanes Photography
The posh and modern wedding of Meoka and Michael took place at Atlanta wedding venue W Atlanta – Midtown, the perfect sophisticated backdrop for the event they'd dreamed of.  The ceremony took place in the ballroom, Meoka dressed in Vera Wang, escorted by her mother and brother.  Her bridesmaids wore gowns of opal, her maid of honor in elegant purple, each dress designed by Jim Hjelm.  Michael and his groomsmen complemented the ladies to perfection in tuxes by Vera Wang.  Following the ceremony, guests were escorted to the top floor of the hotel where floor-to-ceiling windows displayed a breathtaking view of Midtown Atlanta.  After the cocktail hour, guests were treated to a gourmet meal featuring dishes such as Seared Florida Gulf Snapper and Cumin Dusted Chicken.  A four-tier wedding cake of strawberry and lemon flavors proved the perfect complement.  The extraordinary talents of DJ SixFive got everyone onto the dance floor where Meoka and Michael danced the night away with their guests before setting off for a very glamorous happily-ever-after.  Photos brought to you by Atlanta wedding photographer Milanes Photography!
Please give us an overview of the event.
I've always thought about what kind of wedding I would have while I was growing up. Did I want to have a fairytale princess wedding or a fabulous modern wedding? Let's just say modern wedding was the winner. When we initially started planning our wedding and thinking about the location of the event, we took into consideration were most of our families and friends were. Seeing that we're both military members and have friends all of the country, we decided to go with Atlanta, GA as the host city. We traveled to Atlanta and found what we thought was the perfect venue for our wedding, W Midtown Atlanta. The location was ideal and the hotel fit into our posh modern glam wedding theme.
Tell us about your wedding gown and what your wedding party wore.
When I initially started looking for my gown, I knew I wanted a modern gown with a strapless neckline and dramatic skirt. After a few appointments at different bridal boutiques, i ran across my dream Vera Wang gown (Kathleen) at Collection's Bridal in Winter Park, FL. My gown was perfect, but I wanted to add some bling to it, so I wore a sash encrusted with tons of Swarovski crystals. Everyone raved about how beautiful my gown was, and that's the exact reaction that I was hoping for when I stepped out in my gown. The bridesmaids wore opal & eggplant floor length A-line gowns with a crumb catcher by Jim Hjelm and my maids of honor wore eggplant floor length A-line gowns by Jim Hjelm, all which were purchased from Bridals by Lori. The groom and his groomsmen wore modern slim fit tuxedos by Vera Wang.

What was the most memorable moment?
The most memorable moment of our wedding was when the doors of the ballroom opened and my mother and brother began walking me down the aisle to my husband to be. Even though the room was filled with guests, we locked eyes and it felt like my husband and I were all alone in that moment.
Tell us how you met. Was it love at first sight, blind date, friends forever?
Mike and I crossed paths at my best friend's birthday party around 4 years ago. During the party we had casual conversation, but that was the extent of it. We reconnected when I got assigned to the same organization that he worked in. We would see each other here and there, but still only engaged in casual conversation. This casual conversation & friendship went on for a few years until we both realized that we have the same love for Softball. Once we started playing softball together and traveling to different states to play in tournaments, our relationship blossomed into more than a friendship. Being able to spend so much time with him showed me what kind of man he was, and this may sound cliché but I really married my best friend.

Now for the proposal…details!
Mike and I had talked about the possibility of marriage, but of course he didn't lead on about how or when that would happen. He knows that I'm a very low key kind of person, so his proposal was perfect. Mike was projected to deploy to Afghanistan in a few weeks, so he planned a nice romantic weekend getaway at one of our favorite locations. Throughout the night he had planned out a romantic dinner for two at an awesome restaurant, and after dinner we walked hand in hand through the city streets of Tampa, Fl. Once back to the hotel, I was greeted by rose petals, chocolates, balloons, and champagne. We made our way out onto the balcony and watched the cruise ships and city lights that surrounded the harbor. I was so taken aback with the scenery that I didn't notice that Mike had left my side. When I turned to find him, he was on one knee with the magic red box in his hand. He began expressing his love for me and his desire to make me his wife. Of course I accepted, and the rest is history.
Was there a specific theme or style?
Initially there was no specific theme, I just knew I wanted to incorporate my favorite color (purple) along with bling throughout the wedding. However by the time our wedding was designed, it was geared toward "Modern Glam."

Tell us about the food and desserts.
Seeing that both Mike and I are foodies, we knew food was going to be an important part of our day. Immediately after our ceremony our guests were escorted to cocktail hour where they enjoyed shrimp cocktail shooters, mini crab cakes with spicy tartar, lemon thyme smoked chicken cone, jerk chicken with pineapple relish, and a variation of succulent fruits. For dinner, our guest had their choice of Seared Florida Gulf Snapper, rice pilaf and green beans; Cumin dusted chicken, roasted corn butter sauce, roasted garlic mash potatoes and baby carrots; and seared filet of beef, wild mushroom demi sweet potato puree with seasonal vegetables. In addition to dinner, our guest enjoyed our wedding and grooms cake for dessert. The wedding cake was 4 tier and it was comprised of 2 different flavors (strawberry, lemon).

What kind of energy did your entertainment give the event?
The music for our ceremony was a collaboration of our favorite songs. Every song signified a special part of our relationship. In addition to the collaboration of songs, a friend provided a very special rendition of "My love Sweet love" by Patti Labelle. She blew everyone away. After the ceremony ended, our guests were escorted to the cocktail hour where our DJ, DJ SIX FIVE gave them a sampling of what they were in store for during the reception. There are so many words that I could use to describe our reception, but EPIC fits the bill. From the moment the wedding party was introduced, until the last minute of the reception, our guests were on the dance floor. It was such an awesome feeling to see everyone enjoying themselves.
If there was one thing you could change, what would it be?
If there was one thing that I could change, it would be to have the party keep going into the wee hours of the morning. Everyone was having a ball and we didn't want the night to end.

Splurge on…
In my opinion, splurge on your photographer. This person is one of the most important people at your wedding as he/she will be capturing the beginning of your life together.
What was the best wedding advice you received?
The best wedding advice that we received was to enjoy OUR moment. This advice rings true as there are so many different things that could pop up, go wrong, etc. So we simply enjoyed the day with our family and friends and will cherish those memories for a lifetime.

Wedding Professionals
Venue: W Atlanta – Midtown | Event Planning & Design: ellyB events | Photography: Milanes Photography | Videography: Imagine Video Productions | Entertainment: DJ SixFive | Cake: Couture Cakes, Inc. | Stationery: Paper Parfait | Makeup: Alexandra Butler Makeup Artistry | Florals: Andy Beach & Co. | Wedding Dress: The Collection Bridal | Bridal Shoes: Jimmy Choo | Bridesmaids Dresses: Bridals by Lori | Tuxedos: Men's Wearhouse
Click here for more information on planning an Atlanta wedding.