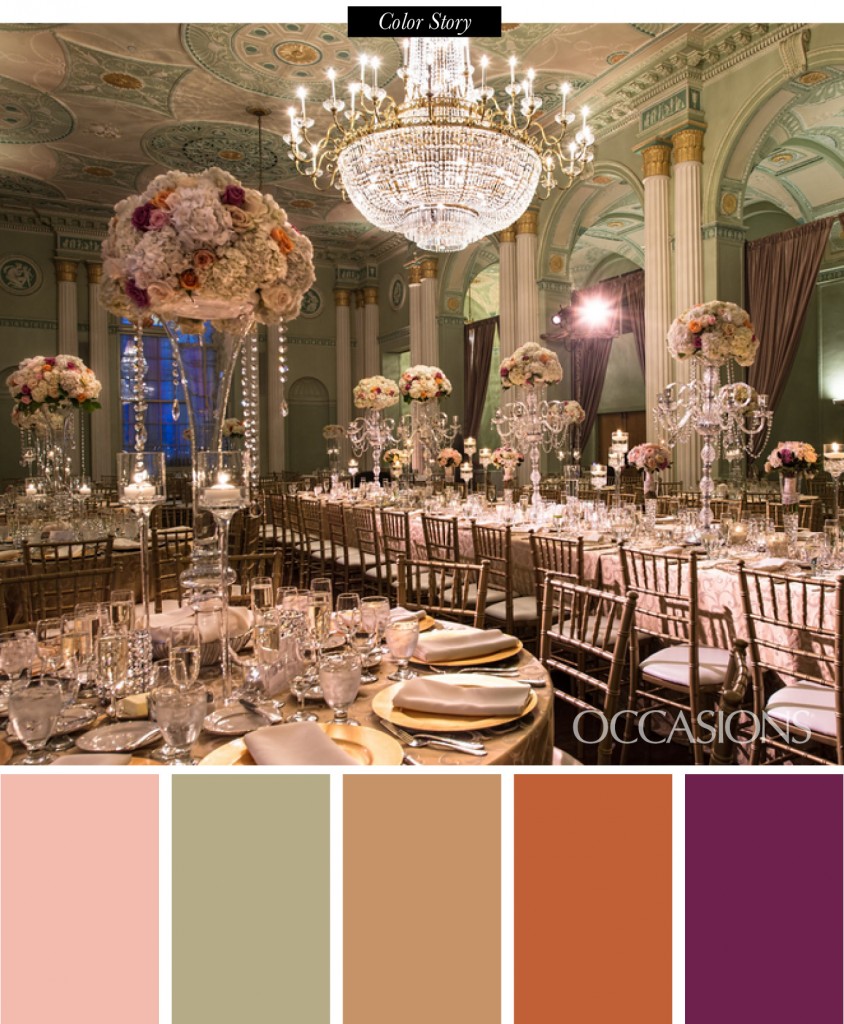 Atlanta Wedding at The Biltmore Ballrooms by Moreland Photography
Boasting countless roses, glowing candles, twinkling chandeliers and, most importantly, radiant love, the city wedding of Jacqui and Drew Butler (yes, sports fans, the former Georgia Bulldogs player!) was the epitome of timeless elegance!  Jacqui beamed with smiles as she got dressed up for the big day, looking just like a princess in her gorgeous Allure ball gown, floor-length veil, and sparkling silver heels.  Once ready, she, along with her bridesmaids and flower girls, hopped aboard a trolley bound for Atlanta wedding venue The Biltmore Ballrooms, where guests gathered in the exquisite Georgian Ballroom to watch these childhood friends join hands for life.  Following an unforgettable ceremony, Jacqui and Drew went outdoors for pictures while the ceremony space was transformed into a magnificent scene for the reception, the estate table, dubbed "Butler Bliss," stealing everyone's breath away.  A dinner of goat cheese truffle salad, balsamic steak, artichoke stuffed chicken, and green beans was savored by each guest; then all ventured to a neighboring ballroom for cake, laughter, and dancing to the beat of the band Anita.  After a late night snack of Southern chicken biscuits, the newlyweds departed for their island honeymoon amidst a golden rain of sparkle.  This utterly classic celebration was captured by Atlanta wedding photographer Moreland Photography!
Tell us how you met. Was it love at first sight, blind date, friends forever?
Drew and I have such a special story and that we hold so close to our hearts, it's like out of a storybook. We met in elementary school, 5th grade, and instantly became best friends. In 6th grade we became middle school boyfriend and girlfriend for a year and then went back to being best friends, as most middle school relationships all turn out. But we lived down the street from each other (and our parents still do to this day) so we would walk home from school together, play at each other's houses, did local Cotillion together, everything. Throughout high school our friendship grew and we went to a homecoming together and were the best of friends. Everyone always said how much he liked me and how we would end up together, including our parents. But we let things unfold in their own ways. We went to different colleges, I went to the University of Alabama and he went to the University of Georgia. We talked on the phone every night and became closer with distance, always visiting each other, always communicating. As always, everyone told us we just need to go ahead and date already but we valued our special friendship. My mom always told me, "Once you're ready to settle down, you need to find someone who looks at you the way Drew Butler looks at you." It wasn't until the summer of our junior year of college when I was interning in New York City for NBC that he came up to visit me and that's when things were brought to the next level. We went from "talking" to "dating" to "boyfriend/girlfriend" in a matter of a month and all friendship cautions were thrown out the window because we both knew we wouldn't be together if we weren't ready to be together for the rest of our lives. We never would have jeopardized our indescribable friendship and we never did. Who doesn't want to fall in love with their best friend? We were long distance through our senior year of college then I moved to NYC to work as a NBC Page for a year and then for the TODAY Show for a year. Drew finished up his last year of UGA football and then got picked up by the Pittsburgh Steelers and moved there. I think we kept Delta in business with how much we were constantly flying to see each other (and of course our little Pomeranian had to come every flight too). I truly believe that if you're meant to be, long distance makes the heart grow fonder and that love will get you through, and it did. We are both in love with our best friend to this day and will be for the rest of our lives. Our families are so close and of course we are so close with each other's families because we have grown up with them for 13 years. It was just a matter of time before we all became one big family! We are so thankful and looking forward to seeing our relationship continue to grow just like it always has.

Tell us about your wedding gown and what your wedding party wore.
My wedding gown was an Allure Bridal ballgown. I always had imagined myself wearing a ballgown on my wedding day but also always heard you'll be surprised with what you end up liking on your body and it may not be what you pictured, I tried on so many different styles and every single dress was so beautiful! I loved everything and every style but there was absolutely no comparison to when I put on THE dress. We all knew it was the one. It not only was a ballgown like I always dreamed of, it was SO much more. It had lace, beading, pearls, crystals, illusion and a sweetheart look. My dress was like out of a fairy tale and I felt like I was a beautiful princess in it. And who doesn't want to feel like a beautiful princess on their wedding day?? Once my dress was altered perfectly and it fit like a glove, I had a piece of my mom's wedding gown sewn into a layer of my dress. No one knew it was there unless I told them, but I knew, and it meant the world to me. I love my mom so very much and we are extremely close so I loved it. My dress is also special because I got it at my mother-in-law's Bridal Boutique, Formally Yours. She has a beautiful selection of gowns so it was easy and so fun for me to find exactly what I was looking for. My mom walked me down the aisle with my dad so I wanted her to feel special in her dress and she found the perfect dress there as well. My bridesmaids wore a romantic blush/light pink sweetheart chiffon long dress. It flattered everyone's figures beautifully no matter what their shape was. Their dresses looked so romantic and carried the exact look I imagined next to how fresh and sharp the groomsmen looked. They wore a non-pleated fly-front shirt with a classic bow tie and slim-fit tuxedos. My groom wore his J.Crew Ludlow tuxedo and looked so handsome. He and his groomsmen also had a special fun flair with their socks. They were called "Suited Up" and were like a deck of cards with hearts, diamonds, spades and clovers. It was subtle and not too wild and perfect with the rest of their outfits.
Please give us an overview of the event.
Our wedding was so magical. It was romantic, elegant, traditional and jaw-dropping with beauty. Drew and I couldn't have been in a happier, more elated state, it's like we were floating on air. Love and laughter filled every room. You could feel the overflowing abundant amount of joy from everyone that night as we were all there for one reason, to celebrate love and forever happiness!
Now for the proposal…details!
Monday, July 15th, after work, I called Drew walking home just like I always do. He asked what my plans that night were and I told him I was going out to dinner with my friend Cara's mom and brother. I remember specifically asking him why it was so quiet wherever he was and he said he was golfing on a gorgeous day in Georgia and I was complaining about how insanely hot it was in NYC with the heat wave we were experiencing (little did I know he was in NYC surprising me). I got home to my studio apartment, and Cara showed up 30 minutes early so I was rushing as fast as I could to get ready. Then we were out the door and into a cab to the Upper West Side for dinner. (Hindsight is always 20/20 because Cara usually only takes the Subway, never cabs). We got out of the cab at an entrance to Central Park and in front of the restaurant we were supposed to be eating at. She called her mom and her mom said that her and her brother were on Bow Bridge and to come meet them since they were early for their reservation. Cara asked me if I knew where Bow Bridge was and I said, "Of course, it's my favorite bridge!" Little did I know, Drew sent her pages and pages long of directions on how to find him but she was so nervous and excited she couldn't read all of the text while walking. Cara had even changed Drew's name in her phone to her brother's name so it didn't look weird when she was talking with her family. While I led the way to the Bridge we couldn't stop talking about how it was the most gorgeous night ever. There was even music playing faintly in the background that you could hear. I turned the corner, and there was Drew, sitting on the end of the bridge, in a tie and nice jacket holding flowers. I was stopped dead in my tracks. Cara literally had to push me towards him and Drew stood up, took my hand and walked me to the middle of my favorite bridge where we had stood many times before. I was shaking, we both were shaking. Everything in the world was running through my head, "He's here and has surprised me so this has to be it, but no we haven't even looked at rings together this can't be it, but if it's not it then why is he here!?!" Sure enough, he handed me the flowers, spoke the sweetest most sentimental words, got down on one knee and purposed. I was in such shock with everything that had just happened and so happy words can't even describe that I literally couldn't talk so Drew had to ask me twice (he still makes me laugh about it to this day). Of course, I screamed yes and we hugged, kissed, and held each other in the center of Bow Bridge.
Was there a specific theme or style?
There wasn't necessarily a specific theme or style for the wedding. I love traditional and romantic weddings. My taste for a wedding is traditional and romantic and I think it's the most gorgeous personally. I wanted a wedding that I will look back on pictures in 50 years and say, "Wow! What a timeless, beautiful and jaw-dropping wedding." Not "OMG! What was I thinking using those colors and decor??" Trendy comes and goes but classic is timeless. My wedding coordinator called me "Jacqueline Kennedy" seeing as my name is Jacquelyn and he was surprised with my taste being as traditional as it was. We still are receiving phone calls nonstop from all of our guests saying it was the most gorgeous wedding they have ever been to and that our Estate Table (named Butler Bliss) was the most gorgeous thing they have ever seen, as well as the entire room and night. I think everyone has jumped on the bandwagon with mason jars and burlap (which is so fun and cute and I love looking at those pictures) but everyone truly appreciated the beauty of the timeless room and magnificent night and say it's one they'll never forget.
What were your playful twists that made the event unique?
One of my favorite playful twists that I have never seen before, its that we named all of our tables at our seated dinner. Numbers are numbers…I wanted something that would be special and a theme for the air that night- so I personally named each table with my favorite words and feelings that I wanted Drew and I to be surrounded by that night. I am obsessed with quotes and sayings and constantly am reading countless motivational and inspirational messages daily, so it wouldn't have felt right if I couldn't incorporate it somehow. For example, our Estate Table was named "Butler Bliss" we also had 27 other table names such as, "Table of Love", "Table of Hope", "Table of Happiness", "Table of Elation", "Table of Optimism", "Table of Faith", "Table of Laughter" and so on. Our guests told us how much they enjoyed the names, I feel like it made them feel special and that they took on that name for the night. They are continuing to tell us how included they felt during the seated dinner because sometimes during a seated dinner you can feel left out or not special because your table is far away, in the corner or the Estate Table is a ways away from you up on a stage… our Estate Table, Butler Bliss, was so big it touched every corner of the room that night and was in the center of everyone. All of our family and friends felt close to us and felt included and felt the love flying through the air. It all circles back to us wanting everyone to have the best night of their lives with us be the celebration we will never forget, from the motivational table names they were given to the size and placement of the Estate Table.
Tell us about the food and desserts.
Our food was absolutely delicious (We're so glad we went to all of our food and cake tastings because we barely got to eat the entire night with how much we were on Cloud 9 and mingling). During cocktail hour we had servers passing around four different appetizers from an adorable bite-sized chicken pot pie and biscuit in an adorable little china tea cup to a mini burger that my husband insisted we had to have. We also had a crab cakes and bean cakes station that was individually served in a fun martini glass. We also had many "Butler Bars" open at all times with top-shelf liquor because we were ready to start the party right. All the bars had cute personalized napkins that said "Butler Bar" on them. Dinner was delicious we had an amazing goat cheese truffle salad with champagne dressing, artichoke stuffed chicken with risotto, green beans and balsamic steak. We wanted to save our absolutely gorgeous and beyond delicious wedding cake for the next ballroom we were going into after dinner. I was so happy we did because it was the focal point of the next ballroom when you walked in and everyone enjoyed every layer of different flavors once cut. The detail work on our wedding cake resembled the detail work on my dress. I don't think people would recognize that unless I told them, but I knew and it was special to me and made me love it even more. For a late night snack we had mini chicken biscuits with a honey passed and it was the perfect night cap of all the delicious food we had all night long. Since everyone in attendance wasn't from the South, we weren't letting them leave without a Southern flair fluffy chicken biscuit.
What kind of energy did your entertainment give the event?
Our 7-piece band was amazing and so full of life. We danced the night away and it all was exactly how I imagined I would want my wedding band to be. Everyone was on their feet all night long dancing the night away.
What was the most memorable moment?
I am someone who soaks up every single moment. The entire night was a moment in my life that will forever and always be the most memorable.Drew and I will forever cherish every picture and every memory we have from our wedding day. I can't tell you one specific moment and how it was the most memorable because I would tell you every single moment throughout the entire night and tell you every single detail about it, why it was so important to me, and then you couldn't get me to stop! One thing we always always always heard from everyone was, "Your wedding day is a complete blur. It will fly by in the blink of an eye." That couldn't have been further from what we wanted so Drew and I talked and promised that we would take every moment in, let it truly soak in, not let anything pass us by and always be with each other through the night, even if we got separated in a quick conversation we would find each other so we could enjoy our day, our time, together. And because of that, we can honestly say nothing is a blur. Do we still want to be living that day and night all over again?? Of course! The day will go by and you won't want the day to ever end- but if you truly enjoy every second of it and take it all in, you'll live it all over again as much as you want.
If there was one thing you could change, what would it be?
I would not change one single itty-bitty detail. Not one. There were no mishaps, the night could not have gone any smoother or more perfect and every single moment, piece of decor, flower, food, venue, down to each confetti popper could not have been more perfectly fabulous. I already wish I could go back and relive that exact day over again.
Wedding Professionals
Photography: Moreland Photography | Wedding Coordinator: Shane Meder of Black Sheep Interiors | Catering: Affairs to Remember | Floral & Decor: Your Event Solution | Venue: The Biltmore Ballrooms | Cake: Classic Cheesecakes & Cakes | Harpist: Dania McDonald Lane | Entertainment: Anita | Transportation: Georgia Trolley Services | Stationery: Paper Affair | Wedding Dress: Formally Yours
Click here to learn more about planning a wedding in Atlanta.