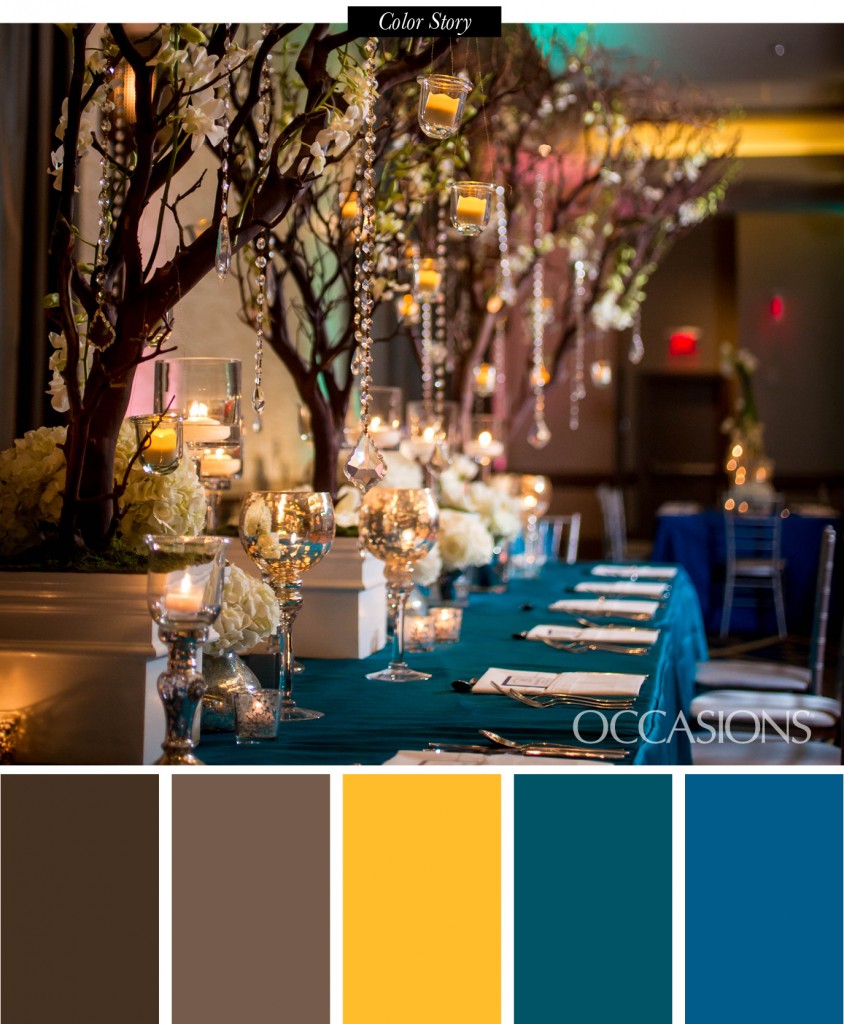 Atlanta Wedding at Renaissance Atlanta Midtown Hotel by Janet Howard Studio
Elegant and refined, the wedding celebration for Lauren and Daniel was everything they dreamed it would be.  White flowers flowed from ceremony to reception, draped in crystals and illuminated by pale candles. Accents of royal blue and teal were splashes of energy in the meticulously styled event.  Following an unforgettable first look photographed by Janet Howard, the evening started with a traditional ceremony at St. James United Methodist Church in Buckhead, where Lauren walked down the second longest aisle wearing a gown too lovely for words and the couple vowed to love one another forever.  Guests were treated to a string-serenaded cocktail hour atop the roof of Briza, complete with gourmet treats and nitrogen-spiked cocktails.  The reception boasted a stunning ten wedding cakes by Alpine Bakery, and live DJ entertainment.  The cocktail hour refreshments and five-course meal by Chef Falvo featured raw oysters, Caribbean ceviche, lionfish, and Thai street food.  The night progressed in an unforgettable flurry of dancing and fellowship, the newlyweds making memories to last a lifetime.  Photos captured by Atlanta wedding photographer, Janet Howard Studio!
Tell us how you met. Was it love at first sight, blind date, friends forever?
We actually met online using eHarmony. Our first day was at Noche in the Highlands. We both realized the date went well since we met at 8 and didn't leave until they were closing down the bar at around 1AM! This was the best first date the both of us had had. We both had been doing the online dating thing for over a year and were about to give up on it, until we met each other!

Tell us about your wedding gown and what your wedding party wore.
The bridesmaids wore teal strapless gowns, with an underlay of black to really make them pop. They had a sash on them and a high slit that was filled in with black. The "Best Man" (Vickie Cherry) wore the opposite, a black gown with the teal accent.

What was the most memorable moment?
The most memorable moment was during our first look with Janet Howard for our picture session. It is when Daniel and I got to spent time together before the event started.
What was the best wedding advice you received?
It's your day, do what you want! and Try to just embrace it, as it goes fast!

Was there a specific theme or style?
The theme was simple elegance. All of the flowers were white, with crystals and white candles. Then we had bold colors: Royal Blue and Teal.

Tell us about the food and desserts.
I was told during the wedding planning process that no one remembers the food…well when it is as good as ours, they do! Chef Falvo created a menu that was based on Daniel's and my relationship. The cocktail hour had: raw oysters (New Orleans, we love to travel), Caribbean themes items such as ceviche (We love to scuba dive and I used to live in Roatan, Honduras). The coursed meal included a salad course that was served with Lionfish (Caribbean fish that is taking over the waters, so we decided to eat it!). The after dinner food consisted of Thai street food (We have traveled there, scuba dived, and one of my bridesmaids lives there) that included yeast donuts and chicken on a stick. We had ten cakes made by Alpine bakery that were displayed on a table. These cakes included: key lime pie (Daniel's fave) and red velvet cake (mine). We also had Chef Falvo make homemade ice cream using liquid Nitrogen.

If there was one thing you could change, what would it be?
To do it again! The night went so fast and is almost a blur, we tried to take as much in as we could!

See Lauren and Daniel's wedding recap from Inije Photography & Films!
Wedding Professionals
Photography: Janet Howard Studio | Event Planner: F&G Weddings | Ceremony Venue: St. James United Methodist Church | Reception Venue: Renaissance Atlanta Midtown Hotel | Catering: Chef Janine Falvo of Renaissance Atlanta Midtown Hotel | Floral & Decor: Edge Design Group | Cakes: Alpine Bakery & Trattoria | Hair & Makeup: Scoobie West Hair & Makeup | Videography: Inije Photography & Films | Champagne: Louis Roederer | Stationery: Papered Wonders, Inc. | DJ: Lethal Rhythms | Bridal Gown: Bridals by Lori | Shoes: Christian Louboutin | Transportation: Green Classic Limousines
Click here to learn more about planning a wedding in Atlanta.