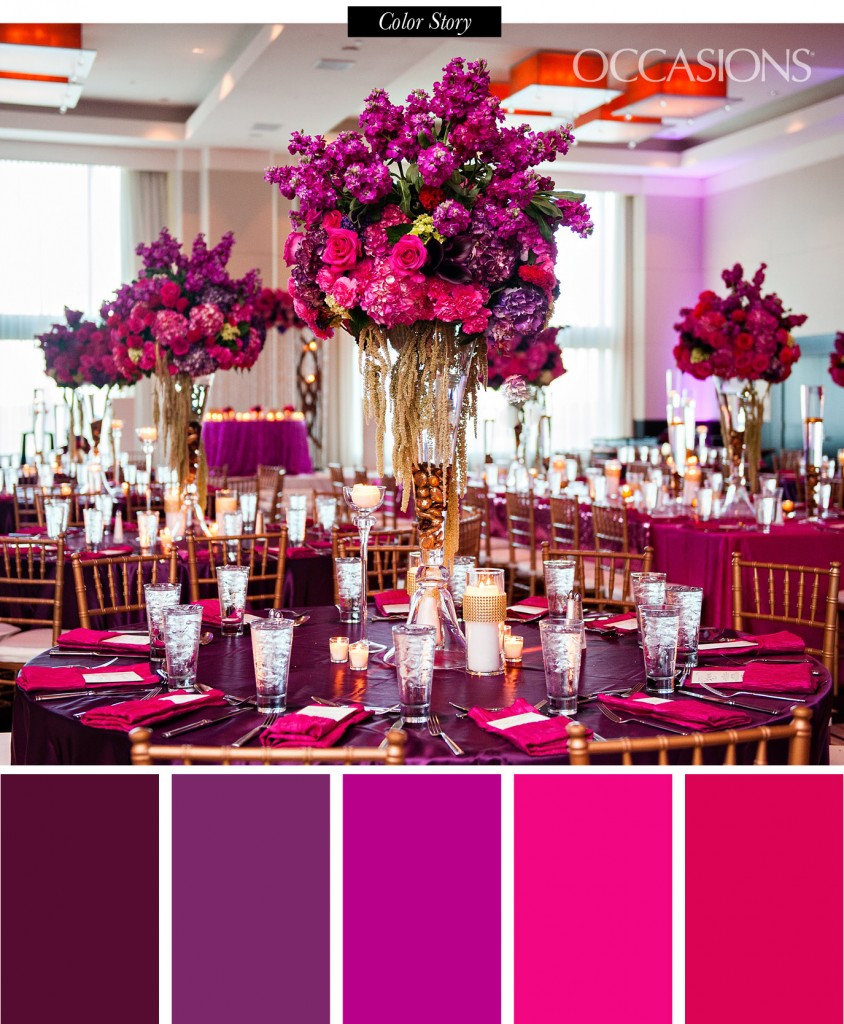 Atlanta Wedding at Loews Atlanta Hotel by Kelly Lane Photography
Timeless class found its way into each and every facet of the wedding celebration between Brittany and Mitchell at the Loews Atlanta Hotel wedding venue, the lights of the city glowing all around them.  Grecian themed décor paired with bright jewel tones of fuchsia and purple fit the bride's vision perfectly.  Following the ceremony, guests enjoyed favors reminiscent of the couple's first date at the movies, enjoying popcorn, candy and cola, fun accents to the gourmet fare provided by Loews. Guests enjoyed buffets of Italian cuisine, complete with penne bolognese, risotto, and traditional cioppino.  The bride and groom's cake were accompanied by a shmorgishborg of chocolate, lemon and vanilla favors paired with fruit and cream cheeses, sure to delight every persuasion of sweet tooth.  Live musician Donnie Long entertained with smooth R&B during the cocktail hour before DJ 6five took the celebration to the next level, most of the guests finding themselves on the dance floor for most of the night.  This breathtaking affair is brought to you by Kelly Lane Photography!
Tell us how you met. Was it love at first sight, blind date, friends forever?
Met on October 16th, 2006 at Georgia State University. Mitchell often noticed me, who worked at the front desk of the Recreation Center, while coming in and out to hang out with his friends and shoot pool. After a casual exchange, we shared numbers for a group bowling outing. It was at this time that both Mitchell and I began to get to know each other better. Once the ice was broken, we began constantly talking to each other especially throughout the following Thanksgiving holiday. Not soon after we had our first date at the Starlight Drive-In Movie Theater, it instantly becoming one of our favorite things to do together. Finally, on Dec 2nd, 2006, we officially started dating.

Tell us about your wedding gown and what your wedding party wore.
My wedding gown and bridesmaids gowns all came from Alfred Angelo Bridal. The groom and groomsmen tuxedos came from Savvi Formalwear. Shirt and tie for groom was purchased at Jos. A. Bank.

Now for the proposal…details!
Mitchell proposed to me on June 22nd, 2011 while vacationing in Daytona Beach, Florida, solidifying our commitment to one another and our desire to continue our relationship for the rest of our lives. Although marriage had been discussed many times the proposal was unexpected for me when it happened after a casual dinner at a boat pier. The thing that stood out the most was I remember a cover band playing The Black Eyed Peas "I Got a Feeling" over and over again and sure enough it ended up being a good night!

Was there a specific theme or style?
I wanted a very traditional wedding, something classy that when we looked back on it years down the road it could be very well relevant at that point in time. I love the uniqueness of modern day weddings but I knew I would be most happy with traditional – beautiful flowers and elegance. My main focus was my beautiful jewel tone colors and executing them throughout all the elements of the wedding with a Grecian theme. My favorite color since a little girl has been fuchsia with compliments of purple so I knew I could do no wrong making those my main colors.

Please give us an overview of the event.
On Saturday, September 28, 2013, we celebrated our union in front of close family and friends at the Loews Atlanta Hotel downtown. After being married December 28, 2012 on a quiet Friday afternoon at the courthouse. we wanted to call our wedding a ""celebration" as it was just that = a culmination of happiness showcasing our love and commitment in front of the ones we loved. We just want wanted it to be a great big party!

Splurge on….
Flowers! I wanted my wedding to be like The Secret Garden! I think with me doing a traditional wedding it was essential, but I would certainly recommend putting the most effort into the centerpieces and the decor because it makes your wedding!
What were your playful twists that made the event unique?
Our first date was at the movies, and would eventually be one of our favorite outings together. Being fans of the movies we wanted to incorporate that in small elements of the wedding and really got to show that with the favors (popcorn, candy and Cola) down to the movie ticket name cards for the escort table.

Tell us about the food and desserts.
The food catered by Loews, was a luxurious buffet spread of Italian cuisine at its best! Penne Bolognese, Risotto with Seasonal Green Vegetables and Traditional Italian Cioppino were among favorites. Along with Wedding and Grooms cake made of an array of chocolate, lemon and vanilla flavors with Kiwi, Mixed Berry and Cream Cheese fillings, desserts included Fresh Homemade Gelato and Fresh Berry Zabaglione.

What was the most memorable moment?
The father/daughter and mother/son dances stood out to me the most. Having seen many people close to us lose their parents it made the occasion even more special to have ours there and share the moment as it was the first children's weddings for both sets of parents. I also thought my husband's thank you speech was awesome!

If there was one thing you could change, what would it be?
Sadly the only thing I would change are my shoes! They broke right before the wedding when I attempted to "break them in." I toughed it out at the ceremony but by the time of the reception I couldn't let them slow me down for dancing so my ballerina flats from Michael's came in handy!

Wedding Professionals
Venue & Catering: Loews Atlanta Hotel | Photography: Kelly Lane Photography | Floral & Decor: Perfect Creations & Design | DJ: DJ 6five | Musicians: Donnie Long and Tim Solomon | Event Planning & Design, Stationery: ellyB Events | Videography: Kevin Hursh Films | Cakes: Not A Crumb! Exquisite Cakes | Hair: B4 ~N~ After Hair & Beauty Salon | Makeup: Jeremy Dell
Click here to learn more about planning a wedding in Atlanta.