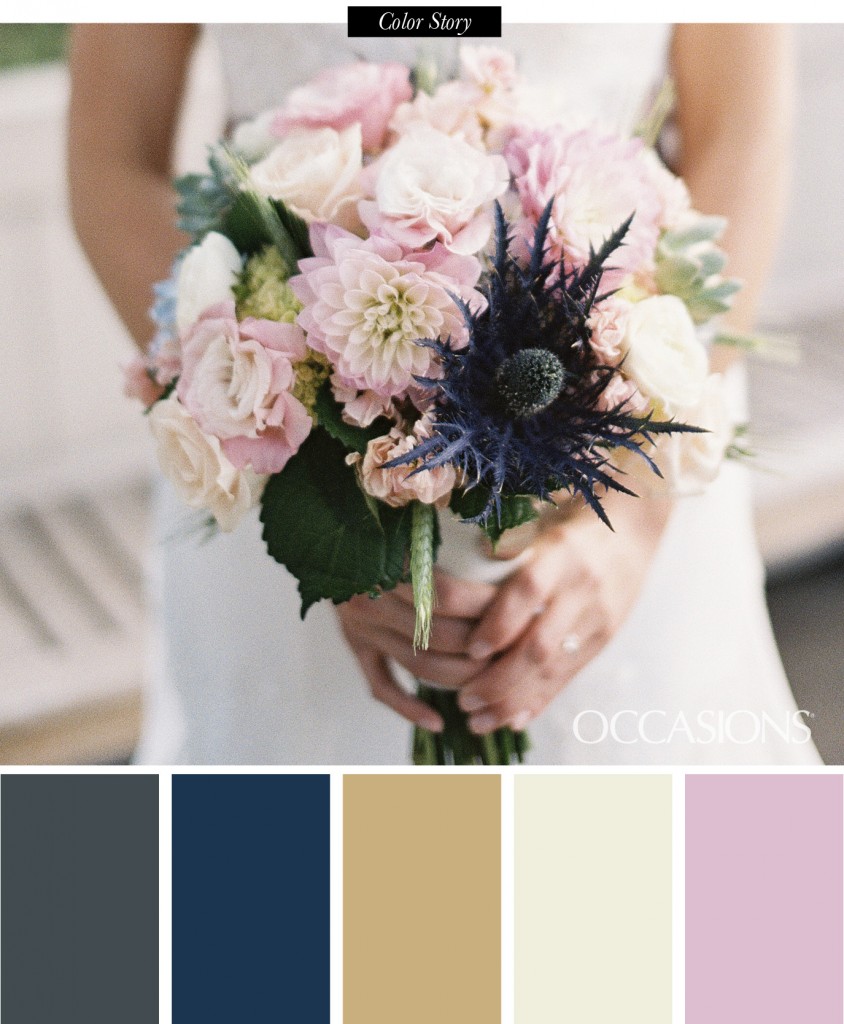 Atlanta Wedding at Atlanta Contemporary Art Center by Loren Routhier Photography
The city skyline shone above the rustic chic surroundings of the Atlanta wedding venue Atlanta Contemporary Art Center downtown.  Meghann wore a trumpet-style lace gown with mauve sash and one-of-a-kind veil hand stitched for her alone, and her bridesmaids accompanied her in long navy blue Jenny Yoo gowns. The couple's personality was present in every detail of the affair, from the reading of the poem, How Falling in Love is Like Owning a Dog during their ceremony in honor of their beloved four-legged companions, to the nods toward their shared love of craft beers.  Adam's boutonniere boasted a Dogfish Head bottle cap, hops and grains, and the newlyweds even shared a very special bottle of beer in a "beer ceremony" after exchanging vows.  Guests adjourned to the reception where they were greeted by a jumbo Jenga set, a photo hunt game and an entire evening's worth of amazing music by the band, Moontower.  And once the dancing shoes were worn out and they'd enjoyed all the amazing treats to be had, the newlyweds exited the scene to the tune of "Keep on Rockin' In the Free World."  This urban affair is brought to you by Charleston wedding photographer Loren Routhier Photography!
Tell us how you met. Was it love at first sight, blind date, friends forever?
We met and became casual friends at the College of Charleston in 2006. After graduation a year later, I took a teaching job in Adam's home state of North Carolina while Adam transferred to a position Atlanta. I moved back to Atlanta in 2008 and. on my birthday that year, the all-knowing Facebook reminded Adam to wish me a happy birthday. When I realized we were in the same city again, I invited him out to celebrate with some friends, and something special just "clicked," and we've been together ever since!

Now for the proposal…details!
In December 2012, Adam somehow convinced me that he won a weekend trip to Asheville through his work. We drove up on a beautiful, slightly chilly December morning, and took a detour to Grandfather Mountain in Linville, NC. After watching some otters frolic about, buying way too much fudge, and a trip to the gift shop, we moved on to the final attraction at Grandfather Mountain: the mile-high bridge. I am absolutely terrified of heights, and it was a real struggle for Adam to get me to start walking across. After we took in the view for a few minutes, we asked a woman to take our picture, and at that exact moment, Adam got down on one knee and completely surprised me with a beautiful proposal and my grandmother's engagement ring. It was incredible (and scary!) and I will never forget it.

What was the most memorable moment?
Our wedding came together better than we could have ever imagined, and the whole evening was almost dreamlike! We wrote our own vows, and sharing those with one another was incredibly special, and we will always remember that shared moment. 

What were your playful twists that made the event unique?
A lot of the craft beer details made our event uniquely "us." Adam's boutonniere was created to include a Dogfish Head bottle-cap, hop leaves, and grains of wheat in lieu of traditional flowers. We also had a "beer ceremony" following our vows, where we opened and shared a very special bottle of beer together. We also had a friend read the poem "How Falling in Love is Like Owning a Dog" during the ceremony; this was just a hysterical, touching poem, and so appropriate for us as dog owners/lovers.

Tell us about your wedding gown and what your wedding party wore.
My dress was full-length and trumpet-style, with an intricate lace overlay and a mauve sash. A friend's mother custom-made a long lace veil to match, and it was absolutely stunning. My bridesmaids wore long navy blue Jenny Yoo dresses, which had adjustable front panels so each girl was able to wear the sleeves in different ways.  Adam and his groomsmen wore slim grey suits with navy ties.

Smartest savings…
We got married at a little-known art center in downtown Atlanta, which ended up saving us a ton of money compared to traditional "wedding venues." Holding the ceremony and reception at the same location also helped to keep costs down. With help from our florist and a lighting company, we were able to really transform the space.
Did you DIY any of the details?
We sure did! We designed our Save the Date postcards together and then hand-lined the individual invitation envelopes, which we also hand-addressed, together. Adam constructed the giant Jenga game and seating chart display boards. I designed and printed the individual place cards, menus, and photo hunt instructions for each table. My mom put together some fantastic beer-themed hotel bags for the out-of-town guests, including her outstanding homemade beer-candied pecans.

Tell us about the food and desserts.
The food was incredible! Our caterers, Epic Events, did an incredible job, and we made sure to make time to sit down and have a full meal with our guests!  We had plated beef, chicken, and vegetarian entrees, with family-style shared sides at each table. Meghann usually prefers sides to main courses, so we chose a wide variety of fresh, fall-themed vegetables and grains. We did a traditional cake cutting, but had a dessert bar with mini cobblers, lemon bars, and brownies. We also sent guests home with a packaged slice of the cake to place under their pillows that night, which, according to Czech tradition, brings the couple good luck in their marriage!

What kind of energy did your entertainment give the event?
The band, Moontower, was amazing to work with from day one and they created an amazing atmosphere from the cocktail hour to the very end of the reception. They played a perfect mixture of old/new and slow/fast songs which had everyone on their feet and dancing until the very end of the night. They went above and beyond our expectations, and even learned to play several of our favorite songs ahead of time.

Don't sweat…
Anything! Always remember WHY you are having a wedding. Magazines and family members may tell you you MUST HAVE or MUST DO certain things, and any number of things could go " wrong," but at the end of the day, all you really NEED is your partner and a marriage certificate.
Wedding Professionals
Venue: Atlanta Contemporary Art Center | Catering, Cake & Desserts: Epic Events Catering | Photography: Loren Routhier Photography | Floral: Tulip | Lighting: Production People, Inc. | Rentals: We Rent Atlanta | Entertainment: Moontower | Stationery: Minted | Event Planner: Lila Wilson of A Big To Do Event | Wedding Dress: Bel Fiore
Click here to learn more about planning a wedding in Atlanta.