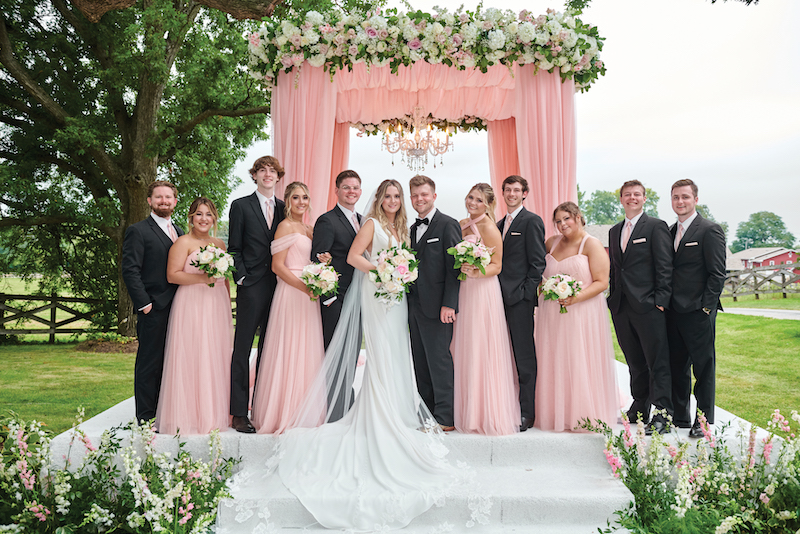 Sparks Fly at Ashley & Hunter's Wedding
Timeless. Memorable. Exceptional. The list of adjectives could go on when describing Ashley and Hunter's wedding. Held at a private estate in Hoffman Estates, the suburb took a page from Hollywood's book to host this celebrity-grade wedding.
Ashley and Hunter met while in college at Texas Christian University. Their friendship turned into a relationship, and that bond was made stronger by their mutual relationship with God. Their wedding ceremony and communion were led by their college pastor, someone who helped them grow together throughout the beginning of their partnership. For the couple, it was extremely important to have their relationship with God brought forth in the ceremony.
After the vows were exchanged and their oath to each other began, the celebration kicked off. The couple wanted their wedding to be one-of- a-kind and original, but still elegant and timeless. The pink and black color palette was initially a step out of their comfort zone, but once it came together it was stunning. Lots and lots of decadent florals were a priority and Avant Gardenia made sure that came to life. Accentuated by gold, mirrors and crystals, the whole event was glamorous and right out of a movie.
After running through a sparkler aisle created by all 250 of their guests, the couple surprised everyone with a spectacular fireworks show. As the sky lit up, Ashley and Hunter ran into the horizon for a romantic moment with just each other.
NUMBER OF WEDDING GUESTS: 250
VENDOR LIST
PHOTOGRAPHER: Robert Evans Studios
VIDEOGRAPHER: Paul Ahrens Cinema
VENUE: Private property in Hoffman Estates
EVENT PLANNER & DESIGNER: Exceptional Events by Shuki Moran
FLORAL: Avant Gardenia
JEWELRY: New York Jewelers
BRIDE'S GOWN: Veiled in Elegance
BRIDESMAIDS' DRESSES: Revelry
HAIR: Mixology Salon Spa
MAKEUP: Wendycityfaces
STATIONERY: LullaBelle Design
CALLIGRAPHY: Jessica Draper Calligraphy
DÉCOR RENTALS: Tablescapes; Elegant Presentations; Nüage Designs; Northern Décor Inc; Ellie & Rose
TENT: Blue Peak Tents
AV & DRAPING: MDM Entertainment
CATERING: Truffleberry Market
FOOD TRUCK: Lucky Burger & Grill
CAKE & SWEETS: BellaRose Sweets
CEREMONY MUSIC: Alex Murphy Jazz
ENTERTAINMENT: Andy Lysaker at Amp Event Professionals
TRANSPORTATION: ChiTown Party Bus; Chicago Motor Coach; Access Global
VALET: Silver Crown Valet
FIREWORKS: Mad Bomber Fireworks
---
Vendor Spotlight
EXCEPTIONAL EVENTS BY SHUKI MORAN, EVENT PLANNER
Dripping in crystal chandeliers, pink roses and outdoor luxury, this wedding was brought to life by the creative expertise of Exceptional Events by Shuki Moran. As any experienced planner knows, the best events often come from clients who put their full trust in their planner's vision. Ashley and Hunter did just this and allowed the Exceptional Events team to run with no limitations.
The wedding was held at a private equestrian resort rather than a conventional venue, so the team at Exceptional Events created everything from the ground up. The couple loved the location's natural scenery and the planner loved that he could create a wholly personalized event. With a traditional venue, couples are somewhat limited by the existing decor and amenities, but a private residence wedding allowed for an extra wow factor to be achieved.
Having produced some of the most iconic celebrity events from his days in Los Angeles, Moran executed this wedding's planning no differently. With this open-minded couple and an excellent team of vendors, a once-in-a-lifetime event came to life.
---