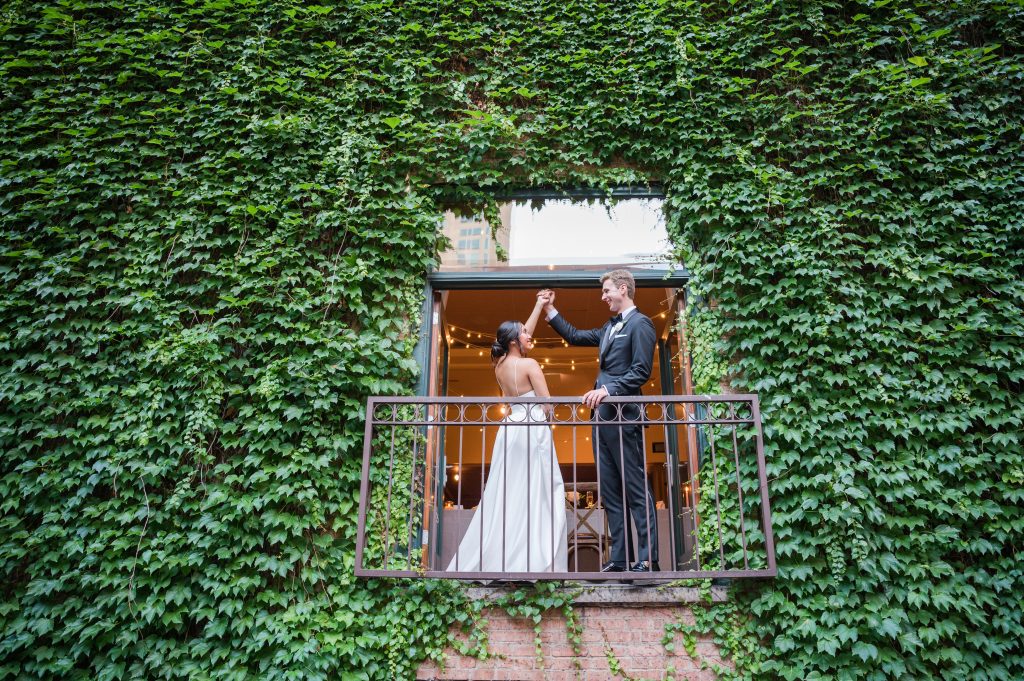 How a Wedding Planner Can Make Your Big Day A Dream-Come-True
Feature Photo by Winterlyn Photograpy
Arranging all the place settings and making an extra one for your college roommate's plus-one (who wasn't even on the guest list). Checking every bathroom stall to ensure there's enough toilet paper. Verifying that the DJ has the right electricity hookups. Sewing a button onto the best man's suit. Driving back to the hotel to grab the right pair of undergarments (no, not the polka-dot ones).
Is this how you envision your wedding morning checklist? If you're thinking "heck no!" (and who could blame you?), then it's time to seriously consider hiring a wedding planner. From the dress to the decorations, the venue to the catering, there are so many pieces that need to be overseen to ensure that your big day is everything you dreamed of. A professional wedding planner can handle the details, both big and small, leaving you free to relax and enjoy your special day.
YOU'VE GOT OPTIONS
There are various tiers of wedding planning services available, each providing a different level of involvement, support and financial obligation. From full-service planning to day-of coordination, you've got options!
Before hiring a wedding planner, it's important to determine how much you're willing to borrow from your budget and how much help you really need. Typically, comprehensive wedding planning services cost between 10-20% of your total budget. Once you have a clear understanding of how much planning you can take on and how much you want to outsource, you can start looking for a wedding planner who offers the level of assistance that meets your needs.
RELAX
One of the key advantages of hiring a wedding planner is that they can help you manage stress and "what could go wrong?" worries. Planning a wedding is a significant occasion, and it's normal to feel overwhelmed and a bit frazzled. A wedding planner can help ease some of this pressure by handling all the particulars and ensuring everything runs smoothly.
They can also help you manage any unforeseen problems that emerge, allowing you to focus on remembering the steps to your choreographed first dance. Weddings involve a lot of moving pieces, which means a few minor hiccups are inevitable. Many planners have already addressed a range of crises, many of which happen without the couple even knowing what occurred. From a wedding cake melting in the sun to the bridal gown's zipper splitting moments before walking down the aisle, wedding planners are natural problem solvers ready to hop into action. They come equipped with sewing kits and super glue and are two steps ahead of any snafu. The time your wedding planner spends serving Liquid I.V. to the best man to prevent a drunken speech is worth every penny spent.
FINANCIAL AND CONTRACTUAL
Weddings often require a significant financial investment, even for small, backyard affairs. When it comes to budgeting, it can be tempting to skimp on hiring a wedding planner and allocate those funds elsewhere. However, not hiring a professional planner can actually end up costing you more in the long run. Their expertise and experience helps avoid expensive mistakes, such as ending up paying overtime because you didn't calculate the timeline properly. They can also help you negotiate better deals with vendors, making sure you get the best value. So, before opting to forgo a planner, consider the savings and peace of mind they can bring to your big day.
TIME IS MONEY
Hiring a wedding planner can help you save time. Planning a wedding is a demanding and intricate process, and it can be hard to balance all the different elements while also sticking to your budget. Effectively manage your time with the assistance of a wedding planner. They'll ensure every detail is attended to, relieving you of concerns about overlooking anything.
They can also provide recommendations for vendors and services that align with your vision and budget, saving you the time and effort of researching and vetting them yourself. With a wedding planner on your team, you can focus on enjoying your engagement and preparing for your big day, while leaving the details and logistics to a professional.
VISION MEETS REALITY
You may have been dreaming of your wedding day since long before you even found your partner. Maybe you have a Pinterest board with years' worth of ideas, overflowing with inspiration. Or perhaps you don't have any specific details in mind beyond a general vibe or feeling.
While it's fun to live in wedding dreamland, bringing that vision to life is another story. One of the greatest benefits of a good wedding planner is their ability to listen to your wishes — however detailed or vague they may be — and then turn those requests into something real. Wedding inspiration can turn into an untamed beast — how do you pick a color palette that evokes the emotions you haven't found words for yet? How do you achieve Edward and Bella's wisteria-drenched ceremony within your budget? A wedding planner has the know-how to take your feelings and turn them into a tangible, cohesive wedding.
A good wedding planner also knows the difference between dreams and reality. Your budget may not line up with a replica of Sofia Richie Grainge's South of France nuptials. However, a planner can help manipulate your budget and offer creative solutions while keeping things realistic.
It's important to note that you shouldn't expect your wedding planner to save you money when it comes to negotiating contracts. While your planner may have a working relationship with a company that could involve special pricing, a discount should never be expected. These vendors set their prices where they are for a reason!
WEDDING PLANNER = PERSONAL MEDIATOR
Although weddings are all about a celebration of love, they also are apt to uncover unique conflicts. Bringing together two families is inherently tricky and when you add in all the logistical details, budget and personal feelings, situations can get sticky. This is where a wedding planner can act as a mediator. If you don't want to upset your future mother-in-law by telling her that the peach dahlias she keeps insisting on are not your vibe, your wedding planner can handle these conversations tactfully and without it feeling personal. A wedding planner can help ensure that everyone is on the same page, and that potential conflicts are resolved before they have a chance to escalate and spoil your special day.
PROS KNOW BEST
Having a wedding planner gives you unique access to their network of contacts and resources. Wedding planners work with a wide range of vendors, from seamstresses and photographers to catering staff and lighting technicians. They know which vendor teams have the best reputations, which ones are in-budget and which ones are a perfect fit for your specific vision. If you have a particular or unique theme in mind, your planner can help you identify vendors who specialize in that style and have experience creating it. They can also provide insights into the latest trends in weddings, so you can ensure your special day is as unique as you'd like it to be. By tapping into a wedding planner's network and experience, you can navigate the world of wedding vendors with ease.
THE DAY-OF DETAILS
Perhaps the biggest service a wedding planner can provide is coordinating the actual wedding day. From what time your hair and makeup should be completed by to sending the wedding party down the aisle, a wedding planner has the expertise and knowledge to ensure a seamless flow of events. Hiring a wedding planner also frees up your family members to enjoy your day, instead of putting them to work.
Your maid-of-honor deserves to relax and enjoy your wedding day, too! And you certainly cannot coordinate your reception setup while you're busy exchanging vows.
Although a talented wedding planner makes it look effortless, it takes a lot of work and expertise to execute a fairytale wedding. Even the most organized of couples may struggle to enjoy their special day if they are also trying to manage it. Before you make any other decisions, prioritize hiring a wedding planner. As you set your budget, make sure there is room in it to cover the level of service needed.
Even if you've attended dozens of weddings and been a wedding attendant in a handful too, a professional wedding planner offers an unparalleled level of experience and expertise. Simply put, they know more than you! From venue selection to crafting the day-of timeline, a wedding planner is the mastermind who makes the magic happen. Are you ready to cross off some tasks on your wedding to-do list and hire a wedding planner yet?
---
Search for local wedding planners to help with your big day now!