Your Guide to Wedding Cake Sizes with Chicago Sugar Daddy Patisserie
WRITTEN BY James Cox, Chicago Sugar Daddy Patisserie | Feature Photo by Rachael Schirano Photography
Determining the ideal size for your wedding cake can be a challenge. From guest count to budget to personal preferences, there's a lot to consider! Let's break it down.
GUEST COUNT
To begin, consider the number of guests who will be in attendance. It's important to have a rough attendance estimate before placing your order, as this will determine the size of the cake needed. A cake that's too small leaves guests wanting, but a cake that is too large leads to waste and added expenses. A good rule of thumb is to have at least one slice of cake per guest, but it is always better to have a bit of extra cake in case unexpected guests make an appearance.
BUDGET
Budget considerations also play a significant role in selecting the appropriate cake size. Wedding cake costs can add up, so it's important to keep any financial constraints in mind from the start. Naturally, the larger the cake, the higher the price tag, so finding the right balance between size and cost is important.
CAKE ALTERNATIVES
Consider the types of alternative dessert options that will be available. If there will be other desserts available, such as cupcakes or a cookie bar, then a smaller cake will suffice. However, if your wedding cake is intended to be the primary dessert, a larger cake size will be necessary.
AESTHETIC PREFERENCES
Aesthetic preferences should also be taken into account when choosing your wedding cake size. Some people prefer larger, grander cakes with multiple tiers, while others prefer simpler, more modest designs. Aligning your cake with your wedding's style and theme is important, as you want it to complement the overall atmosphere and reflect your unique tastes.
Alongside the cake's footprint, its design, style and adornments should be taken into account. The cake's aesthetics should harmonize with the overall theme and style of the wedding, and should also reflect the personality and preferences of the couple.
There are two camps when it comes to cake serving. Some couples opt to have their cake as a reception centerpiece and for a slicing ceremony, followed by a different cake to serve to their guests. On the other hand, it is just as common for couples to use the same cake for both aesthetic and serving purposes.
Ultimately, selecting your wedding cake size requires the thoughtful consideration of several factors. By taking into account guest count, budget, dessert alternatives and aesthetics, couples can make an informed decision that satisfies all attendees while remaining within budget. We recognize the importance of offering affordable options, especially in these challenging economic times. We want couples to celebrate their wedding and share the joy, one slice at a time.
---
SLICE GUIDE
At Chicago Sugar Daddy, we prioritize educating couples about slicing guides and what is the reasonable size of cake they should have to ensure that every guest can enjoy a delectable slice. As a helpful reference, here's a quick guide that shows the appropriate cake size based on guest count.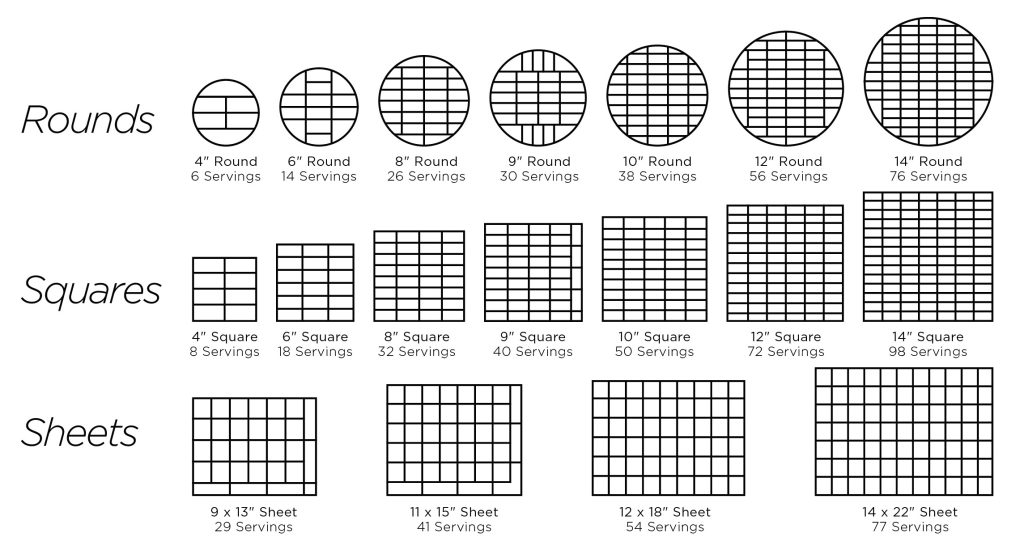 ---
---
About the Author
James Cox is the owner and Executive Chef of Chicago Sugar Daddy Patisserie. James and his partner, Rayann Ibasco, "The Daddies," opened their bakery, Chicago Sugar Daddy, in Chicago's Lakeview neighborhood in 2021. With a culinary arts education, Cox helps fill Sugar Daddy's menu with everything from cakes, brownies, truffles, cupcakes and cookies to savory options like their breads. In addition to serving delicious treats, a priority for the bakery is to give back to the community. Chicago Sugar Daddy Patisserie is proud to say that they are a home away from home for many in the LGBTQIA+ community. They continuously support the community with various initiatives, including the most recent one in support of Free Mom Hugs.
Chicago Sugar Daddy Patisserie | chicagosugardaddy.com
3243 North Broadway | Chicago, Illinois 60657