The Abbey Farms team swung by the blog to talk wedding planning tips and discuss their gorgeous venue. All images supplied by Abbey Farms.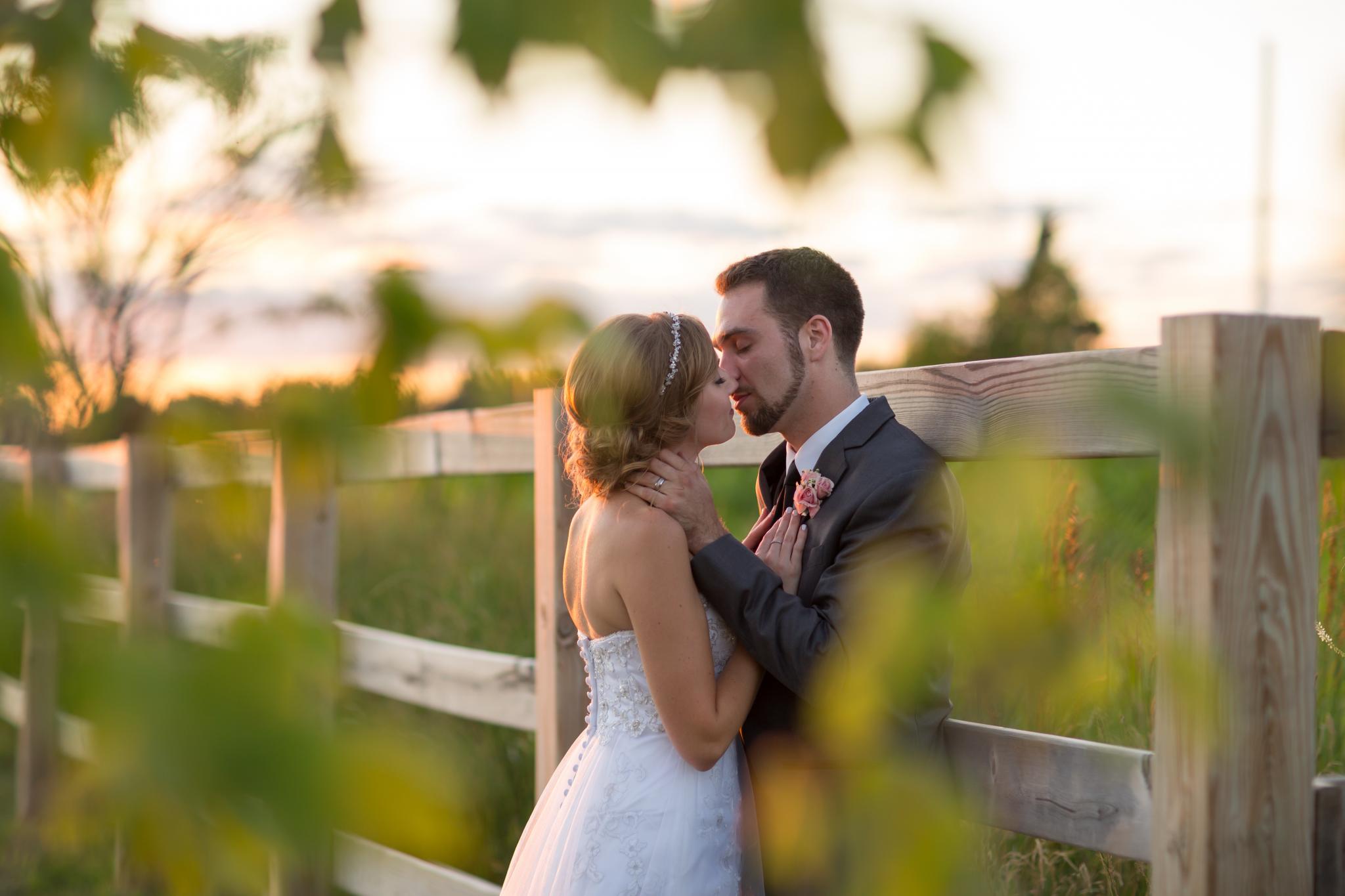 Couples looking to host a wedding in the Chicagoland area have countless options to choose from. What makes Abbey Farms so unique?
Abbey Farms does offer something unique.  From the first meeting, couples will discover that service is of the utmost importance to us. Your wedding only comes around once in a lifetime, and our detailed personalized staff is here to ensure that all of our clients' needs are met – no matter the ask!  We have packaged the best options together to streamline the custom selection process that will make each event one of a kind.  Our event coordinator, included with every rental, helps our special couples select from beverage and bar, food, bakery and decorating options to ensure the day of the event is perfect for the big reveal!
Sometimes hosting a rustic chic barn wedding can be daunting.  However, at Abbey Farms, our specialized staff manages the day-to-day coordination of vendors, manages the entirety of the event and directs the timeline of events to ensure every detail is addressed.  When the special couple walks through the barn doors on their wedding day they are here to celebrate with their family and friends, not worry about table settings or decorations!
What Abbey Farms includes as standard is also very important.  Instead of extra add-ons, we have chosen to package the entire venue, vintage wine barrels and all, into one flat venue price.  From the 100-year-old reclaimed barn wood, elegant sparkling chandeliers, antique furniture and vintage sweethearts table, Abbey Farms has everything our fantastic couples would need to create the perfect rustic chic event! We should also mention that Abbey Farms main reception hall, boasting over 6000 square feet, is all under one roof in one room for optimum guest viewing of the special couple!  Add in climate control (we are serious about our air-conditioning and heat!) in-door elegant bathrooms (this is a big deal in a barn venue!!), coat room service and day of event coordinators and you can truly see why Abbey Farms offers something unique!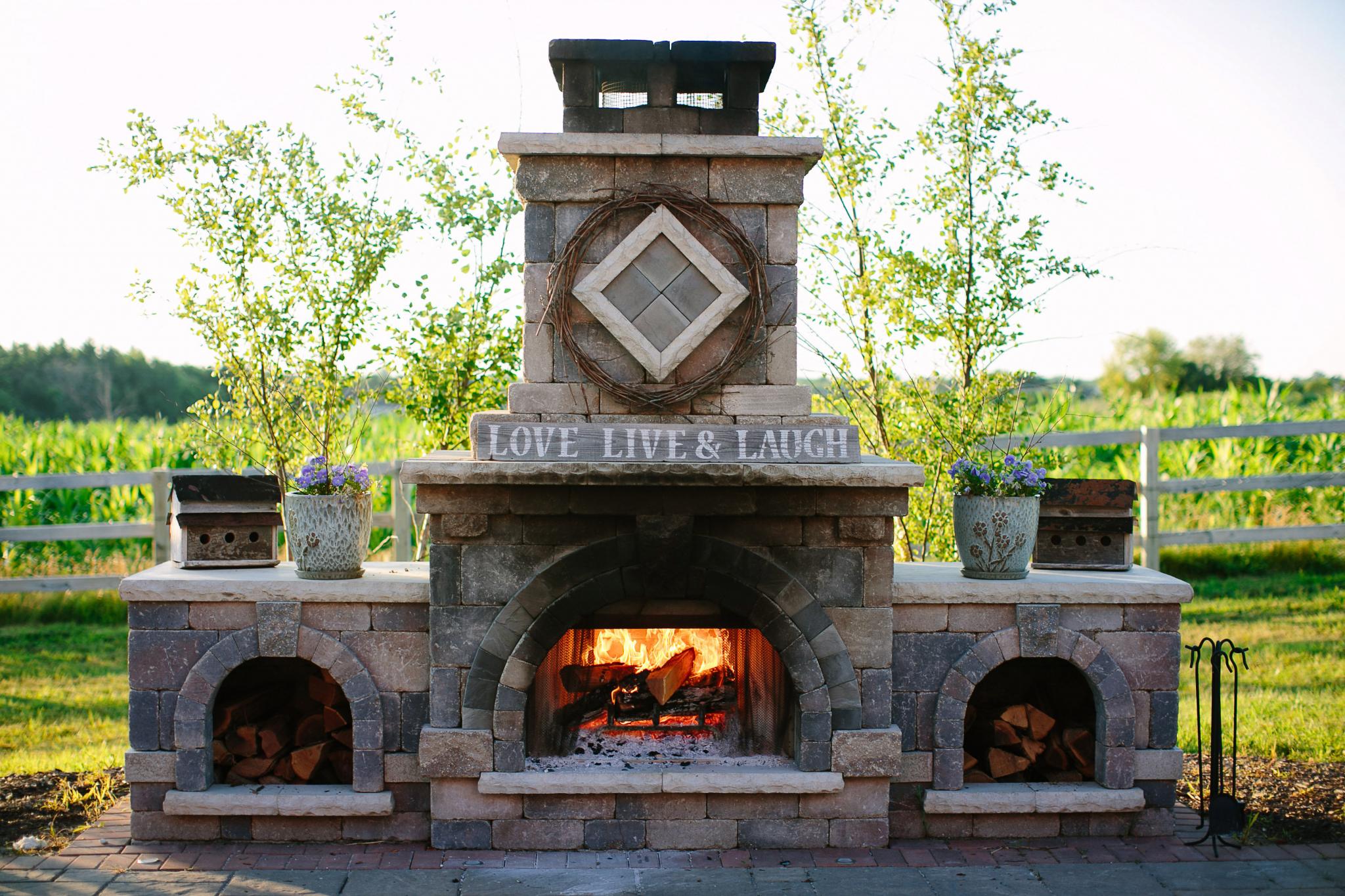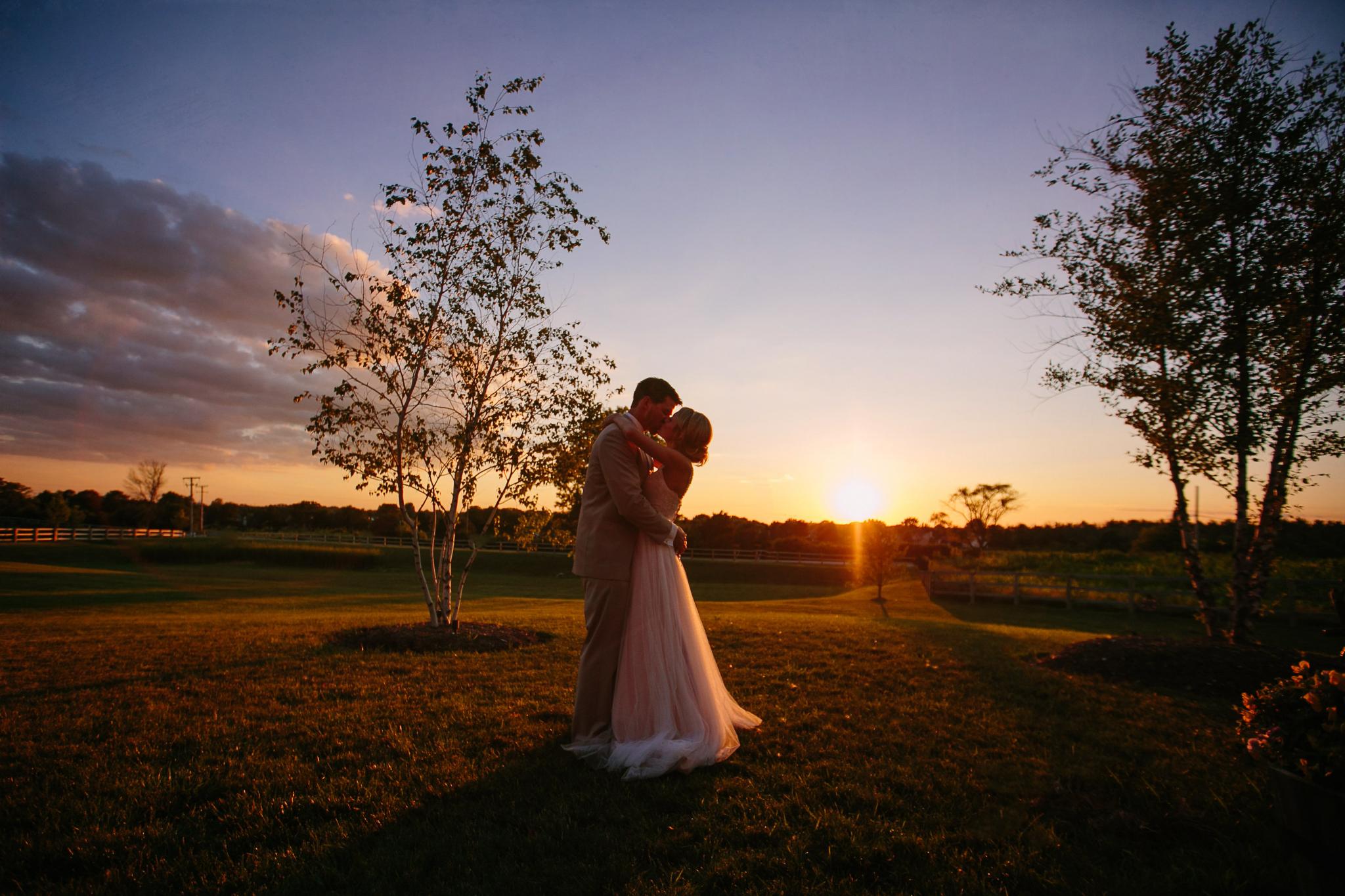 How is Abbey Farms adaptable?
Every feature at Abbey Farms is customizable allowing each couple a very unique and fully custom wedding reception that truly is one of a kind!  Working with our in-house event planner, each couple begins the planning journey with a face to face consultation outlining dreams and wants for the evening.  From the timeline to specific lighting, room layout and custom linen color selections – Abbey Farms has all the tools to ensure each couple's dream event is exactly how they envisioned. Abbey Farms uses a selection of approved caterers that also allows each couple to define exactly the meal that they want their special guests to enjoy.  Fiesta bar's to more standard creations are all fair game!  Abbey Farms also does not set minimums on food and beverage packages – so the sky truly is the limit!
Decorating for the reception is a big one – and Abbey Farms does allow DIY decorating as well as offering exclusive decorating services from Garland and Lace! Bring your Pinterest selections and Abbey Farms has the team that will create exactly your vision within your budget! Abbey Farms truly does create unique, customizable events that ensure each couple's reception is a representation of them (and not what we think it should be). Abbey Farms has all of the amenities packaged into one simple process from invoicing to decorating to custom drink services!  Partner that with the expert guidance from Abbey Farms seasoned staff and voila – success – a spectacular event to be written in the history books for all to cherish!
What about the size of events? How does your venue cater to small, intimate weddings vs. big, boisterous ones?
 Here again, Abbey Farms is truly adaptable to our clients' needs. The only minimum Abbey Farms has is a 100-guest count minimum. Because each event is totally custom at Abbey Farms, the venue, that can hold up to 300 guests with a very large dedicated dance floor, can be set up to each couple's needs. A very nice addition to the main venue is our spacious and private brick patio with custom brick wood burning fireplace that is attached to the barn itself.  Open up the outdoor bar (we dubbed it the Love Bar) for cocktail's on the patio, take in a tractor wagon ride pulled by an antique tractor or simply sit and watch the colors appear on the horizon as the sun sets. Perched on the second tallest hill in Kane County, the views are truly breath-taking.  From the sprawling fields of the Abbey Farms Christmas tree fields, acres of native restore prairie, to the amazing sunsets (included in each rental!!) – Abbey Farms is a truly beautiful place for our couples to start the next phase of their lives together.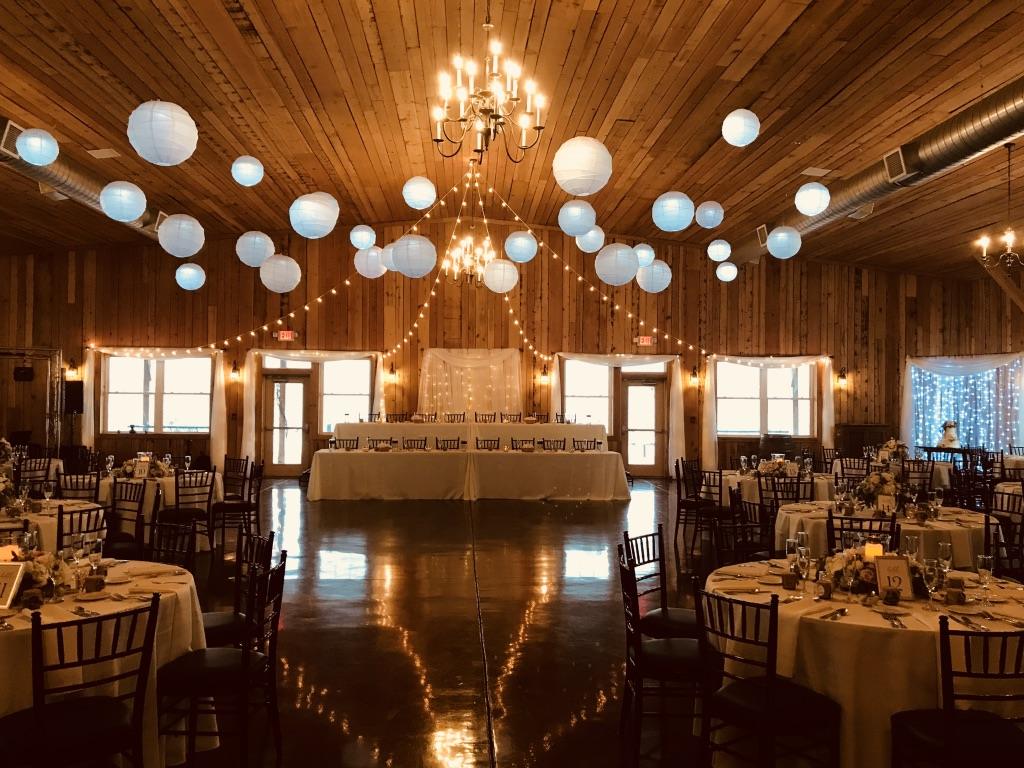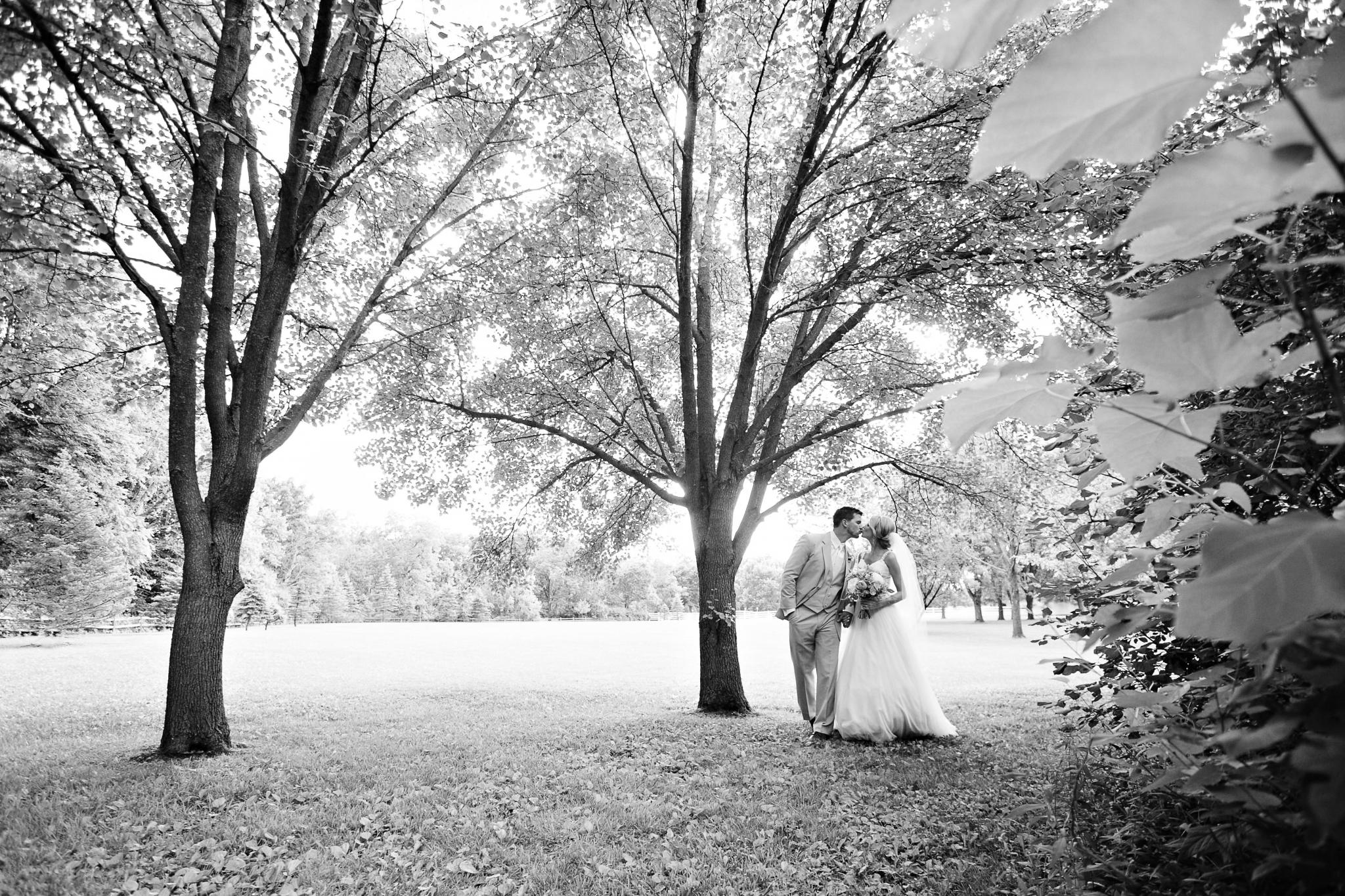 Why does Abbey Farms enjoy hosting weddings?
We at Abbey Farms LOVE to work one and one with clients to help create their very special day!  From the initial venue tour to the day of the event, we like to create a relationship with each and every client to ensure that each of their dreams comes true!  At Abbey Farms it is about the couples by not only providing a spectacular event but by also continuing a tradition for years to come by re-visiting the farm for a future event such as a Christmas tree or pumpkin.  Our couples are sharing their special day with us and we want to ensure that when they walk through the door they know they are like family to us – we want them to look back years down the road and smile and say we wouldn't change a thing!
What are your tips for couples who are just starting the wedding planning process, especially those who are still trying to pick a venue?
We LOVE talking with couples!  Our best advice is to ask the tough questions.  Each potential client at Abbey Farms receives our dedicated attention for an initial tour where our team of event planners reviews the planning guide – and trust me we thought of everything!  If a couple is looking at an event space like our, a barn or unique space, some of the most important questions to ask are:
Is there a dedicated event planner included with the rental cost to assist the couples' decisions for event-related items (not just food and beverage, but DJ, photographer coordination, guest comfort – the list goes on!)? Also, who is in charge of the event and will they be present in the venue or merely on-premise? Does this person ensure that all vendors work together or are they emergency management only?  If your venue does not provide planning services as Abbey Farms does, a wedding or event planner would definitely be recommended.
Is the space truly climate controlled? The couples and their guests are going to be dressed to the 9's! Will the AC keep up on a 95 degree summer day and if so, what temperature does the venue maintain the space? If your wedding is a winter event, is the space adequately heated? Guest comfort is key on this very special day. At Abbey Farms we want your guests talking about the fantastic party, not about being cold or hot!
Regardless of the catering/food service arrangement, what is the server to guest ratio depending on meal service selection and will there be a kitchen lead present for the entirety of the food service (buffet, plated etc)? Again, at Abbey Farms, we put service at the top of our list – we expect every vendor working in our venue to have the same standards as us (and we put that in our contracts!!).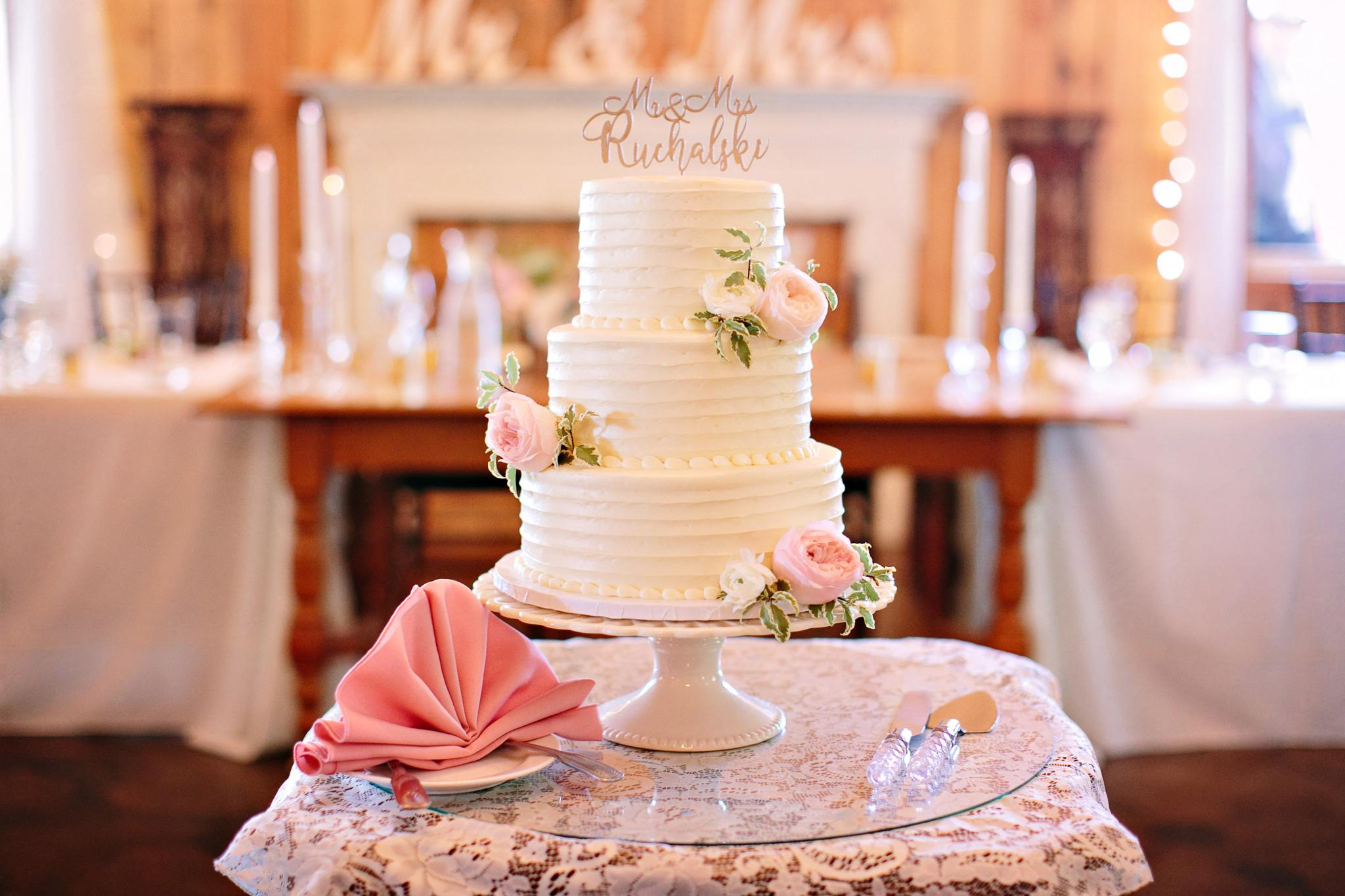 Abbey Farms began in the 1940's as the only choose-and-cut Christmas tree farm in the Aurora area. The Abbey Farms of today is a unique, family-friendly agri-tourism farm in Aurora, IL that offers seasonal enjoyment for all to partake in. From Abbey Farms produce store in the summer months, Pumpkin Daze in the Fall, Christmas trees in Winter and rustic-chic rentals year round, Abbey Farms is your one-stop shop for all farm-tastic fun! For more information, email Adam at [email protected]