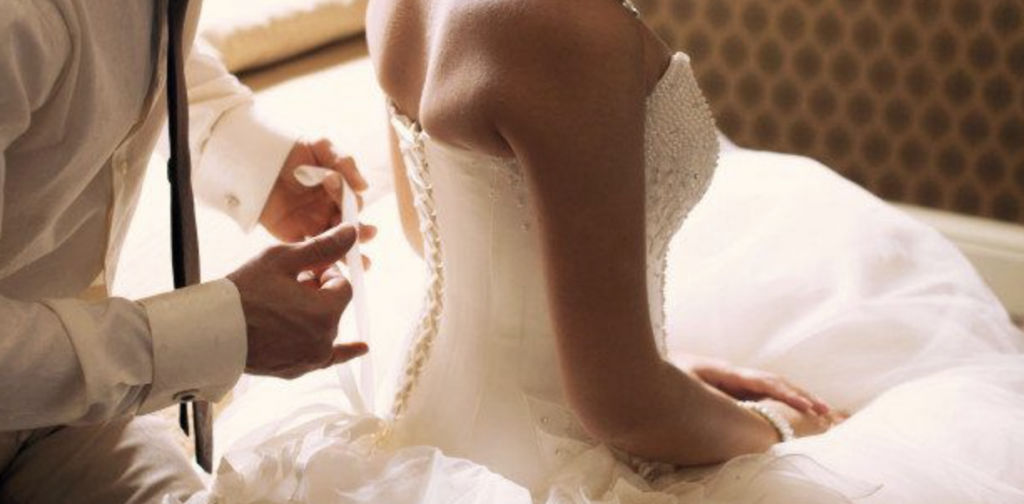 Five steps to planning the perfect wedding night.
When it comes to romance, your wedding night is THE night of all nights. After your guests have gone home and the champagne has worn off, the excitement starts building and the jitters begin. Whether you've been intimate with your partner before this point or not, your wedding night has the potential to be one of the most romantic evenings of your life. It doesn't need to be filled with pressure though. There's a lot of hype involved, but as long as you make a plan with your soon-to-be spouse and go about prepping correctly, you can relax and be confident that you and your partner will have a wonderful evening. Not sure where to begin? Here's a blue print to get you started.
Step 1: rev up with a boudoir session
Does the thought of stripping down to your skivvies in front of a camera give you the cold sweats? You're not alone. However, boudoir photo shoots can be really fun, feisty, and a fierce confidence booster. It's normal to feel shy at first, but we guarantee that after a few flashes, you'll be smizing like Tyra. Start by doing your research on reputable local boudoir photographers. After some due diligence, select a professional that makes you feel comfortable. A boudoir shoot should be about you and your love, and a true pro will make sure that's where the focus stays. Next, pick an outfit for the shoot and get ready to pose. Whether it's an old favorite or something brand new, your lingerie should make you feel like Wonder Woman on steroids once the camera starts clicking.
Step 2: Find something new, something you
Let's be honest – going shopping for wedding night lingerie is half the fun. There are a ton of amazing styles, colors, and shapes, which can make shopping either quick and easy or extremely overwhelming. Your best bet is to choose a style that emphasizes what you love most about your body. If you're proud of your long legs, go for a garter belt and thigh-high stockings plus lacy undies and a push-up bralette top. Are all those squats at the gym paying off? Try a tightfitting teddy that accentuates your derriere.
It's easy to pick out which features you want to highlight, but we all have parts of our body that we'd rather keep under wraps. If you're looking to hide your midriff, try baby doll style lingerie. If you think less is more when it comes to showing off your booty, opt for a look with a cute flouncy skirt. The key is to select something that makes you feel fabulous and comfortable. When you feel comfortable, you feel confident – and confidence is the sexiest thing you can wear.
Step 3: Picking the perfect palette
If you're feeling a bit traditional when you're picking out your lingerie, stick with bridal white or a beautiful "something blue". It's fun, sexy and totally appropriate for the occasion. If you'd rather spice it up a bit, consider going for more striking and dynamic colors like black or red. Can't decide between a sweet bridal look and a more seductive black ensemble? No one says you have to pick just one outfit. Select a handful of looks that you can use throughout your wedding week and honeymoon. Pick a few contrasting styles to show your delicate, softer side, as well as your playful, flirty side.
"Embrace that feminine power! A sexy outfit and a boudoir photo shoot can transform your fear into confidence, and give both you and your partner a tease of what's to come." – Beba Georgieva and Daina Kaleja, Moi Soli Galore Nightwear
Step 4: Help a guy out
Ladies aren't the only ones who need to prepare for the wedding night. While red silky boxers may not be a huge hit in your book, there is something a man can wear that will get your engine roaring – cologne. Tantalize your senses by suggesting that your guy pick out a mouthwatering scent. Women are highly sensitive to male pheromones, so choosing the perfect cologne on your wedding night can be worth the research beforehand. As a bonus, every time your new husband wears that cologne in the future, you'll be instantly transported back to your wonderful wedding night…and all the fun it entailed.
Step 5: Surprise, surprise
Communication is key for a relaxing, no-pressure wedding night, but having a little surprise up your sleeve will make the night even more memorable. A silky robe might be a romantic start to the evening, but take it off to reveal an ultramodern look in black. Or maybe introduce a beautiful, silk or lace mask that allows you to surprise your partner at every turn. With all of its excitement and adventurous vibes, your wedding night is the perfect time to test that super seductive look that you've always wanted to try. We're not saying you need to do anything too intense though. You don't need to dabble in anything extreme in order to hit your wedding night out of the park. We're just suggesting that you play into your fantasies and do something a little unique. Make it fun. Make it sexy. Make it memorable.
Bonus Round: the honeymoon & beyond
Whether you're leaving for your honeymoon right away or you have a little time between the wedding and the getaway, it's time to start planning your lingerie for that adventure as well. Pack a few new pieces that are outside of your "normal" box, but if you have an old favorite, we suggest bringing that outfit along with you as well. If you don't want to spend a ton of money on new lingerie, don't forget that bikinis are basically lingerie you're allowed to wear in public. Also, keep in mind that no honeymoon suitcase is complete without a gorgeous robe. You'll need something to lounge around the room in as you sip your room service mimosas and bask in your newlywed glow! Ultimately though, your honeymoon is a time for being a little naughty no matter what you're wearing.
Your wedding night can certainly be an emotional time. After all that's happened during your wedding day, there are tons of feelings flying around. Make sure you communicate openly and honestly with your partner. If you're not feeling it, it's really no big deal. You have the rest of your lives to make some magic.
But if you do feel like you want to mark the occasion, turn on some special music, light scented candles, pop the champagne, and let all your preparation make the evening unforgettable
Written by Kelsey O'Shaughnessy-Podgorski