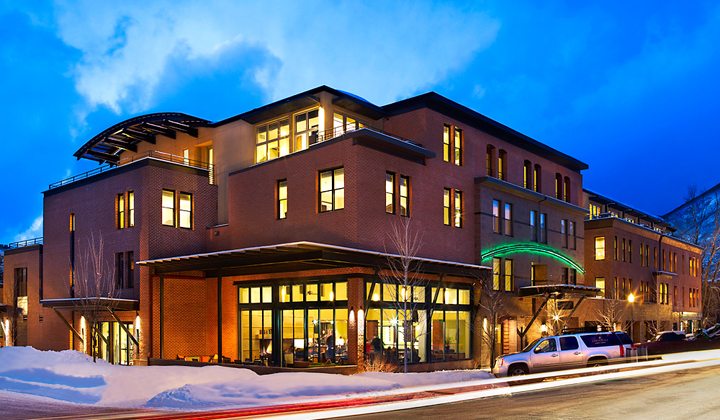 U.S. Honeymoon Destination [Aspen, Colorado]
If long flights, a delay or two, following the rules of obtaining a passport, and traveling overseas isn't your thing, there are many U.S. honeymoon destinations that are right in our backyard! On our last honeymoon blog, we covered the tiki land of Maui, Hawaii. This time around we're going to discuss something for our ski bunnies ~ Aspen, Colorado!
Aspen is known as a luxury ski destination.  Oftentimes, you'll hear of big name celebs visiting Aspen, but even couples on a budget can find romance + luxury.
Aspen features internationally renowned skiing during the winter, amazing hiking and biking in summer, and dining and entertainment year-round. This destination is perfect for those that crave a little adventure, relaxation, or a little bit of both! With the warm sunshine in the summer, and a cool fall, you can enjoy tons of activities, from hiking, biking, fishing, long walks, hot air balllooning, and soaking up the sun. If you aren't so sporty, visiting downtown Aspen is your place to see.
It's time to relax and have fun. Let's check out a few of the possibilities!
Resort 1: The Limelight Hotel
In the central of Aspen, the Limelight Hotel has some of the best views awaiting honeymooners.  With uber posh rooms, friendly staff, and live music, you'll be treated like an a-list celeb. The hotel is also in walking distance to Aspen's hotspots, including restaurants and landmarks.  The modern + contemporary design of the resort is perfect for those looking for a touch of sophistication and elegance!
The Limelight Hotel is also dog friendly, so if you don't want to leave your pooch behind after you say "I do" bring him or her to Aspen to complete your new family.  The daily walks to and from Wagner Park, located across the street from Limelight are the perfect memories to begin your new life together.
Resort 2: St. Regis Resort
Who wouldn't want to stay in a castle? For amazing food and wine with a culture for those seeking adventure, St. Regis Resort offers a little bit of something for everyone.  Unlike any other place, St. Regis Resort emulates a guest suite in a historic late 19th century manor, with winter grays and warm summer tones throughout the room.  This is the perfect setting for those looking to enjoy the outdoor view.
You'll also enjoy refreshing your mind and revitalizing your body at the decadent Remede Spa or relaxing in several pools and saunas. The hotel also offers several romantic honeymooner packages that are customizable by night. Enjoy daily breakfast, sparkling wine + flowers, chocolate strawberries, or a day relaxing in the spa. Sounds good to me!
Resort #3: Hotel Jerome
Located in the heart of Aspen is one of the most gorgeous + elegant + historic hotels, Hotel Jerome. This victorian and modern day hotel has spacious bedrooms with big bathtubs, making it the perfect escape and one of the finest boutique hotels.
In addition to the spa experience and outdoor activites, you can enjoy the ultimate culinary experience. Take part in a variety of hands-on cooking classes with the executive chef, wine tastings with their resident wine director and learn the art of baking desserts with Hotel Jerome's pastry chef. Sounds yummy!
Whether you are looking to be a ski bunny and find adventure or relax for a few days in a Colorado spa, there is truly something for every couple.
In the picturesque valley of central Aspen, The Limelight Hotel awaits honeymooners with posh rooms, uber-friendly staff and live music three nights a week at the hotel bar. Though it's an easy walking distance to everything you'd want to see in Aspen, couples hoping to skip the walk can get driven by the hotel to just about anywhere they please.
The stylish "living room" on the first floor is a chic hangout spot at any time of day, where you can lounge in front of the roaring fireplace and enjoy cocktails with light Italian cuisine. The rooms are spacious and modern, with two luxury "apartment" accommodations featuring fireplaces, private balconies and mountain views.
Enjoy long days of couples' recreation on the mountains and across the lakes, then sink into the jacuzzi or stroll into town and sip wine as the sun disappears behind the mountains. The Limelight Hotel in Aspen is a lovely lodge…a Colorado honeymoon location where you'll be surrounded by beauty both inside and out.
– See more at: http://honeymoons.com/destinations/usa/colorado/aspen/the-limelight-hotel/#sthash.GJlgcymW.dpuf
In the picturesque valley of central Aspen, The Limelight Hotel awaits honeymooners with posh rooms, uber-friendly staff and live music three nights a week at the hotel bar. Though it's an easy walking distance to everything you'd want to see in Aspen, couples hoping to skip the walk can get driven by the hotel to just about anywhere they please. – See more at: http://honeymoons.com/destinations/usa/colorado/aspen/the-limelight-hotel/#sthash.GJlgcymW.dpuf