Guest Post by Blue Plate Catering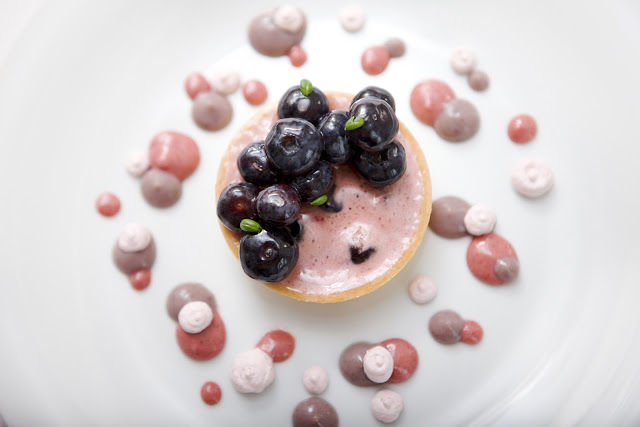 It's wedding season – brides and grooms are in the midst of planning frenzy, but our team at Blue Plate Catering has pulled together a list of considerations to help navigate the many decisions that come with planning a wedding. As many know, weddings are extremely popular during the spring and summer months due to the often-favorable weather and gorgeous outdoor photo opportunities.
In order to ensure the brides and grooms keep calm and carry on, we've compiled the top five things you should keep in mind when planning a spring or summer wedding.
1. Seasonal Food Offer light food options – nobody wants to eat a rich meal on a warm day. Consider a menu that features seasonal foods like asparagus, basil, and arugula, which are in season between May and August. Berries and other fresh fruits are always perfect for desserts! When choosing a caterer, make sure the company has access to fresh ingredients and that its employees have mastered presentation and plating. Consider using a rental company to supply some unique trays. Include your wedding colors within your plating and food displays. The taste of your food is very important, but you also want it to tie in with the rest of your theme to have a truly one-of-a-kind wedding.
2. Seasonal Flowers Just as your food should be in season, so should your flowers. Spring is ideal for daisies, irises, pansies, violets, and azaleas. The summer months are perfect for hydrangeas, delphinium, roses, dahlias, peonies, snapdragons, gladioli, and gerbera. Whether you're shopping around for flowers for your bridal group's bouquets, or envisioning floral arrangements for centerpieces during your reception, consider these seasonal flowers for your spring or summer wedding.
3. Colorful Palettes Many spring couples opt for pastel colors, while summer is often filled with rich, bold, and vibrant warm colors. Bold and bright is perfect for spring or summer. If your wedding will be outdoors, consider a color palette that complements all of the green surrounding you. You don't have to limit yourself to one color. Choose one or two main colors and one or two more accent colors to really brighten things up.
4. Weather and Venue
Rain, rain, go away. Despite your stellar planning skills, you can't control the rain. Although the weather tends to be nicer, rain can still be in the forecast during the spring or summer. If you're planning on an outdoor wedding, it's a great idea to use a rental company for tents. Whether it's super sunny or it starts to rain, tents may just save the special day. Many tent rental companies will let you cancel with a full refund up to four days before the event, which gives you time to check the forecast. You'll also want to communicate with your venue staff and caterers about what to do if you suddenly need to go from outside to inside. For that reason, you may want to consider an indoor and outdoor venue, where you can offer both to your guests and have the indoor option if the weather fails.
5. Include a Personal Touch
Every couple wants their wedding to feel unique in it's own way, and there are many ways to incorporate that little touch of you. While having an open bar is always convenient for your guests, it doesn't scream unique. Try taking it a step further by creating signature cocktails dedicated to the bride and the groom. By incorporating some of your favorite liquors with creative and relevant names, your guests will be sure to say "that's so them" as they take a sip. Adding personal touches like this will allow your guests to feel connected with you on your big day.Spring and summer weddings are truly a breath of fresh air, and they can go off without a hitch when you take the time to carefully plan your big day. Make sure to keep these top five tips in mind when planning your beautiful big day.A big thanks to 
Blue Plate Catering
 for their tips and advice on planning a spring or summer wedding!