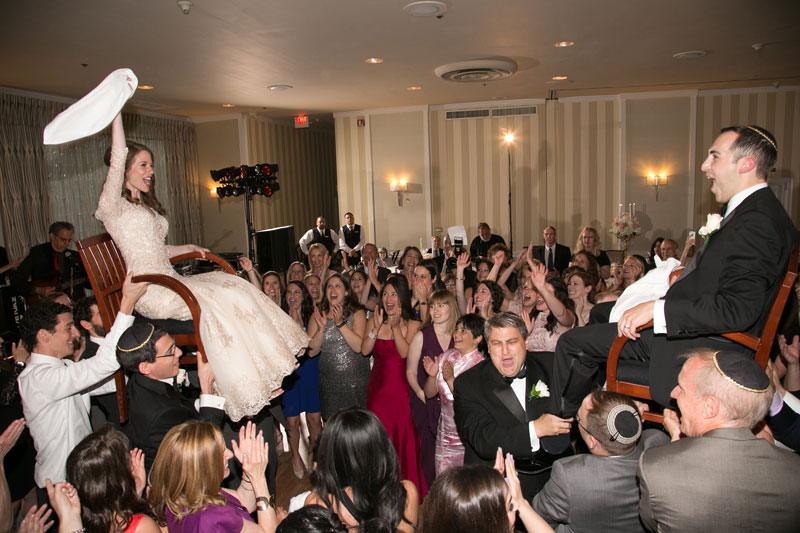 Why Hire a DJ?
Now that you've got the date set, it's time to find who will be providing your entertainment. A DJ has a few advantages over a band. For one, a DJ has a much bigger catalog of music to choose from and most professionals have the means to download a song on the spot to fulfill a request. Also, most DJs do not take breaks. While we may sit down to dinner at a table, our first priority is keeping that music going and the events happening on schedule. Lastly, DJs are substantially less expensive than a band.
Perhaps I should introduce myself. I am Joel Quest of Conquest Entertainment, a professional DJ and Photo Booth company in the Chicago area. I've been a DJ for 15 years and specialize in weddings for brides and grooms who want to "wow" everyone.
DJs are not all the same. Some are very old school. Some are very modern and cutting edge. Some specialize in particular ethnic traditions and cultures and some are fantastic with children. There's no right or wrong, it's about finding the right personality and style that fits in with your party.
Where Do You Find a DJ?
There are so many choices out there that it might be a little overwhelming when you first start your search for the perfect vendor. Here are a few good places to begin:
Review sites: These are websites that specialize in the wedding industry and provide real client reviews for DJs as well as other vendors. Reviews and referrals are the lifeblood of the wedding industry. There are several wedding related sites that have all kinds of information on Disc Jockeys.
Internet: Finding a DJ that is close to you and your venue through a search engine can be a good start. Simply search for the term "Wedding DJ near (your city)" which will bring up a list of local Wedding DJ companies.
Ask your venue: They get to see many DJs firsthand every weekend and they know the difference between a pro and an amateur. Many wedding coordinators have business cards on hand of DJs they trust.
How to Narrow the Search
You will likely be surprised at how many DJ companies there are out there. Once you've found a couple DJs you'd like to know more about, it's time to dig deeper. Here are a few tips on how to make sure the ones you're thinking of contacting are true professionals.
Search the Internet News: Find out more about news, awards or other articles and blog posts the DJ or DJ Company has about them. Some DJs are quite prolific and involved with their craft, and it will be easy to find out more about their accomplishments and awards (or problems).
Review Sites: There are quite a few reputable wedding-related websites out there that have genuine reviews from clients. Go beyond simply relying on the number of stars they may have and read the reviews of past clients. You can tell a lot about the personality and work ethic of a DJ from the written reviews they have. If you see a lot of clients writing very impassioned reviews, it's a very good sign.
Websites: Any professional DJ company will have a decent looking website that has a lot of information about their style and what they provide clients in terms of options, service and skill. Watch out for old, clunky websites that offer little in the way of info. Don't always let age fool you… there are a lot of older DJs that understand how to rock a crowd much better than a younger, more inexperienced DJ. But again, you'll be able to tell this once you interview them.
Who is the DJ?: There are two kinds of DJ companies. Large ones (many DJs) and small ones (one or two DJs). The wedding industry is one of the few where you may find better service with the smaller companies. Larger doesn't always mean better. Watch out if a company tells you that you get to pick your DJ a month before the event. It means you're going to get who is available, not who best suits you.
Watch Out for High Pressure: If your salesperson is trying to pressure you into signing today for a discount, or offers you alcohol or other gimmicks in order to get you to sign with them, it's a very bad sign. The real pros will let you make the decision for yourself without resorting to high pressure tactics.
Contacting the DJs
I always recommend contacting multiple DJs. I want all my clients to be absolutely sure they have found the right DJ for them. You can first contact the DJs by email if you like. Emailing gives you a chance to ask several questions at once and, as a bonus, this method will show you how fast their communication skills are. Quick communication is VERY important when planning a wedding, also, make sure they answer your questions with an answer that satisfies you.
When contacting a DJ by email, it's helpful to include specifics about your event. It will give us a better picture of your event and help us give you the right options to think about. Maybe you're having your ceremony and/or cocktail hour outside. How many people will be there? Do you have any fun idea for your introductions or ceremony you'd like to see happen? It is difficult to give a price for you to consider without knowing all the specifics.
Things to Look For During Your DJ Meeting
Let the DJ tell you what they think their role is at your wedding. Good DJs do a lot more than "just press play." We coordinate all the events with you, your parents, bridal party, venue staff, photographer, videographer and anyone else that is a vital part of your party. A great DJ is also a keen problem solver. Sometimes plans change at the last second and it's up to the DJ to keep things rolling smoothly all night long. Look for more subtle clues as well. When you talk to your DJ, do they seem like they really love their job? It's pretty easy to tell a passionate DJ from one who treats it as a job.
There are lots of "must ask questions" lists on the internet that you can print out to take with you to your DJ meeting.
Your DJ should be a resourceful, idea machine who is eager to sit down with you and talk about all your ideas and tastes in order to make the party perfect. Above all, use your gut instincts. You'll find there are plenty of slick salesmen who are much better at sales than they are DJ-ing. Speaking of salesmen, make sure that you meet with the DJ who will work with you before signing a contract, not just a salesman who tells you about the DJ.
Pricing
Price alone should never be the determining factor when selecting a DJ. For the most part, you will get what you pay for. In the Chicago area, the average cost of a professional DJ for a basic 6 hour wedding package should range between $1000 and $1400 on a Saturday during "wedding season" (April-November). Some DJs offer discounts for Friday and Sunday weddings. Others have options like advanced lighting and photo booths as well. Sometimes including all these services with one vendor can save you money.
Closing the Deal
Once you think you have found the right DJ for your party, it's time to get down to business. Ask them for a contract that spells out the pricing and what services are to be rendered. Make sure you get things in writing before handing over any deposit money!
For more information about picking the perfect DJ, check out Joel's website.
Joel Quest is the talent behind Conquest Entertainment DJ & Photo Booth, one of Chicagoland's highest rated DJ companies. He is dedicated to customer service and making sure that your wedding is the best that anyone has ever been to! For more information, email [email protected], or call 630-779-4868.