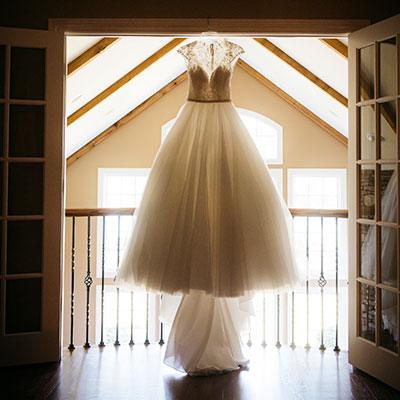 Our Six-Step Guide to finding the Gown of Your Dreams and Avoiding Wedding Dress Stress.
There's a beautiful engagement ring sparkling on your finger. Your phone is blowing up with congratulatory texts. Your camera roll is already almost full with ring selfies, and the butterflies are still going wild in your stomach. Later that night, it starts to finally sink in: you're getting married. Sitting in a tree, K-I-S-S-I-N-G. And as if that weren't exciting enough, this new piece of jewelry means you've finally gotten the greenlight to go wedding dress shopping! You go to bed with visions of veils dancing in your head, and then you wake up and realize you have no idea where to begin. What type of dress will look best? Who should you take shopping with you? How will you know when you've found the one? Sit back and relax because you're in good hands – with a little help from our guide, you'll be saying yes to your dress in no time.
Step #1: Be Inspired
Whether you're flipping through the pages of our magazine or scrolling through Pinterest, gathering inspiration is one of the most important parts of finding your wedding dress. Walking into a bridal boutique with no clue what size or style you're looking for can be incredibly overwhelming, so treat dress shopping like it's a college final and prep, prep, prep. Luckily, hunting for dress inspo is the fun kind of research. Start off simple and collect images of gowns that you love. Once you've got a decent collection going, analyze your choices. Are a bunch of the dresses blush? Are your choices mostly ball gowns? Are half of them designed by Hayley Paige? Note what styles and designers you're gravitating towards, and arm yourself with this info when you head out shopping.
Step #2: Pick Your Posse
This might be the trickiest step of all because we can't put a magic number on your dress shopping entourage. The sweet spot seems to be between two and four, but that varies from bride to bride. What we can tell you is that when you're deciding who gets to tag along to the bridal boutique, less is more. A big group will only result in chaos, confusion, and probably crying, so stick to the VIPs. Your immediate family members get first pick – mom, grandma, and sisters. Next comes your Maid of Honor, followed by your future mother or sisters in-law. If you have space leftover, pick from your bridal party. The key is to stick to your guns and not let anyone guilt you into bringing them. This is your day, and it should get done your way. A little word of caution though: if you don't have a good relationship with one of the people we listed above, we highly recommend letting them sit this one out. Shopping for dresses most likely won't mend any fences, so avoid the potential disaster and save playing nice for a less important day.
Step #3: Set Your Budget
This step is pretty self-explanatory, but oh-so significant. Before you ever set foot in a bridal boutique, set your budget and set it firmly. Once you get down to the actual shopping, save yourself the heartbreak and don't even try on gowns that are above the amount you decided on. As long as your budget is realistic, we promise you can find a picture-perfect gown without putting yourself in debt.
Step #4: Manage Your Expectations
We hate to be the bearers of bad news, but loving a gown on Pinterest doesn't mean you'll love it in real life. Manage your expectations and remember that inspiration is meant to inspire – there's a good chance the gown of your dreams won't be a dress that's pinned on your "Gown Goals" board. If you've been drooling over that slinky Pronovias gown for months but try it on and realize it's not the one, don't freak out– we promise other gorgeous gowns are just around the corner!
Saying yes is another part of the shopping process that requires a little expectation adjustment. Contrary to what TV shows might have you believe, a choir of bridal fairies doesn't appear and play celebratory music when you find the one. In reality, it's all about your reflection. When you look in the mirror, what do you see? Are you smiling from ear to ear? Does the dress look like it was made just for you? Is mom bawling her eyes out a few feet behind you? If so, there's a good chance that this is your dress.
Step #5: Get Real
It's easy to fall in love with a dress when you're standing still in front of a mirror, but 99.9% of weddings involve walking down the aisle and dancing the night away– two things that both require mobility. So keep that in mind once you've tried on a dress and decided you love it. Before you say yes, walk the length of the store, take a few turns, and most importantly, bust out a few dance moves. If you feel comfortable moving around in the dress, you've got a winner. If you can barely breathe or have to seriously flex your quads every time you take a step, then that satin, bejeweled mermaid dress might not be the one after all.
Step #6: Resist, Resist, Resist
Once the gown is officially yours to take home, lock it in your closet and throw away the key. It's natural to be excited and want to try on your dress once a week until the big day finally arrives, but this is actually a recipe for disaster. Most soon-to-be brides who can't stay away from their dresses end up over-analyzing their buy and wondering if they should have gone a different route. Having buyer's remorse over a five dollar tank top from Forever 21 is one thing, but wedding dress stress is a totally different story. So unless you've undergone a drastic weight gain or loss and need to make sure your gown still fits, have a little self-control and keep your dress under wraps until just before your wedding.
At the end of the day, buying a wedding dress is a decision that's incredibly personal, and our steps are a guide, not a rulebook. If skipping one of these suggestions feels right then follow your gut. As you walk down the aisle towards the love of your life, feeling beautiful and confident in the dress of your dreams, know that we're cheering you on.
Written by Christina Oddo