GUEST POST BY WARWICK ALLERTON HOTEL, CHICAGO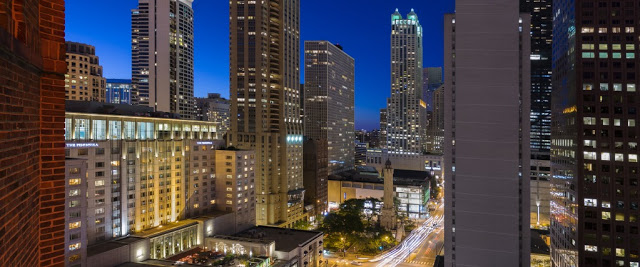 Having a wedding downtown can be absolutely amazing. We're talking stunning views, delightful foods, and top-notch entertainment. But there are definitely some things to think about to make sure you're putting together the best possible day in the simplest possible manner.
Our friends from the Warwick Allerton Hotel, Chicago have some excellent ideas when it comes to the ins and outs of planning a downtown wedding:
1. Deliciously Local Get crafty with your cocktail hour and offer an assortment of Chicago favorites. Or, set out a couple Lou Malnati's pizzas as a late night snack to keep guests dancing all night. Be sure to offer some local brews. The Warwick Allerton Hotel, Chicago even offers a "Chicago-based" beer list and will customize any beer package. One taste of a regional craft beer and you're bound to make Chicagoans out of all your guests.
2. Airport Transportation Options For out of town guests, there are a variety of different transportation options to and from O'Hare, Midway, and other local airports. It's always easy to grab a taxi, Lyft or Uber. Some hotels also offer a shuttle for guests. To get ideas on the best ways to get around, visit the concierge at your hotel. They can recommend the easiest transportation options for their location or map out the best routes on the el.
3. Downtown Down Time You pay a lot for your wedding photos and you don't want your time to be cut short because your guests are getting bored. With a downtown wedding, you have a beautiful, built-in solution to those in between times.
Provide little maps or information on your favorite Chicago landmarks in Welcome Bags and leave them with your hotel. Guests can visit iconic hot spots like the Bean or the Water Tower while you get your close ups. It's a win-win, really.
4. Show Off Chi-Town We've seen some incredible skyline cakes recently, but there are a million other little ways to show off your city throughout your wedding. Name your tables after your favorite neighborhoods, walk into the reception to "Chelsea Dagger," or pick a venue with city views that inspire. For instance, nothing says Chicago like an incredible view! The picture above is the view from the Tip Top Tap Ballroom at the Warwick Allerton Hotel, Chicago! Gorgeous, right?
5. The Don'ts are Important, Too There are so many "do's" when it comes to planning a downtown wedding — don't forget to consider the "don'ts." For instance, don't plan to have your guests moving between locations at rush hour during the week. There's no way you're going to get everyone where they need to be on time. Don't count on the weather being perfect. I mean, it's Chicago, my friends. You just never know. Don't let out-of-town-ers try to figure out how to navigate the neighborhoods on the day of your wedding. Yes, I know it's a grid system, but it's still complicated if you're not from here.
A lot of the "don'ts" can be combated by finding the right venue. A hotel wedding in an amazing location, means guests want to stay put. We love the idea of affording guests the opportunity to see the sights and taste the tastes while still circling back to one central location for all the festivities!
Thank you so much to our friends at the 
Warwick Allerton Hotel, Chicago
! Contact them today for your private tour of the venue and information on their wedding options!