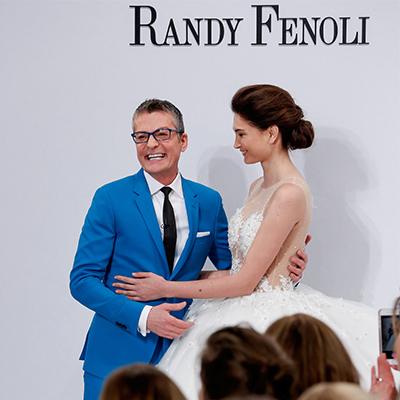 The Beauty Within: An Interview with Randy Fenoli
We had the amazing opportunity to interview Randy Fenoli- world-renowned designer, Say Yes to the Dress star, and every bride's fashionista fairy godmother- about his brand new bridal collection.
Q: When did you first realize that you wanted your career to center around fashion?
A: I started sewing when I was nine. I think I was always attracted to fashion because I was the youngest of six boys, so I had a lot of hand-me-downs. So whenever I got extra money I would sneak off somewhere and buy clothes and wouldn't tell my mother. As I got older, I really was enamored with Bob Mackey and the costumes that he made for Cher and a lot of the designers like that. I never thought about doing bridal because I'd really only been to two weddings in my entire life, and then it hit me that a wedding dress is the single most important garment a woman will ever wear. After that, I really wanted to get in on it. So I entered a contest and the rest is history…
Q: Tell me about the contest.
A: When I was a student at FIT, the school, Kleinfeld Bridal, and Modern Bride Magazine hosted a bridal wear contest. It was for students who'd already completed four to eight semesters and I was only in my third, but since I had a high GPA and everyone knew how much I loved eveningwear, they said: "Alright, let's let this student enter this contest." So I entered it, I won every category, and I was hired by Paul Diamond to do the Randy Fenoli for Diamond Collection and the Vivianne Desi Diamond Bridesmaid Collection before they even announced the winner.
Q: Why return to designing gowns after such a long hiatus?
A: Well, I thought to myself, The last thing the bridal industry needs is another bridal gown designer. But there's a huge gap in the market for dresses priced from $1700-$3500 that look and feel couture. Dresses with a designer's name that have a great fit but are also affordable, and go all the way up to size twenty-eight without charging extra. I wanted to reach that broader market.
Q: What inspired your new collection?
A: When I design a collection, my inspiration is real brides. If you look at the dresses, every single one is different. You've got your girl who wants to get married in a garden. You've got your sexy Kim Kardashian bride. You've got your girl who wants to sparkle, and another girl who wants to switch into two dresses. You've got your Grace Kelly bride, your Cinderella bride with some 6,000 hand-sewn crystals. From very simple lace dresses to ruching to ruffles to Great Gatsby, I wanted to offer something for all brides.
Q:  Why is it important to you to be so size inclusive?
A: Beauty isn't defined by size. I don't know who came up with the concept that you have to look a certain way or be a certain size to be beautiful. I think beauty comes from confidence and from within.
Q: How long did concepting the collection take?
A: I approached the company that was going to manufacture the dresses and do distribution in October, thinking I'd have til next October because that's when we show in America, but the Europeans show big in the spring. So the distribution company was like "Oh no, we only have two months" so I did sixty-eight sketches in two months and whittled it down to twenty-five pieces in the end. It was really tough. I got back from showing in Barcelona, New York, London, and Milan and [the distribution company] was like "Okay, we need sketches by the end of June." So I got those done, and then they were like "We need sketches by the first of December." So it's never-ending. And I'm filming and doing appearances and everything else on the side.
Q: What were your thoughts as your new collection headed down the runway?
A: You're going to make me cry. Every single dress is like a child. To see that child in all its glory, making its first appearance in front of people… It was surreal. I was backstage watching it all on a monitor and I was jumping up and down. In the past when I designed, we used to show in a showroom so this was really my first true runway show: fifteen models, plus hair and makeup that I got to choose. Everything was exactly how I wanted it to look. It really felt neat to see it all come together.
Q: How does it feel to guide women through the most exciting purchase of their lives?
A: The thing is, I get it. I understand the stress and the anxiety and why this dress is so important to them. So many people don't truly understand. They sell dresses, or they work with brides, but they just don't understand why she's so emotional about this purchase. It's the single most important purchase of her life. It'll be the most photographed dress she'll ever wear. Everyone's going to be talking about it. She'll save these pictures for her great, great, grandchildren. So it's a really big decision. I always tell brides, "We are going to find the dress. I've yet to see a bride walk down the aisle naked." Usually, a bridal appointment is an hour and a half, maybe two hours long, but I'll stay with them all day if they want. We'll try on every dress in the store. It's just really important for me to make these women feel beautiful on their wedding day.
Q: Of all the gown trends that have come and gone, what have been your favorites?
A: I think my favorite trend is the fact that today's bride can look however she wants, whether that's princess, sexy, bohemian, or something else. Whereas if you look back to dresses from the 1980s, everybody looked like Princess Diana: leg of mutton sleeve, pointed at the wrist, Basque waist, gathered skirt, and a full, long train with lots of lace appliques and sequins and pearls all over. That was what you wore. Today, I think there are so many choices. Brides can really express who they are on their wedding day, which to me is really important. That's why there's so much diversity in my collection.
Q: If you could only pass along one tip, what would it be?
A: Choose the dress that makes you feel the most beautiful. If you feel beautiful, your shoulders go back. You stand taller. You pose differently. Your smile gets wider. And when you walk down that aisle, everyone at the wedding is going to say 'That's the most beautiful bride I've ever seen." It's not about the dress, it's about that confidence. I think confidence equals beauty, and if you look at the most beautiful women of all time- From Princess Diana to Michelle Obama to Audrey Hepburn to Grace Kelly- it's the way that they carried themselves. They could wear a simple little dress but it was how they wore that dress, with that confidence, that makes them iconically beautiful.
Special thanks to Bella Bianca Bridal Couture for hosting this interview.