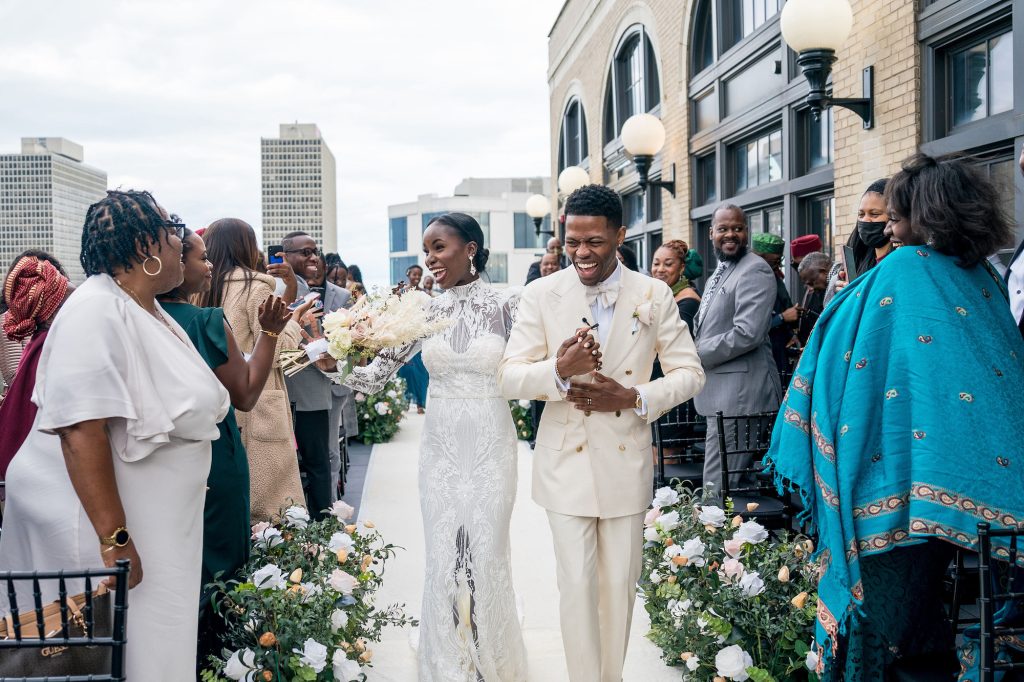 23 Breathtaking Terrace & Rooftop Venues in Chicago
Feature rooftop venue photo by Jermaine Horton at The Penthouse Hyde Park
When it comes to celebrating love against the backdrop of the iconic Chicago skyline, the city's rooftop venues truly shine. Whether you're dreaming of an intimate ceremony under twinkling stars or a vibrant party overlooking Lake Michigan, these venues offer a slice of urban paradise. Here's a roundup of the most captivating rooftop wedding venues Chicago has to offer.
Royal Sonesta Chicago River North
505 N State St | Chicago, IL
The rooftop at the Royal Sonesta Chicago River North is as picturesque as it gets, but that's not the only thing that has us swooning over this venue. With an executive chef manning the kitchen of the hotel's restaurant, you get high-level cuisine specially curated for your wedding or event. The outdoor patio on the rooftop is the perfect space to host a cocktail hour before heading into your wedding reception inside. 
Kimpton Gray Hotel + Boleo
122 W Monroe St | Chicago, IL
If there's one tried and true wedding venue in Chicago, it's the Kimpton Gray Hotel + Boleo, located downtown in The Loop. The restaurant, Boleo, provides a gorgeous, sky-filled outdoor setting with food and drinks to match. Add to that the iconic all-marble lobby, the historic floor-to-ceiling windows in the ballroom, and you've got yourself a venue that's equal parts timeless and modern.
Loews Chicago Hotel
455 N Park Dr | Chicago, IL
Situated in the heart of Chicago right on Park Drive, Loews Chicago Hotel has the city's largest rooftop event space, coming in at a whopping 9,000 square-feet. Add to that the flexibility of two indoor ballrooms and you'll find yourself satisfied no matter the forecast. Customized menus, on-site wedding experts and an unmatched backdrop of the city skyline make this a top choice for rooftop venues in Chicago.
Loft Lucia
7 N Carpenter St | Chicago, IL
Meaning, "Loft of Light", Loft Lucia is one of Chicago's best and brightest venues with rooftop space. This three-floor event space located in the West Loop has a large library of furniture and decor to choose from, which is just one of the things that sets it apart. It's the architecture of this venue that makes it totally customizable and perfect for any occasion.
City Cruises Chicago
455 N Cityfront Plaza Dr | Chicago, IL
Patio people and water lovers alike will find their dream come true aboard one of the many boats that cruise the Chicago River. With six boats in its fleet, City Cruises Chicago offers the perfect backdrop for any type of celebration. Perfect for bachelorette parties, rehearsal dinners, ceremonies and receptions, each boat has its own unique features, but all share the same stunning scenery. 
Chez Hotel
519 W Algonquin Rd | Arlington Heights, IL
Just outside the city in Arlington Heights is the Chez Hotel, which boasts the only hotel rooftop terrace in the Chicago suburbs. The views can't be beaten, inside and out. Get the best of both worlds by hosting a cocktail hour on the roof and then meet inside in one of the hotel's glamorous ballrooms to dance the night away at your reception. 
NoMI Garden at Park Hyatt Chicago
800 N Michigan Ave | Chicago, IL 
Elevate your wedding celebration at the NoMI Garden, situated on the 7th floor of Park Hyatt Chicago. This prestigious hotel boasts customizable terrace spaces for groups ranging from 10 to 120 guests. With expertly crafted catering and dedicated specialists, your dream wedding becomes a reality amid urban sophistication. From dinners to cocktail parties, NoMI Garden's al fresco setting sets the stage for unforgettable moments.
The Penthouse Hyde Park
5107 S Blackstone Ave | Chicago, IL
For couples seeking to wholly capture Chicago's enchanting charm, The Penthouse Hyde Park delivers. Overlooking Hyde Park's charismatic neighborhood with glimpses of Lake Michigan, this rooftop venue seamlessly blends modern sophistication with Art Deco allure. Let your love story unfold against this captivating backdrop that truly embodies the spirit of the Windy City.
Morgan's On Fulton
950 W Fulton St | Chicago, IL
If a West Loop wedding is on your wish list, Morgan's on Fulton presents an industrial-chic rooftop venue that reflects the vibrant spirit of the neighborhood. Situated in the trendy Fulton Market District, its terrace offers panoramic views of the city's skyline and the bustling energy of the West Loop. With a blend of contemporary design, urban ambiance and the backdrop of city lights, couples are invited to create a wedding day that resonates with modern elegance and metropolitan allure.
Hyatt Lodge Oak Brook Chicago
2815 Jorie Blvd | Oak Brook, IL
While not perched among city skyscrapers, Hyatt Lodge Oak Brook offers a different kind of beauty on 88 acres of natural scenery. With outdoor terrace options like the lakefront Grassy Knoll, Grand Oaks Terrace, and Q Room Patio, the venue caters to nature lovers. If you want the scenery, but indoors, panoramic windows in Grand Oaks Pavilion frame stunning natural surroundings, creating an idyllic setting for your special day.
Lacuna Lofts
2150 S Canalport Ave | Chicago, IL
Lacuna Lofts' SkyDeck boasts one of Chicago's most picturesque skyline views. With approximately 5,000 square feet of outdoor space, this Pilsen neighborhood venue accommodates up to 250 guests. The restored factory vibe and character-filled charm make this venue an authentic "Chicago" choice, perfect for couples seeking a unique atmosphere.
The Haight
166 Symphony Way | Elgin, IL 
Industrial vibes take center stage at The Haight, located in Elgin's northwest suburb. Exchange vows on the rooftop deck of this converted loft/warehouse, surrounded by vintage warehouse splendor and the twinkle of stars above. With a capacity of up to 150 guests, The Haight provides an intimate and romantic setting for your special day.
Ignite Glass Studios
401 North Armour St | Chicago, IL
Your love is a work of art, so might as well surround yourself with artwork on your wedding day! At Ignite Glass Studios, your guests will be welcomed by custom crafted gates punctuated with color glass as they enter into the serene urban garden. Whether you choose the Rooftop Deck or the Urban Garden, you'll enjoy the open air while surrounded by creativity and love.
The Study at University of Chicago
1227 E 60th St | Chicago, IL
Create your unique wedding in The Study at University of Chicago's Winter Garden. The open air, light filled space blurs lines between the sophisticated interior and landscaped exterior – creating an ideal setting for your wedding. The space features an enclosed garden terrace for ultimate privacy and beautiful landscaping with fire pits and a brightly lit pre-function hall.
Pinstripes
Oak Brook: 7 Oakbrook Center | Oak Brook, IL
South Barrington: 100 W Higgins Rd | South Barrington, IL
Chicago: 435 E Illinois St | Chicago, IL
 Northbrook: 1150 Willow Rd | Northbrook, IL

Each Pinstripes location offers its own unique terrace venues. Distinctive dining and sophisticated fun unite to create a memorable and simply unique wedding experience at Pinstripes' venues! From scenic expansive patios with cozy fireplaces and playful outdoor bocce courts, Pinstripes' venues offer unforgettable terrace wedding experiences.
The Emily Hotel
311 N Morgan St | Chicago, IL 
Celebrate your love story at The Emily Hotel, where art and nature converge in Fulton Market. With a sweeping 2,876 sq ft fifth-floor terrace, your wedding can embody any vibe you desire. Enjoy panoramic views of the skyline, a lush urban garden and a unique blue geodesic dome featuring netted, hammock-inspired seating. The result? A truly enchanting and stylishly moody celebration.
RAISED at Renaissance Chicago Downtown Hotel
1 W Upper Wacker Dr | Chicago, IL
Elevate your wedding event at RAISED, the rooftop bar at Renaissance Chicago Downtown. With Chicago River views and an eclectic-industrial style, RAISED offers an indoor/outdoor roof deck experience. Open year round, RAISED features incredible views, a swoon-worthy cocktail menu and unparalleled grounds for celebration.
Halim Time & Glass Museum
1560 Oak Ave | Evanston, IL 
The Halim Time & Glass Museum in Evanston is home to a remarkable private collection of hundreds of historic mechanical timepieces and clocks, nearly 100 satined glass windows and a beautiful rooftop terrace. The venue's galleries are exquisite, but the terrace ambiance cannot be overlooked! The elaborate stained glass works and decadent chandeliers of the Gilded Age lie juxtaposed against the brutalist exterior and rooftop city views, making this venue great for couples with any personal style.
Revel Motor Row
2400 S Michigan Ave | Chicago, IL
Built in 1936 and previously home to the Illinois Automobile Club and the Chicago Defender building, Revel Motor Row provides an impressive backdrop for any vision. While there's no skyline view, especially worth highlighting is the 4,000+ sq. ft. Cadillac Courtyard. A truly versatile venue, Revel Motor Row can accommodate up to 2,600 guests throughout its historic and distinctive settings.
Rooftop at Torali at The Ritz-Carlton Chicago
At Water Tower Place, 160 E Pearson St | Chicago, IL
Located on the 12th floor of The Ritz-Carlton Chicago, Torali's modern rooftop bar and lounge is a city sanctuary. Rooftop at Torali's modern design makes for a magical reception under city lights – all within the landmark Water Tower Place. A sweeping view of downtown Chicago and Lake Michigan will make your wedding as picturesque as can be.
Upstairs at The Gwen
521 N Rush St | Chicago, IL
Discover one of Chicago's best kept secrets: Upstairs at The Gwen. An Art Deco-inspired rooftop retreat, The Gwen offers skyline vistas in a laid-back, twinkle-lit atmosphere. The open-air 6th floor Gallery Terrace can accommodate up to 70 guests or 320 when combined with the Gallery Ballroom. With 70% of the space covered by a retractable pergola and permanent heaters throughout, The Gallery Terrace allows for sun-splashed daytime functions and magical evening events under the stars, no matter the season.
Bridge 410
410 N Paulina St | Chicago, IL
In Chicago's West Town Brewery District, Bridge 410 fuses industrial and modern charm seamlessly. With the Paulina Street Bridge as your ceremony backdrop, Bridge 410's backyard makes for a dreamy event space. Bistro lights illuminate late summer nights, and a cement patio welcomes food trucks, creating an inviting atmosphere against the city's industrial backdrop.
Homestead on The Roof
1924 W Chicago Ave | Chicago, IL
One of Chicago's best kept secrets, Homestead on the Roof is a cozy rooftop in the heart of West Town. The outdoor rooftop patio boasts lush gardens, warm Edison string lights and a decorative brick fireplace. Homestead on The Roof's enchanting ambiance, combined with exceptional culinary service, guarantees an unforgettable experience.
The Roof at Joy District
112 W. Hubbard St | Chicago, IL 
For the disco and party loving soon-to-be weds, Joy District is the ultimate choice. With bold colors, patterns and cascading foliage, this multi-level spot in River North offers a taste of paradise without leaving the city. Host up to 220 guests and let your party-loving spirit shine on this vibrant rooftop.
Metropolis Ballroom
6 South Vail Ave | Arlington Heights, IL
The Veranda at Metropolis Ballroom is the perfect space to get some fresh air and take in views of picturesque Downtown Arlington Heights. In the colder months the Veranda can be tented and heated so you can comfortably enjoy the space in all seasons. Whether you're dreaming of a small, intimate gathering with your closest family and friends or a lavish affair with many guests, the fresh breeze of the Veranda at Metropolis Ballroom can be everything you've dreamed of.
---
Chicago's rooftop wedding venues seamlessly blend urban energy with breathtaking skyline views. From historic charm to modern elegance, these venues provide the perfect canvas for your love story to unfold. Embrace the city's beauty and create unforgettable memories against a backdrop that's as vibrant and dynamic as your love.