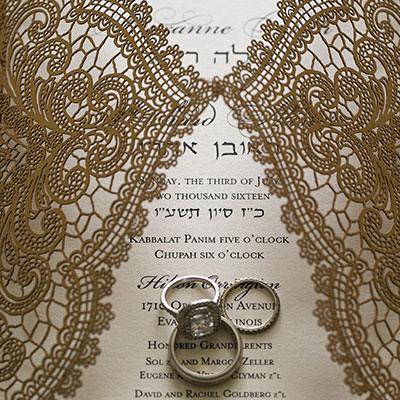 The latest and greatest trends in the world of wedding stationery
Whether you send out engagement announcements followed by save-the-dates, or skip the preliminaries and head straight to the wedding invitations, one thing is for sure: wedding stationery is a key element in any couple's nuptials, and not one to be underestimated. In addition to helping you and your wedding planner prepare for the big day (I'm talking about RSVP cards here) your wedding stationery is also your very first opportunity to set the tone, vibe, and style of your once-in-a-lifetime celebration; not only letting guests know what to expect, but also offering helpful hints about formality and color schemes.
Whether your stationery lets your guests know it's time to dust off that tuxedo with the tails, dress to impress at an outdoor ceremony, or prepare for a reception that is completely flip flop formal, you definitely want to be on trend (especially since this year's wedding stationery trends are super gorgeous and fun). Your wedding stationery is one of the first major decisions you'll make as a wedding-planning couple – so be sure to make it count (and have lots of fun too). Here is what's totally trending in the world of wedding stationery this year.
First of all, it is all about the bolds – bold colors, that is. While blues are definitely big this year, that's not the only color wedding- planning couples are loving. In addition to French and navy blues, think emerald and hunter greens, burgundy and deep purples, or a striking contrast of traditional black and white. Consider complimenting your favorite bold with a more subtle, dustier color, like peach, rose, grey, or quartz. Show stopping combos include navy and rose gold, French blue and copper, or black and white with rose gold foil accents. But if bold-on-bold is totally your thing, don't be afraid to pair two. Invites featuring deep blue with accents of dark are popping up here and there this year – and with all that color, your guests definitely won't forget to save the date.
Patterns are also going bold this year, so you might be loving stationery with wide stripes or polka dots, or color blocked invitations – think two primary tones or a darker color layered over white or black. You'll also spot wider, bolder accents of ribbon, adding a whimsical element to stationery that is one or two solid colors. But while this year's brides might be taking things a tad darker and edgier when it comes to color, in other ways – like the shape and structure of your invites – the top trending wedding stationery will reflect more traditional, simplistic, and streamlined styles. Clean lined square and rectangular invitations are definitely back in the bridal spotlight, as well as stationery that utilizes folios or pockets, (which, let's be honest, are super handy when you're trying to stuff everything from your RSVP cards to the directions from the ceremony to the reception in one sleek and streamlined package).
When it comes to paper, couples are loving high-end and unusual papers, like those that feature elements of velvet or damask, or layered papers – pairing sleek and clean invites with one or two major wow factors. Think: bold envelope liners, custom wax seals, or elements of texture. And if you're going super high-end, wedding invites that arrive in a box instead of an envelope are definitely a big crowd pleaser.
Paper isn't the only element keeping it sleek and simple this year. Clean fonts and block lettering – with just a few accents of script – are also totally trending, as is traditional black letterpress. Most invites feature one primary font, with one or two accent fonts, so you can mix up a few styles you love.
When it comes to incorporating texture – one thing brides are all about this year – be sure to think of ways you can feature a unique element without totally overwhelming the invitation itself. This year's wedding invites are seeing pops of linen backing, bookbinding cloth, silk, or cotton, paired with a basic letterpress or print. For fall or winter weddings, you might also see much more subtle elements of velvet or damask. You'll also notice plenty of white gold and rose gold foils featured this year, which compliment those darker, bolder colored invites beautifully.
Environmentally conscious couples will be happy to hear that nature-inspired, organic, recycled, and other eco-friendly invites are also big this wedding season – especially if you're having an outdoorsy or rustic wedding, incorporating a little greenery will definitely set your stationery apart from the crowd. Think: recycled paper, a touch of burlap paired with lace or ethically-made silk, and elements of recycled twine or other natural fibers. There are even biodegradable invitations with wildflower seeds set into the paper, so after taking note of all the important details of your big day, your guests can plant the entire invitation – a festive and earth-friendly wedding favor that will definitely make an impression. (Just be sure they don't plant the RSVP card too! You'll need that one back.)
If you're going the earth-friendly route, be sure to ask your printer about vegetable and soy-based inks. They do take a little longer to dry, but most only release around 2-4% of volatile organic compounds into our atmosphere. That's a wedding invite you can feel really good about.
One more thing to keep in mind is coordinating your stamps to the invites – yep, every detail counts, right down to the postage stamp. This year's stamps are turning out to be just as bold as the invites, featuring dark greens, bold blues, and deep burgundies and purples. Custom stamps are also always a fun option, featuring the names or initials of the happy couple.
Whatever style you choose for your wedding stationery, make sure you remember the most important detail of all: that your wedding day is about celebrating who you and your fiancé are as a couple. Make sure your stationery reflects that, in addition to setting the stage for a day you'll both remember forever. Oh yeah, and don't lick all those envelopes yourself.
Written by E. Ce. Miller
"We love to test the waters with new color combos, textures, patterns, and more! While rose gold foil, blush, and glitter continue to top the stationery charts, we're really excited to see an array of geometrical patterns making their way in, as well as lots of gorgeous vibrant florals!" – Jessi Cabanin, Just Invite Me

"What wedding stationery trends can my couples not get enough of? Calligraphy inspired fonts, metallics, and custom illustrations for maps and other parts of the "suite" are all on trend." – Colin Falco, Pulp & Ink