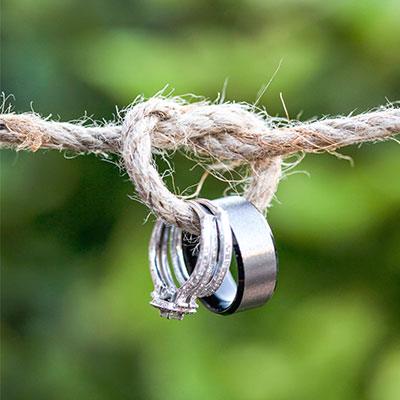 Etiquette for your engagement and beyond
Proposals and weddings are filled with romance, thrill, joy, and, more likely than not, a few nervous butterflies. Here's the truth: capturing and sharing those special moments with family and friends is a rite of passage for every pair-to-be, whether you're about to rock a ring on your finger or you're preparing to meet at the altar. But it's worth remembering that taking the time to make sure the social media posts surrounding your nuptials don't rain on your parade. Follow our guide, and avoid headaches and hurt feelings.
Tell the important people first.
Before posting any photos or status updates, make a mental list of the people who you know will appreciate hearing the big announcement in person or via phone call. Social media may be the easiest way to inform the people around you that you're getting married, but it's also the least personal. There are some people who will not want to find out the big news through notification along with everyone else – and it's up to you to reach out to them. Additionally, any close friends or family who aren't using social platforms won't appreciate missing out on the news if you head down that route.
Leave a little mystery.
There are some moments everyone expects to be privy to. Engagement ring, check. A handful of photos of you and your sweetheart lost in love, check. But what people connected to your platforms don't need to see leading up to the wedding are pictures of your shoes, your jewelry, your bridesmaid dresses, your table centerpieces, your flower bouquets, and your venue – you get the point. Some details are meant to only be seen in person and in the case of engagement and wedding preparation, this still holds true.
Post positively.
While you prepare for the Big Day, you're bound to have a few days filled with worry and stress. There is never a good time to bad mouth a professional, friend, or family member on social media as you work through the ordeal but if you absolutely must vent, pick up the phone and give that person a call. You'll steer clear of any drama that may result from posting your frustrations online and you'll maintain a pristine reputation for keeping your cool during wedding planning – and who doesn't want that?
Never advertise the invitation.
Though your invitation may be flawless, the only people that should see it are those who will actually be receiving it. A publicly posted invite could not only attract the dreaded wedding crasher, but it can also lead to confusion when it comes to official RSVP head counts. Either way, your safest bet is to share your invites through regular snail mail or email your intended guests individually.
Make 'em say aww.
It is downright heartwarming to see a couple you care about take a big step together, but pictures that are too intimate are a turn-off no matter how close you are to someone. We're looking at you, kissing pictures turned make-out session. Whether it's the surprise proposal photo-op or the photos of you tying the knot, you'll want everyone to tilt their head to the side and smile wide when they see what you've been up to, not leave a bad taste in their mouths.
Create a digital album.
Let's face it: countdowns, flashback photos, and posts that capture moments step-by-step may seem like an endearing way to showcase the love between you and your partner in the days leading up to your wedding – and honestly, sometimes they can be – but daily or frequent posting can be a bit much. Instead, create an engagement or wedding album that allows friends and family to view pictures in one location at their leisure.
Be careful of flaunting.
These days, dream weddings come in all colors, sizes, and budgets, and why shouldn't they? The best wedding is no longer the one with the most dollar signs. So please, for the sake of everything that is good, avoid price tags and posts that center mainly on the extravagance of your wedding. Posts like these can make you seem boastful and at the very least, they decrease the wow-factor of your celebration.
Beware of the uninvited.
It's safe to assume that those who truly care about you will be thrilled to scroll through their social platforms and see the stunning photos from your big day. But chances are you didn't invite every single one of your followers to your wedding. Don't forego posting about your wedding entirely but be mindful that people who may have not gotten an invite may view frequently posted pictures as a sad reminder that they didn't make the cut.
Use a hashtag.
The beauty of social media is that finding a collection of photos during an event has never been easier thanks to hashtags. You will already have full access to any pictures you opt to have professionally taken on your day and with hashtags you can also have full reign over any pictures taken by friends and family as well. There's always that one person who captures a priceless moment that your photographer missed! All you have to do is brainstorm a phrase that is short and sweet, remind guests to add it to any posts or photos they take and share, share, share!
Put some thought into it.
This final rule may seem like the most obvious when it comes to engagement and wedding social media etiquette, but it is often the most overlooked. These moments are your special moments and the internet offers eternal preservation. So, before you post anything, take an extra second or two to make that caption really reflect the genuine excitement or love you feel. Absolutely no one will fault you for choosing to post the pictures that meant the most to you instead of every single photo you took, including the blurry one where your eyes are closed and you can't remember what you were doing. Future you will thank you later, trust us on this one!
Written by Nesa Mangal