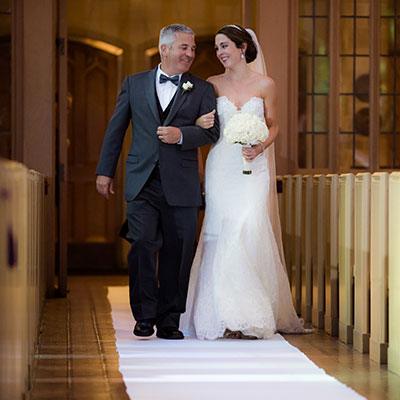 Real Dads Dish on Weddings, Planning, and Heading Down the Aisle
We polled a few of our favorite dads to get their thoughts on weddings and how to plan them, and they were full of amazing advice. Before we jump into all of their tips and tricks though, we need to take a second to discuss what being a "dad" really means – and how playing the role of a father consists of a whole lot more than just sharing genes.
Defining the Wedding Dad
If you were to flip to the page on dads in the Official Wedding Rules and Regulations Guide (that exists, right?), you'd find a few notes about him paying for the wedding, a paragraph or two on walking you down the aisle and dancing at the reception, and then the section would end. Tradition has made it clear that brides need to have a dad around on their wedding day to be given away, but what about brides whose fathers are out of the picture? What about the women whose grandfathers raised them? Or the ones who lucked into having two dads –a biological dad and a stepfather, or two adoptive dads?
No matter who ends up playing the role of "dad" at your wedding, the only thing that matters is that whoever gets to escort you to your partner and dance with you at the reception is someone who loves you, supports you, and helped you to become the woman that you are today. That person might very well be your biological dad, but if you decide to have a stepdad, a grandfather, a brother, or even your mom fill the part instead, your wedding will still be perfect and all of the tips below still apply.
1. Remember that dads are more than just a checkbook.
You might just assume that your dad doesn't care about choosing flowers for centerpieces or crafting menus, but ask him for his input anyway– especially if he's the one shelling out the cash to make your wedding happen. You can shower him with as many hugs and thank yous as you'd like, but nothing beats getting him involved in the process. Let's say you're in love with the idea of walking down the aisle with a bouquet of pink carnations, but you're struggling to pull the trigger and commit. Some dads might tell you that if those pink rose-looking things make you happy, then it makes him happy too, but other dads might surprise you and point out that since you're dressing your bridesmaids in pale yellow, maybe a light yellow bridal bouquet is worth considering. You won't know what insights your dad has to offer until you make the effort to ask him, so remember to keep him in the loop during planning.
2. Go to him when you start losing focus.
Whether it's a member of the bridal party acting out or a vendor bailing a few weeks before the wedding, bumps in the road are bound to occur and it's easy to lose sight of what's truly important. Rather than stewing in your frustration, talk things out. It's natural for women to turn to their moms first, but don't discount your dad. Dads have an innate sense for seeing right through to the heart of the issue, and we highly recommend taking advantage of their superpowers. When we asked the men about what advice they had for couples in the midst of the planning process, they all came back with the same tip: After you've done all the planning and made sure your guests have the wedding necessities (food, drinks, music), keep the focus on yourselves. The dads stressed that when, not if, things go wrong during planning or on the actual wedding day, couples should try their best not to get distracted and remember how amazingly significant getting married is. All soon-to-be brides could benefit from gentle reality checks like these, so make the most of your dad's wisdom.
3. Rely on your dad, but don't let him overburden himself.
Learning how to delegate is a crucial part of planning a wedding, and dads are almost always willing to lend a helping hand. Forgot to go pick up the wedding cake? Dad's on it. Left your veil back at the hotel? He's already got one foot out the door. Need somebody to go deliver a present to your soon-to-be spouse while you're getting ready? Dad's the man for the job. No matter how willing your dad is to help out with all the little things though, remember that your wedding is an incredibly special time for your dad, too, and he deserves the chance to enjoy the day. Say it with us now: "I will not turn my dad into my wedding pack mule – even if he's insisting on it."
4. Give him a small memento.
In typical dad fashion, the general feedback from the men that we polled was that they were just thrilled to be at their daughters' weddings in the first place. As long as the celebration went smoothly, the dads were content with staying out of the spotlight and basking in their daughters' happiness. If the only thing dads seem to want in regards to weddings is a day full of joy that puts a smile on their daughters' faces, consider how much even a tiny surprise gift would mean to them. Whether it's getting the back of his tie embroidered with a special message or giving him a new pair of cufflinks, we promise that going the extra mile and giving your dad a wedding memento will mean the world to him.
5. Don't underestimate how much that walk down the aisle means to him.
You might be in a rush to get to your partner as you head down the aisle, but the man who's escorting you probably isn't in nearly as much of a hurry. The dads couldn't stop talking about how much that simple walk meant to them, and for a few, it was their favorite moment from the entire wedding. No matter how anxious you are to stand at your soon-to-be spouse's side, slow down and make your walk down the aisle count. In fact, don't discount the moments before you walk down the aisle. So many brides end up treasuring that minute or two that they spent behind-the-scenes with their dad as they waited to head down the aisle. If you don't plan on taking the mic during the reception to give him a heartfelt thank-you, that quiet alone time is a great opportunity to let him know how much you appreciate him. Once the walk starts, take the time to truly drink in the moment and let the magnitude of the day the sink in.
6. That being said, don't feel obligated to be traditional.
If you weren't planning on getting walked down the aisle or having a father-daughter dance, don't let us change your mind. It's your wedding, not anyone else's (well, aside from your spouse), and you have the right to call the shots. All we're suggesting is that if you do decide to mix things up and head down a different route, keep your dad in mind. You might not utilize him in a traditional role, but make the effort to give him some type of special job. Letting him make an announcement before dinner might not seem like a huge deal to you, but giving him that small moment to show off how proud he is will mean the world to both of you.
Written by: Christina Oddo
Real Dad Talk
"Try to balance showing respect for tradition with displaying your uniqueness and creativity. Don't force your collective beauty and personality to compete with excessive pomp and details." – Mike, Dallas, TX
"This day is about the two of you. Choose food and drinks you like. Pick music that's significant to both of you, and that you enjoy. That's not being selfish. It's actually being as selfless as you can be by making your spouse – and nothing else – the center of your undivided attention on one of the most exciting days of your lives."– Tom, Naperville, IL
"I had a long list of errands the morning of the wedding that I should have partially delegated or eliminated. When I finally stopped in order to suit up, I had no spare time for last-minute glitches – like a broken suspender buckle and the wrong tie. No one noticed the tie or the safety pin, but errands challenged my attempts to focus on the real significance of the upcoming ceremony."– Mike, Dallas, TX
"I wouldn't change a thing about either of my daughters' weddings. They go by so fast though. Try to enjoy each moment." – Al, Elk Grove Village, IL
"It struck me that not only was I walking a beautiful bride to the altar, I was her final escort accompanying her to a new adventure and a new future. That's why I walked slowly, to hang on a little bit longer."– Giovanni, Chicago, IL
"It'll be a crazy day but really, I'm looking forward to just being a part of one of the most exciting days of her life." – Chris, Schaumburg, IL