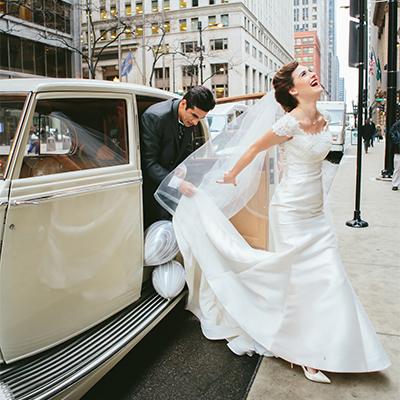 Make your journey from ceremony to reception a memorable one.
It isn't necessarily something at the top of every engaged couple's to-do list: organizing your wedding day transportation, that is. It might seem like a small detail now, compared to say, altering your wedding dress or finalizing the reception menu, but when the big day finally arrives, the last thing you're going to want to be thinking about is how you and your entire wedding party are getting from the ceremony to the reception – and it's not a detail you're going to want to leave until the last minute.
The good news is, wedding day transportation doesn't have to be all about the logistics of getting from point A to point B (although, that really is the most important part.) With a little thought and advanced planning, you can schedule wedding day transportation that is not only functional, but also fun – and creates some great photo-ops as well. Consider this:
Give yourself the VIP Treatment
If you're planning a wedding that is sleek and sophisticated, arranging a fleet of luxury cars or a stretch limo to transport you and your wedding party from the ceremony to the reception might be exactly what you're looking for. The tinted windows, cool AC, and bubbly beverages will make for a relaxing and refreshing ride – just the kind of break you need between saying "I do" and dancing the night away. Plus, striking a sassy pose from the sunroof of a limousine always makes for a super cool wedding photo.
Go old school
If your wedding has more of a classic, vintage feel – or if you've just always wanted to ride in a 1936 Rolls Royce – then you might want to consider arranging the service of an antique automobile company. For the car-loving couple, classic cars make for some one-of-a-kind wedding snapshots and a once-in-a-lifetime experience. Plus, lots of classic car rental companies will have props on hand (think red carpets, roses, parasols) for couples who want their wedding day transportation to double as a creative photo prop.
Try a trolley
Wedding trolleys are super fun, and if you're trying to transport a lot of your guests at once (or if you just have a lot of folks in the wedding party) a trolley might be the way to go. There's plenty of space to start the party a little early – so be sure you have a couple bottles of champagne and your dancing shoes on hand.
Take it totally fairy tale
The horse and carriage is a classic for a reason. If you have always dreamed of being whisked away, Cinderella-style, your wedding day is the perfect opportunity to create that fairytale moment in real life. Just keep in mind this may not be a realistic option for your entire wedding party – especially if you're taking that pony ride through the city – so consider additional, more conventional, transportation for everyone else. And remember: the muddier the wedding dress, the more memorable the wedding!
Do something that is totally you
Do you and your fiancé love riding motorcycles together on the weekends? Was your first date a totally awkward – and adorable – tandem bike ride? Do you go dog sledding in Alaska every winter around the holidays? Did the two of you meet when he spilled coffee on you while riding the Red Line? Consider incorporating something totally unique – and totally representative of the two of you – into your wedding day transportation. Sure, it might take a little more creative planning than just reserving a stretch limo or two, but those photographs of the two of you dog sledding down the Lake Shore Drive bike path, or riding the L in your wedding dress, will last a lifetime.
…and definitely don't forget these additional tips
It's important to nail down your head count as early as possible. One of the first things a couple should do when planning their wedding day transportation is to determine the number of people who will want or need transportation. Are you planning on getting everyone from the ceremony to the reception, or just arranging a ride for you and your wedding party, while your guests take their own cars? Or, do you want to arrange for a series of large vehicles – like several trolleys – to transport large groups of your guests in shifts? Whatever you decide, be sure to include all the details in the wedding program, so your guests know exactly what to do.
Check out your ride before booking it.
Just like you wouldn't book a wedding venue without first having visited it, or buy a wedding dress without first trying it on, don't book wedding day transportation without taking it for a test drive – or at least a test-look. You want to make sure what you're getting is exactly what you're imagining.
Be sure your photographer is in the loop.
If you're planning on making your wedding day transportation a key element of the pics you'll want from your amazing day, don't forget to actually include time for snapping photos in the timeline you give your photographer. This way, she'll be prepared to take in every moment you worked so hard to arrange.
Consider the weather
Have a plan B in case you need it. We all know the Midwest: it's sunny one minute and snow is falling the next. Remember your vendors cannot predict this any more than you can, and (while it might sound obvious now, the stress of a heavy rain on an open carriage might make you forget, just for a moment) that your vendors can't control the weather either. Plan for your dream wedding, but be open to adjusting those plans if the weather requires.
Make it fun!
If your vendors allow, be sure to bring plenty of champagne, a Spotify playlist for blasting your favorite tunes, and anything else that will make your journey from ceremony to reception a blast. If your wedding photographer isn't with you for the ride, consider including a few disposable cameras (so old school, I know – but more festive than that cell phone!) so you and your wedding party can take plenty of pics you'll be able to crack up over later.
"Often at large venues the wedding is spread out and different
things happen in different areas. Sometimes it's too much
walking for elderly or handicapped guests, so a golf cart is
great to get them from one area to the next or from the
parking lot to the site."
– Sammie Valadez, Beaver Creek Golf Carts
Written by E. Ce. Miller