Bursting with eclectic decor and thoughtful touches, Michael and Whit's Salvage One wedding was an affair to be remembered.
Michael and Whit met through a random Facebook connection in 2009. "I'll never be able to fully explain the feeling," Michael said, "but when I came across his picture, my gut told me, 'This guy is it. You have to meet him.'" Though reality told them that nothing serious could happen due to logistics, the couple chatted on off for several months and eventually decided to meet up in Chicago- a city that Michael had never visited.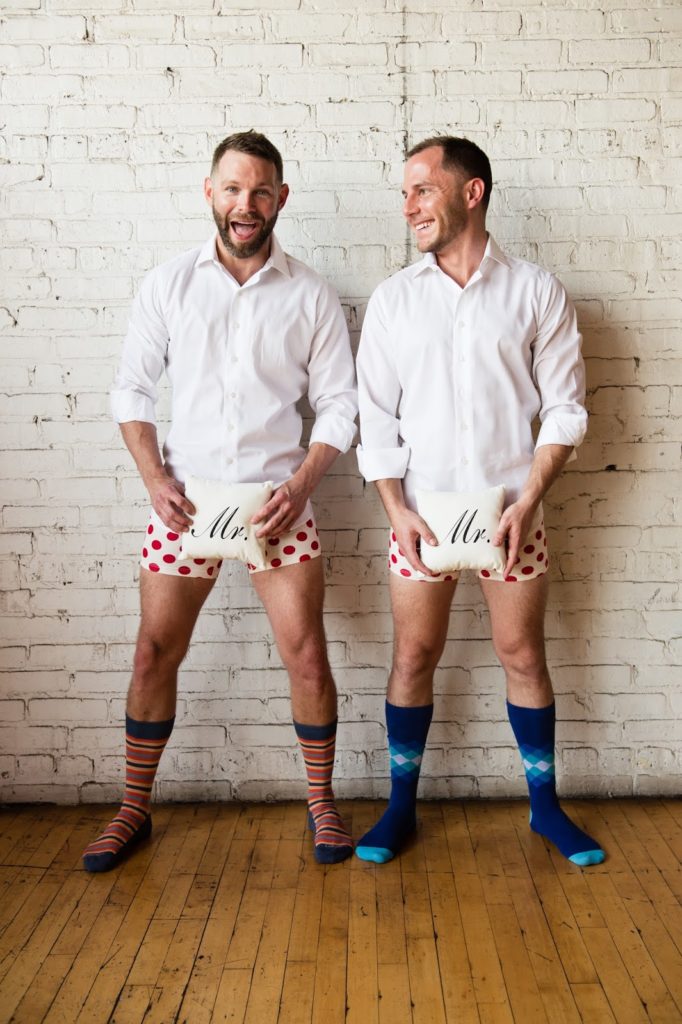 "I was standing outside the airport and all of a sudden, the cute little guy from the Facebook photo was walking around the corner," Michael remembered. "We were both super nervous, but after the initial jitters died down we really started to connect. There was a very natural chemistry between us that was undeniable." After an incredible weekend that exceeded both of their expectations, Michael and Whit continued to talk. Michael came back to Chicago for Thanksgiving and thus began a travel pattern of bi-monthly visits that would go on for the next three and a half years. "I took a Megabus," Michael added with a laugh. "That should prove how in love with this boy I was."
Michael decided to propose to Whit during their fifth anniversary trip to Maui, but admitted he didn't make much of a plan after that. "I carried the ring around in my bag for almost a week of vacation," he said. "I was just hoping that the perfect moment would present itself but it just wasn't happening." That moment finally arrived at the end of the trip, while the couple was relaxing on the balcony of a private spa and watching the sunset. "Whit was totally caught off guard, which is rare for him," Michael said. "There was a beautiful shift in our connection. We'd always assumed we'd spend the rest of our lives together, but acknowledging it strengthened our bond more than either of us ever expected."
Michael hadn't just fallen for Whit though; he'd also fallen for the Windy City. The couple had no doubts about having their wedding in Chicago, and immediately wanted to host their celebration at Salvage One.
"There wasn't one part of the day where we were having anything but fun," the couple gushed. "Literally nothing went wrong. At least nothing we knew about, anyway. Every single vendor that we hired absolutely nailed their job. Lauren Housley [the couple's wedding coordinator] was the perfect fit for us. We look back on our wedding with nothing but smiles."
Michael and Whit's celebration included tons of unique little touches that their guests loved. Favorites included a chalkboard drawing of the couple that guests could take pictures with, the family antiques and old books that served as reception decorations, the "mini Whit and Michael" cake topper, and flashing sunglasses. "I'll tell you," Michael laughed, "you haven't seen 'happy' until you see people on a dance floor realizing that blinking sunglasses are coming their way."
Their favorite part of the day? "Seeing all the happiness shining on the faces of our family friends," the couple agreed. "We had an overwhelming amount  of support from everyone important in our lives, and the room was just buzzing with love, laughter, and happy tears.
Pictured Vendors: Michael Novo Photography (photos), Salvage One (venue), Maison Cuisine (catering), Windrose Flowers (floral), Dustin Harris (DJ), Ryan Alexander Events, Style Matters, Rev for Whatev (officiant), Light Leak Pictures,