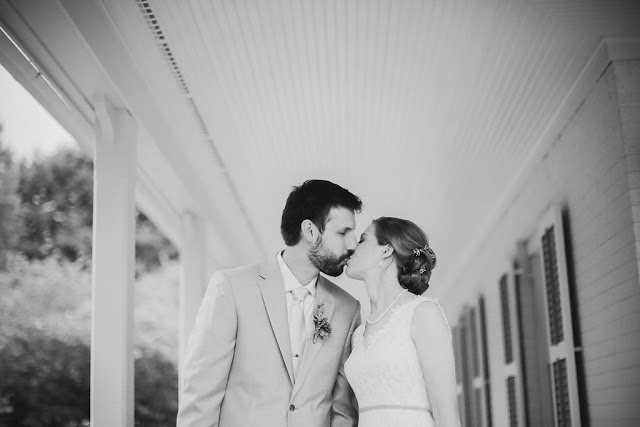 "Anthony and I met in the summer of 2006, when we were both selected for a marine science internship program in Charleston, South Carolina. Since we were both from the Midwest and came from schools in central Wisconsin, we immediately connected. After graduating, we pursued Masters degrees at the University of South Florida and then moved back north—this time to Massachusetts.
"In April 2014, Anthony proposed while we were picnicking in a state park on the coast of northern MA. He surprised me with a beautiful handcrafted wooden ring and asked if I would continue to go on adventures with him as a married couple. It was perfect!
"Our wedding day didn't go exactly as planned, but it was just the experience we wanted! A sudden summer thunderstorm moved our ceremony from the planned outdoor location to a nearby chapel. The impromptu location ended up being a cozy—but perfect—fit. We wrote almost the entire ceremony ourselves, which was officiated by a teacher at my former high school and family friend.
"The reception was held in a restored barn, which was beautifully decorated by our friends and family. The décor had a rustic elegance, and the environment was relaxed. We were incredibly happy with all of our vendors and were able to focus on enjoying the day with each other and our guests."
— Jenny
Vendors: