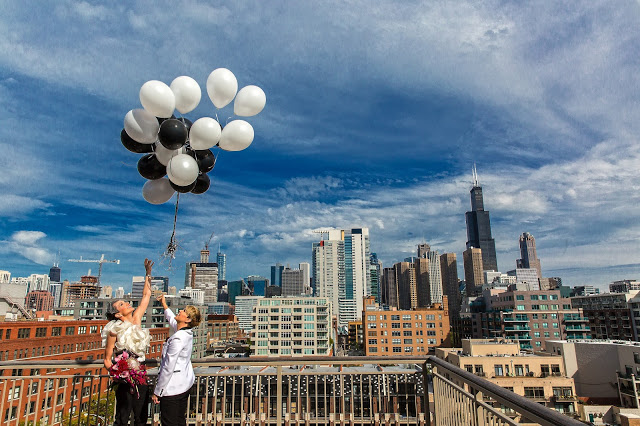 "We met on OK Cupid and had our first date a week later. Jani's mother was staying in town with her at the time (she and Jani are from South Africa) and kept calling and texting her during the date. It was probably embarrassing to Jani, but I found it very amusing. I texted her when I got home and said I hope I didn't get her in trouble with her mom. I asked her to go away with me for the Memorial Day weekend which was in two weeks and she said yes, so I thought she must like me to commit to that. I rented a remote cabin in Saugatuck and we pretty much fell in love with each other there.
"Soon after, I moved to Washington D.C. to finish my graduate program. We said we would see each other occasionally but that plan didn't stick for long – we took turns flying between Chicago and D.C. every weekend of the summer to be together. I moved back to Chicago after I graduated and one night in January we went to the place where we had our first date, and I proposed.
"Our wedding was not just a moment or an event. I remember it as consisting of a series of joyous emotions that all came together with an intimate ceremony at the Alfred Caldwell Lily Pool.
"Dannie and I decided to get ready for our wedding at home in our west loop loft with as little chaos as possible (even our two whippet puppies behaved!). There was champagne and laughter, and only the make up artist and journalistic photographers joined us to capture the story chapters in photos.
"Chicago formed a strong theme in our wedding story since it was the city that we met in. So we started the wedding celebration story by releasing black and white balloons together holding hands on our rooftop with the city in the background. Next stop was the Lyric Opera House. The old architecture formed a beautiful backdrop to the story and we truly enjoyed each other's laughter and excitement while receiving congratulatory comments from random strangers. Running across Wacker Drive holding hands—during Friday afternoon traffic—is definitely something we will always remember! Somehow the contrast of old and soon-to-be new contributed to a wonderful intimacy.
"The next chapter took us to the Alfred Caldwell Lily Pool where our officiant was waiting. I remember the pond and nature having a beautiful calm as we commenced a very intimate ceremony. We held hands throughout and Dannie surprised me by delivering half of her vows in Afrikaans (my native language). It was wonderful! The chapter ended with 'I do's' and we started our life as a married couple by hailing a taxi to have dinner at Boka, our favorite date restaurant. Every moment of that day was perfect.
"We decided we wanted the day to be about us and not lose each other in the event with the entertaining/hosting kind of role that can make the day really stressful for some couples. We rented the Lily Pond for an hour (it's tax deductible, too) where it was just the two of us and our officiant. It was surprisingly magical actually, like being in a fairy tale. The photographers were really great about capturing the beauty and gentleness there in that moment. I said my vows in Afrikaans (Jani's native language). She had no idea I was going to do that and it was a complete surprise to her. Her mother had helped me with the pronunciations. I can still recite my vows by heart."–Jani and Donna
Vendors: