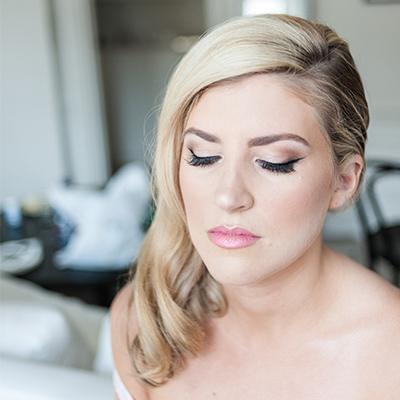 Don't leave your bridal look up to chance
Schedule beauty trials and ensure that you look picture perfect on your wedding day.
The flower arrangements are full, fresh, and overwhelmingly gorgeous, the band sounds heavenly, and the groom, handsome as ever, awaits his bride. Yet as she heads down the aisle, something seems slightly off…
Hair and makeup are a critical part of your bridal look, but countless brides make the mistake of waiting until the day of to test out their desired style. The result of skipping your beauty trials? Unexpected fashion disasters. Whether it's your bright red lipstick looking more cartoonish than sultry or your towering up-do getting mistaken for a bobby pin arts-and-crafts project gone wrong, almost all beauty disasters can be avoided by scheduling a hair and makeup trial three to six months before your wedding. In addition to acting as an "interview" for your glam team, trials are a chance for both you and your beauty professionals to work out any kinks before the Big Day arrives. Still not convinced? Read on to learn more about beauty trials and how they're essential to perfecting your wedding day look.
Find a team of pros.
You've found what you think might be the perfect salon, and now it's time to book a trial. You wouldn't head out on a road trip without making sure that your car is good to go, right? Believe it or not, the same logic applies to your wedding hair and makeup. No matter how many inspiration images you show up with on the morning of your wedding, the only way to guarantee you get that perfect Adriana Lima smoky eye (and that you like the way it looks on you) is to test it out way ahead of time. All reputable beauty stylists should be more than happy to set up a trial or consultation prior to your wedding day. In addition to being proper industry practice, trials actually take a load of stress off your stylists as well. By meeting with brides ahead of time, stylists are able to come up with a look that they know is doable, and that you know you love. If you're working with professionals, your beauty trials should be a fun and informative experience that gets you all the more excited for your wedding day.
Start prepping.
All hair and makeup trials will be slightly different because no two stylists are the same, but there are a few rules that ring true across the board. When it comes to scheduling, give your stylists ample time to test out multiple looks and block out about one or two hours for the trial. Another important step is coming to the appointment with ideas, but not overwhelming your stylists. Bring a few inspiration images for both hair and makeup, but don't show up with an entire scrapbook of looks. Limit yourself to a few favorites, and let your stylists take the lead from there.
If you've booked a makeup trial, arrive with a fresh, clean face. Put on a little moisturizer if it's part of your routine, but don't coat your face in anything heavy or oily. It's also a great idea to bring some of your beauty staples along with you in a small toiletry bag, especially if you have sensitive skin and are worried about the stylist using new products on you. In addition to giving your stylist a better idea of what your makeup must-haves are, asking him or her to incorporate a few items from your personal stash will give you that extra level of comfort.
If the trial is with a hair stylist, resist the urge to show up to the appointment with squeaky clean locks. Hairstyling actually works best on day-old hair, so stay away from shampoo (yes, even dry shampoo) and other sprays the day of your trial. Do you have a beautiful hair piece or veil that you want to incorporate into your look? Bring any and all crowns, fascinators, veils, and other wedding hair accessories you've been considering along to your trial. The morning of your wedding is not the time for your stylist to figure out how to secure your pearl tiara, so make life easier on both of you by giving your stylist a chance to play around with your accessories well before the Big Day.
Think outside the box.
If you've ever wanted to experiment with a certain makeup look or hairstyle, consider testing them out during your trial. Now is the time to play around with false lashes, hair extensions, and other beauty "boosters" you might have been too shy to try out in the past. Do keep in mind that one of the most important parts of stepping outside of your comfort zone is being able to speak up and be honest. If you hate the way false lashes look on you, politely tell your stylist that you aren't so crazy about them after all. A professional won't get upset or offended. Instead, they'll see your honesty as a sign of trust, not a knock on their talent. Good beauty stylists care about perfecting your bridal look just as much as you do, and the only way you'll both be able to achieve that goal is if you're open to new ideas but also comfortable giving honest feedback.
One and done…maybe.
Not 100% satisfied with your look post-consultation? It's time to walk away. It's not always easy, but think of it this way: if you aren't totally in love with your look on your wedding day, you can't reschedule the wedding and try again on a different day. The good news though is that more often than not, most brides find themselves content with how their trial has gone. If you fall into this happy category but want to give your stylists the chance to work with you a few more times before the wedding, consider having them do your hair and makeup for your engagement shoot, bridal showers, bachelorette parties, or other wedding events. The more your stylists understand your hair and skin, the happier you'll both be with the way your wedding day look turns out. Whether you're using your tried and true hairdresser or you're testing out a brand new stylist, giving them the chance to work with you prior to your wedding day is essential. No matter how well you think they know you or how highly your friends have recommended them, it's critical that you build a relationship with your stylists and ensure that they're the perfect fit for your wedding day.
"Trials give the bride the opportunity to customize the beauty details of her wedding day and make sure that what she envisioned is what she gets. Not only is it essential to get to know the artists who will be there for one of the most intimate parts of your day as you are getting ready with your friends and family, but the artists need to get to know you, your style, and the overall look you are going for. Trials give you peace of mind, knowing that you are working with professionals who will make you look like the best version of yourself."
– Ioana Qureshi and Jennifer Beyers, Rare Bird Beauties
Written by Christina Oddo + Yanira Garza