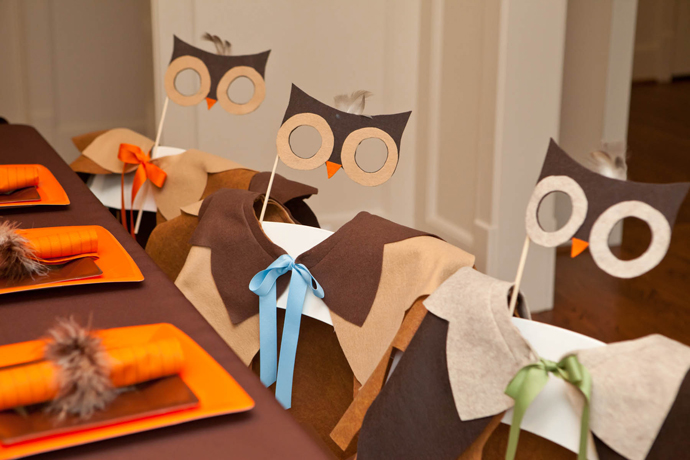 Whooos Having a Party? Owl Themed Party Ideas
I have this thing for owls. I don't really know why but I think they are so fun and I've kind of started a little collection of different owl things.  Owls can also be a fun theme for children's birthday parties. They add a whimsical element and there is so much you can do with them, here are a few ways to have a "hoot" of an owl party.
I love these invitations found on Etsy. So cute for a little girl's party, with the owl wearing a hairbow! The site also makes a boy version where you can change the color of the wings and beak.  I love that the wings open up to see the party info.. so fun! (via Invitations of Elegance)
For party decor, try making these owls out of paper lanterns.Hang them from the trees and it looks like the owls are watching over the party. So simple but a great design element, not to mention, one that's totally customizable. This one is sure to be a party decor hit! (via Oh Dee Doh)
This idea is so fun and plays up the whimsical element of owls. Make owl masks and wings out of felt, elastic and ribbon for the kids to dress up as owls. Play a game with them as owls and have them pretend to fly. It also makes for a great party favor for the kids to take home. (via Amy Atlas Events)
Instead of owl cake pops or cupcakes, try owl rice krispie pops! Simply make homemade rice krispies, get an owl cookie cutter at your local craft store, cut them out and dip in chocolate and top off with white chocolate wafers for eyes and a candy corn beak- and you have the perfect party treat! (via Jill Dubien)
Whoooos ready to throw an owl party now?? I am!