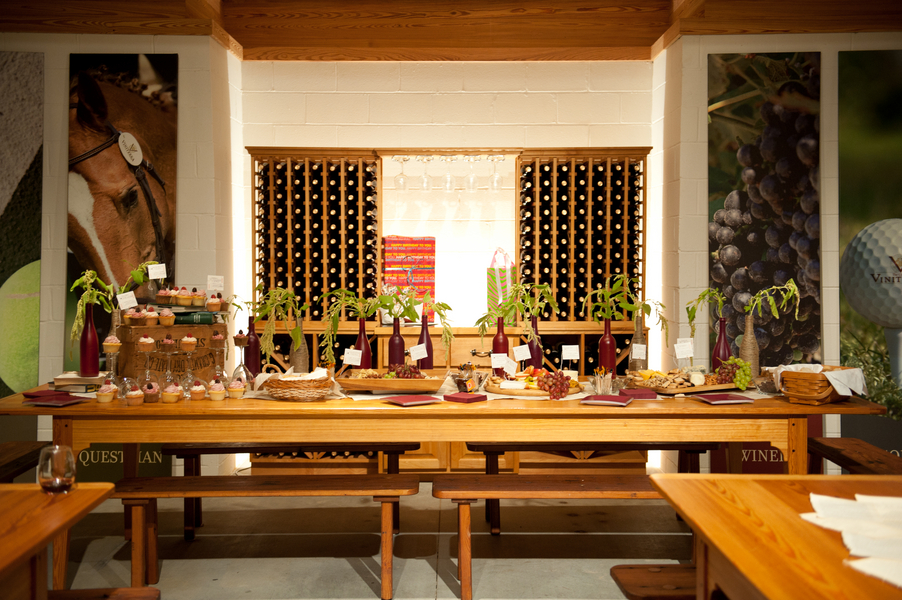 Virginia Surprise Birthday Party at New Kent Winery & Vineyards by M. Chase Narrative Photography
We love a good surprise party, especially if they're held at a winery and include copious amounts of cupcakes and cheese boards…. And we have a hunch that you feel the same way. Luckily for both of us, today's real event features all of the above and then some. Party hostess, daughter of birthday boy,  John AND event photographer, Madison of  M. Chase Narrative Photography has all of the dish and details from the special night!
Can you give us an overview of the event? This event was a surprise 60th birthday party for my Dad. His birthday was not until the end of January, but because my brother attends college in North Dakota, we decided to throw him a party before he went back to school.
Was there a specific theme or style? The party had a rustic style with a wine tasting theme held in the Barrel Room at The New Kent Winery in New Kent, VA.
What inspired the theme or style?  My father loves to cook, and both my Dad and Stepmom are wine enthusiasts. Their two English Springer Spaniels are named Ries and Zin. Having this party at a nearby winery was the perfect venue for their interests and style.
What were your playful twists that made your event unique? First, it was a complete surprise! I made a fake gift certificate in Photoshop to give my Dad for Christmas from all the kids. He thought we bought them tickets to a Couple's Romantic Wine Tasting Event at the winery. He was very excited and thought it was a great Christmas gift! He was completely fooled by it all! It was also a really wonderful surprise that my Aunt (his sister) and her family all came into town for the weekend, and we all able to spend time together before and then after the party.
Did you DIY any of the details? Yes, yes, and yes! We purchased the flowers from Vogue Flowers in Richmond, but my Mom created all the arrangements. We spray painted empty wine bottles in shades of ruby and fuchsia and wrapped others in twine to add height on the tables. One of my favorite additions to the space as a table runner made from pages of old cookbooks and poetry books. We glued the pages down to butcher block paper to use as runners, and then glued moss to stacked old books on both tables. These details added color and texture to the long wooden tables in the room, and made the space cozy and warm.
What was the most memorable moment? My favorite behind-the-scenes moment was my Dad calling me WHILE WE WERE SETTING UP!! I answered thinking it was my Stepmom, and instead it was my dad calling to talk to me about an upcoming bridal show. I just kept saying "yep, sounds good" "uh-huh, uh-huh" and just waiting for him to ask me about the wine tasting event. I realized after our phone conversation that he has no idea what he was going to be walking into in just about an hour.
Of course, seeing the look on his face once he came in the room was priceless! It was hard to take pictures, because I was so excited!!
Tell us about the food and desserts! We held the party and wine tasting in the late afternoon; therefore, we kept the food light. We had chosen several bottles of wine and paired specific cheeses with each bottle. We had a great time selecting cheeses from Whole Foods! We also had fruits, dried fruits, nuts, meats, breads, crackers, and spreads that would accompany the wine and cheese. Instead of a birthday cake, we ordered wine-themed cupcakes from a local cupcake shop in Richmond called Carytown Cupcakes. They have the best cupcakes!!! We had three favors — my favorite was the chocolate syrah cupcake with blackberry buttercream! Yum!
[nggallery id=337]
Photographer: M. Chase Narrative Photography | Venue: New Kent Winery & Vineyards | Desserts: Carytown Cupcakes |Floral: Vogue Flowers