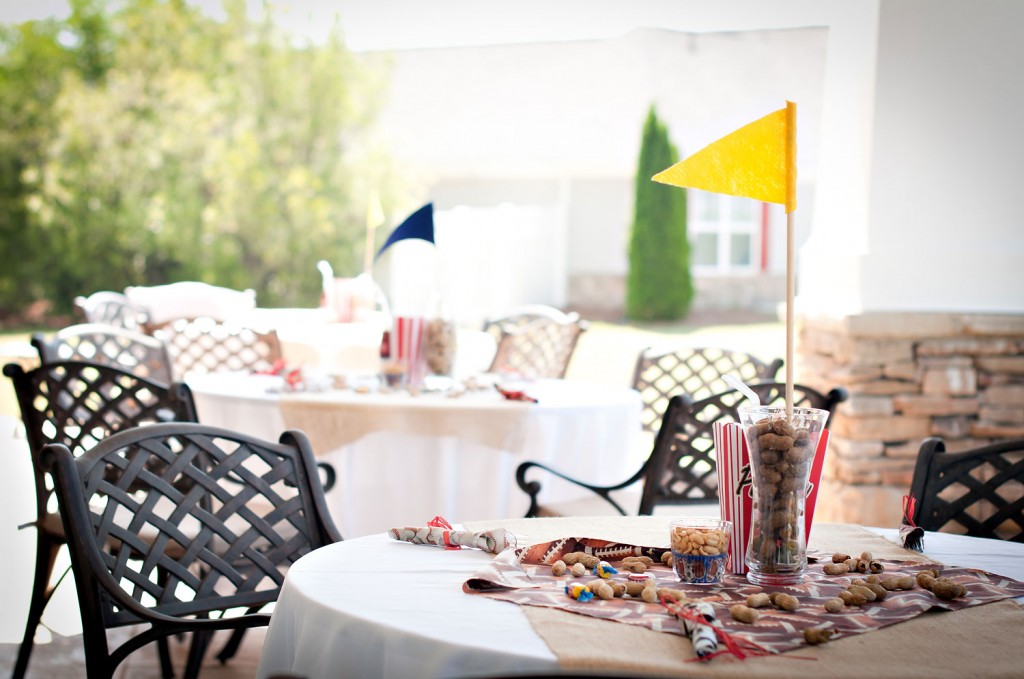 Vintage Sports Themed Baby Shower
In a fun change of events, today's post was actually thrown in part by Occasions' own Lisa Alexander! The vintage-sports themed baby shower for Lisa's great friend McKenzie and baby Sage — making his debut this June — was too. stinking. cute. Not that we had our doubts, but Lisa and co-hostesses' Teresa Blevins and Marilyn Lewis really knocked this one out of the park…pun intended! Some of my favorite details are the sweet potato fry cups and felt flag centerpieces….and the cupcakes, duh. I can tell you that the details truly abound in this feature, so don't forget to scroll through the full gallery!
Can you give us an overview of the event? The baby shower theme was "Vintage Sports" to coordinate with Baby Sage's nursery. The event was attended by friends and family all across Georgia!
Did you DIY any of the details? Tablescapes: With the kindness from Chef Sam Pagen and the use of his white linens we built off that. Simply we cut squares of burlap and sports related fabric. The fabric was used to wrap the silverware and tied with rafita. As centerpieces we used vases with handmade pendants out of felt. Filled popcorn bags with popcorn and cracker jacks. Old glass coke bottles with straws and who can forget the Double Bubble gum we had scattered on the tables.
What was the most memorable moment? (From Mama-to-be, Kenzie) Walking in to my own baby shower and seeing all of the beautiful decor, food, wrapped presents, and love that was put into it. And then to see my wonderful girlfriends putting the finishing touches on everything… I felt so loved, so special, and so incredibly blessed to have friends and family that loves me, and Baby Sage, so much (even before he is here!).
Tell us about the food and desserts! The food was provided by the Grand Gourmet Catering and the food went along with the theme! Ballpark food of hotdogs, barbeque sliders, gourmet nachos & sweet potato fries displayed on a colorful table of red, white and blue with old coke crates and coke bottles and wooden baseball bats. All very vintage!The cupcakes and cookie favors were made by our friends at Bliss! The cupcakes and cookies were decorated as footballs, baseballs, tennis balls, basket & soccer balls.
Editor's Notes: The darling sports ball cookie favors above and mouthwatering cupcakes below are from Bliss, a fantastic new bakery in Henry county. Love the detail here; they nailed the vintage look.
What better way to welcome a baby into the world than with cupcakes?? For a party with lots of mingling, cupcakes and other hand held desserts are a real no-brainer. Easy to hold a conversation AND hold one of these in your hand, plus — no one has to stop to cut cake. Winner!
We love that Lisa & co. decided to throw a shower that coordinated with McKenzie's nursery. That adorable sports bunting? We say hang it on baby Sage's door or above the crib!
[nggallery id=315]
Catering: Grand Gourmet Catering |  Desserts: Bliss