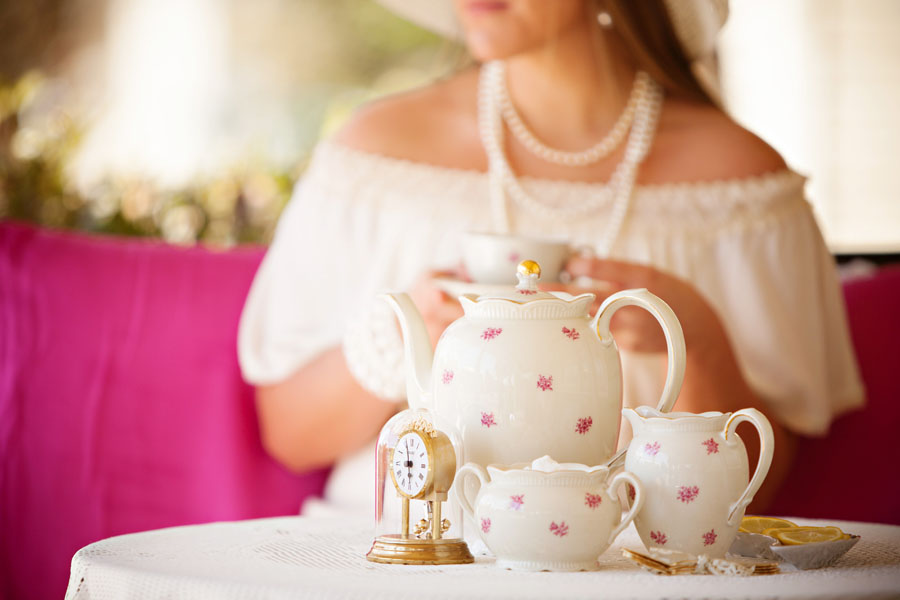 Vintage Romance Bridesmaids Tea
Held at the historic The Gilbert House, this bridesmaids tea manifests Southern charm at its finest.  A cozy, sunlit porch, delicate lace tablecloths, fine china and dainty desserts . . .  All this combined with floral arrangements of ivory, fuchsia, and blush brings the feminine grace and elegance of a past era freshly to life.  Don your hat and pearls for this delightful party scene planned by Jennifer Shields and captured by 35 Atlanta!
THEME
Vintage Romance, incorporating antique china, pearls and lace
COLORS
Rose, blush, pale pink, cream and white
ITEMS TO INCORPORATE
Scour antique shops for vintage teacups and saucers (they don't have to match). Use Depression glass goblets for water and lace trimmed linen napkins. To bring some personal touches to your event, pull out the family china, silver and linens. Display tea selections in vintage suitcases. Use mismatched teacups and teapots or mason jars in varying sizes to display roses or wildflowers.
FLOWERS
Tea pots, mason jars and other vessels were filled with loose flowers acquired from various local sources. We used a mix of soft pink roses and rich pink ranunculus.
THINGS TO REMEMBER
The traditional time for afternoon tea is four o'clock, however any time between two and five o'clock is appropriate. Along with a choice of teas, typically three types of items are served: savories such as tiny sandwiches, scones, and pastries.
SIGNATURE COCKTAIL
What better way to end an Afternoon Tea on the porch than with a pink champagne cocktail? Garnish with a single raspberry and monogrammed cocktail napkin.
TAKE IT UP A NOTCH
The appeal of this style is the simple, elegant use of vintage items and family heirlooms. However, you can incorporate more drama with ornate chargers, real silver flatware, monogrammed linens and crystal chandeliers or silver candelabras. Opt for soft, custom pillows at each seat to make guests more comfortable.
PERFECT FOR
The classic bride with a love of all things vintage. This is the perfect opportunity to incorporate family heirlooms to make your event more personal.
WHAT TO WEAR
In our increasingly more casual era, an Afternoon Tea brings to mind the nostalgia of more elegant times when visiting someone for tea was a formal affair. This is an occasion for soft, feminine attire. Bring fancy back with gloves, pearls and hats!
Shoot Professionals
Planning, Floral & Design: Jennifer Shields | Photography: 35 Atlanta | Venue: The Gilbert House | Dress: Muse Boutique | Rentals: The Prop Closet at The Gilbert House | Stationery: AmeliyCom Professional Design | Cake: Sugar Benders Bakery | Macaroons, Cupcakes & Cookies: Grace Trading International | Styling: Erica Benoit of benoitEnstyle