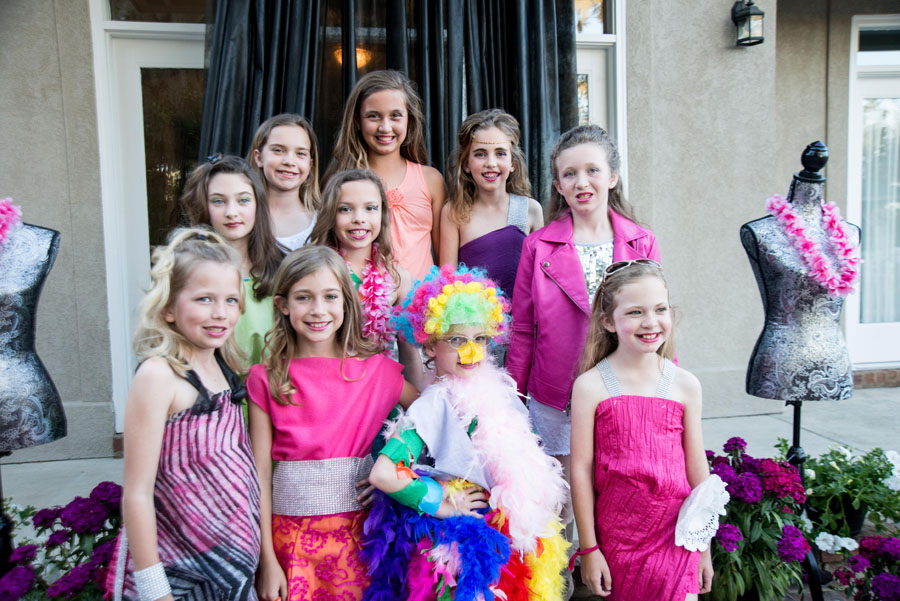 Vibrant Fashion Themed Birthday Party
What little girl doesn't love all things fashion, all things funky, all things fun?  For one very special little girl, her birthday party, planned by her mother, Sebrell, was made up of all three.  McAlister and nine of her friends arrived to her party to learn that they were to be fashion designers!  Each of the girls chose from a stash of scraps and garments, gossamer paper, streamers, feathers, crystals, fabrics and accessories.  The girls used staples, tape and glue to piece together their creations before moving on to hair and makeup to prepare for the fashion show they put on for their parents!  Following the show everyone enjoyed birthday barbecue and cake by Something Sweet Bakers before the girls left for home with fashion journals and sewing kits in tow.  Join these girls on the runway with these photos by Camden Stovall!
Was there a specific theme or style?
We had a project runway theme but it was billed as McAlister's 10th Birthday Fashion Spectacular. McAlister is crazy about drawing fashions and as lead designer che assisted all of her friends with their designs, helping to bring each girls vision to life. It was a true collaborative effort of amazing group of super talented and creative little girls.

What were your playful twists that made the event unique?
The girls arrived not knowing what to expect. Their enthusiasm and creativity was amazing! They created great fashions out of non-traditional materials like pipe cleaners and crepe paper streamers, ruffles made from paper doilies safety pinned to fabric remnants, ect. The excitement was in the creativity and the unexpected. A close family friend organizes beauty pageants and helped out by giving the girls tips for walking the runway and assisted them with hair and make-up. Parents also had no idea what to expect. The girls stayed hidden when their family members arrived. The looks on the faces of the parents as they watched their daughters walk the runway in their own creations was so thrilling. Everyone was so excited and overwhelmed by the girls' creativity.
Did you DIY any of the details?
We made our invitations. Each model/designer received a pink envelope filled with an invitation, a personalized runway pass and individual show tickets to share with their parents and siblings. A family friend assisted the girls with hair and makeup. Every detail of the whole party other than the cake were handmade.
If there was one thing you could change, what would it be?
We could have used a little more time for everyones hair and make-up. The girls were given 3 hour to create and 1hour for hair and make-up.

What was the most memorable moment?
The glow on the girls faces as they strutted their creations down the runway. They had such a sense of ownership and pride. Anytime you can make a pack of 10 year old girls work together cooperatively and smile that big is a great day!
Party Professionals
Photography: Camden Stovall | Event Planner: Sebrell Smith Designer Events | Desserts: Something Sweet Bakers | Hair & Makeup: Jo Beth Fuller