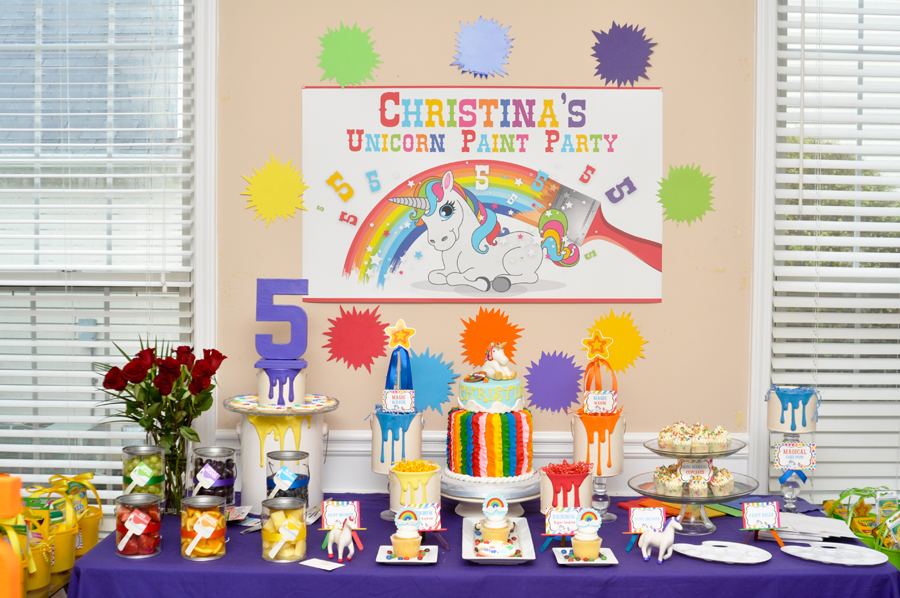 Unicorn Paint Birthday Party
As a kid, I was in LOVE with all things Lisa Frank!  The bright, girly colors, the adorable animals — I honestly couldn't get enough!  So seeing these fun party pics definitely brought back some sweet memories.  Held on a lovely spring day, Christina's fifth birthday party was a unique combination of two of her favorite things: paint and unicorns.  Her mom, Helena, spent months planning the event, and kids and their parents were wowed from the moment they arrived.  Rainbow colors splashed every corner of the celebration, from the beautifully decorated cookies and cupcakes on the dessert table to the vibrant rainbow piñata and pretty unicorn props at the photo booth.  The children enjoyed crafts of coloring and painting, the little girls looking oh so cute with unicorn horn headbands on their heads.  Oh, and did I mention the birthday girl's adorable rainbow ruffle skirt?  This magical celebration was captured by Kustom Kreation Photography!
Please give us an overview of the event.
My daughter, Christina told me immediately after her 4th birthday party that she wanted a paint party for her 5th birthday. As her birthday got closer, she said that she would rather have a unicorn party and she wanted it to have rainbows and be magical. Since I already purchased paint supplies, I decided to tie in the unicorn theme with the paint and call it a Unicorn Paint Party. My daughter was a big part of the planning process because I really had no clue how this party would unfold.
What were your playful twists that made the event unique?
For months, I grabbed anything relating to rainbows, unicorns, magic and paint for my daughter's party.
Smartest savings…
I bought the paint favors when school supplies were on sale, I bought watercolors, paint buckets, crayons, markers and anything crafty and put it aside for the party. For the most part, crayons, markers, and paint always make good favors for children.
Did you DIY any of the details?
Determined to keep the paint and unicorn concept magical, I created a dessert table filled with ceramic paint buckets which I bought from Michael's and Hobby Lobby. The buckets came in white with dripping paint in pastel colors so I painted the drippings with acrylic paint using the primary rainbow colors. Colorful aprons were hanging all over the walls for décor and parents were encouraged to grab one for their child to wear before they started painting.
Tell us about the food and desserts.
My daughter's favorite part of planning her party was picking the cake. We found a beautiful design on the internet and since I teach Event Planning I asked one of my students, Certified Event Planner, Monica with Trendy Fun Party to design the Rainbow Unicorn Ruffle Cake with 7 layers of rainbow colors on the inside. The cake was breathtaking, moist, and delicious. Additional treats my daughter requested were mini rainbow sprinkle cupcakes created by S'more Minis and special treats such as sugar cookies, cake pops, and rainbow cupcakes created by Melinda Roberson. Although the table was covered in sweets and fruit, after singing Happy Birthday to my daughter everything was completely devoured in a matter of minutes.
What kind of energy did your entertainment give the event?
For months, I grabbed anything relating to rainbows, unicorns, magic and paint for my daughter's party. To make it unique, we called the paint 'magic potion' and I decided to have a magic show for the party, too. I came up with a bunch of activities relating to painting and coloring but in order to keep the party within a 2 hour time frame, I created activity stations that consisted of face painting, picture painting, easel painting, chalkboard drawing, creating crafts, etc. I wanted to ensure the guests tried to do everything so I created sticker books. For every activity a child completed, they would receive a rainbow sticker in their sticker book. I created a Magical Sticker Station filled with fun prizes so the children could magically turn their stickers into prizes at the end of the event.  All That Jazz did the face painting and provided music, dancing, and a magic show for the children. The kids were very engaged and had a blast participating!!!
What was the most memorable moment?
The most memorable moment was watching my daughter blow out her birthday candles and within minutes the dessert table was completely devoured. The children grabbed anywhere from 2-3 treats at a time and quickly came back for seconds. The kids were so happy and it was fun watching them but it was the fastest I have ever seen treats disappear.
Party Professionals
Event Planning & Design: Helena's Planners | Photography: Kustom Kreation Photography | Invitations & Paper Party Accessories: Ven's Paperie and Sunshine and Pop | Cake: Trendy Fun Party | Magic Wands, Rainbow Cookies, Cake Pops & Rainbow Cupcakes: Made By Melinda | Ceramic Paint Buckets: Hobby Lobby and Michaels | Paint Palette Sugar Cookies: Cookies by Hannah | Rainbow Fondant Toppers: Fondant Fantasy | Rainbow Ruffle Skirt: Atelier Spatz | Paint Apron with Unicorn Logo: Rebekah Crisco | Unicorn Banner: Zoran Stefanovski | Custom Unicorn Head Bands & Mini Horns: Graciosa and BrooklynOwl | Entertainment: All That Jazz | Clear Paint Buckets & Colorful Children's Aprons: Oriental Trading | Rainbow Striped Lunch Boxes & Paint Favors: Target | Colorful Plastic Paint Buckets: Party City | Ruffle Rainbow Piñata: AbitaAchie Pinatas | Rainbow Treat Bags: Inkuitive