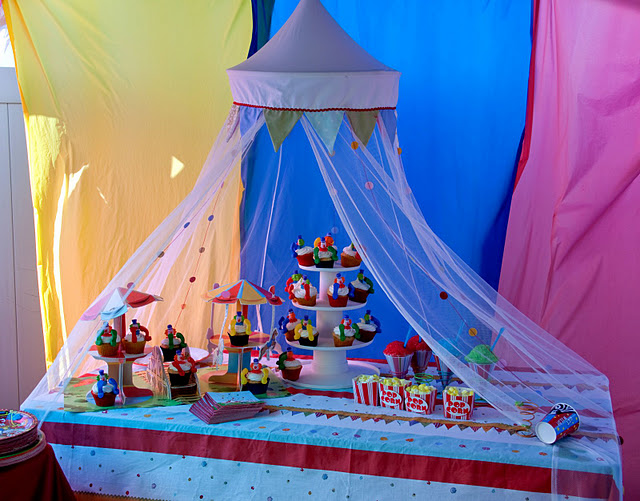 Under the Big Top: Circus Party Ideas
The circus is coming to my town soon and growing up I loved going to the circus. The elephants, the clowns and of course all the sweet treats were always my favorite part about going.  For my 4th birthday I had a circus party and I remember my mom going all out. She had my dad make these wooden clowns that she painted and the cake had circus animals all over it. Well party elements have come along way since 1994 and I have found some really great ideas for putting together your own circus party!
I am a sucker for a good vintage font and these invitations are a vintage font lover's dream.  Perfect for putting together a vintage circus party theme. It also puts together a great color scheme with the red, yellow and aqua- much like the old time-y circuses colors. These are available on Etsy from Lemonade Moments for a great price and has similar printable party elements! (via Lemonade Moments)
Of course it wouldn't be a circus party without a tent! I love this dessert table with the canopy hung above it for a "tent" feel. How adorable are those clown cupcakes too? I know a lot of kids afraid of clowns but you can't be scared of these sweet treats! Other circus food staples include popcorn and my favorite circus treat-snowcones! (via Kara's Party Ideas)
It wouldn't be a fun kids party without games and this party featured all kinds of circus themed games. I love this "Clown Relay" where the kids dress up like clowns with oversized clothes, wigs and bow ties (don't forget the clown shoes!) then race to the finish line without falling down! Some other game ideas may be carnival themed like ring toss or fishing pond. (via The Fickle Pickle)
Photobooths are great ways to capture memories and I love this "clown booth" idea! Set up different silly props like mustaches, fake noses, etc.. and make sure all your guests stop by to strike a clown-y pose. I love how the frame looks like a circus tent and it will make your guests feel like they are taking center ring under your big top! (via Birds Party)
What would be a good idea for circus party favors? Sweet circus treats, of course! I love going to a party where the favor is edible because I know its something I will always use (or eat!). For a circus party, try animal crackers and cotton candy. These are kid-friendly staples that all ages will love. (via Ruby Press)
Now I am wishing I was going to the circus this year or at least a circus party!