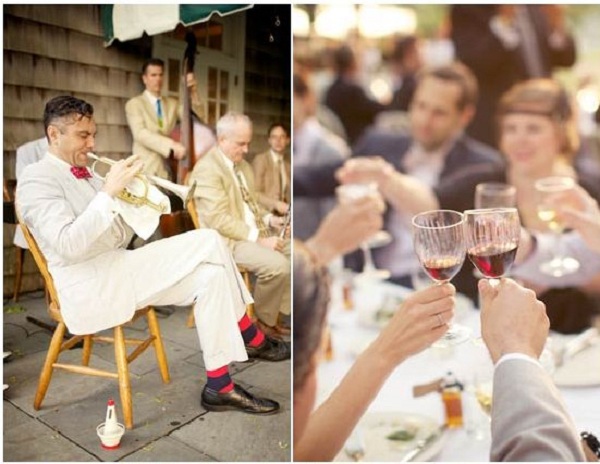 Throw a Roaring Twenties-Inspired Event
In the Gatsby-esque area of flappers, zuit suits, gangsters and jazz, old school glamour reigns supreme. From a wedding, engagement celebration, dinner party, and more, the Roaring Twenties is the perfect vintage vibe for party hosts looking to add a little glitz and glam to their event.  Let your guest sway to Duke Ellington, break out the Charleston, and go back to a time of technological progress, rebelled prohibition, and cultural revolution. Check out these stunning event and fashion photos, and make this defining age the inspiration behind your next gathering.
When planning a twenties-inspired event, channel your inner Zelda Fitzgerald with a long slinky gown and finger-wave curls. This bride nails the twenties look impeccably, radiating both sophistication and charm. I especially love how she pulled off a modern bridal spin on a classic, period-specific look. The key is to find a wedding gown and accessories you genuinely love and feel comfortable in, and not getting too carried away with the idea of a costume. (Photo via Joy Lai)
The Roaring Twenties look is all about that wow-factor of glamour. Layering long pearl necklaces and show-stopping jewels against a simplistic gown takes any look to the next level. Really feeling daring? Try adding a bedazzled headband wrapped around your forehead for a true, flapper-esque vibe. (Photo via Alea Lovely)
From Louis Armstrong to Duke Ellington, some of music's greatest legends originated from the jazz era of the 1920's. Let the musical entertainment take center stage by hiring a jazz band dressed to the nines. A twenties-inspired event should be lively and fun, so hit the dance floor with your guests, and let the saxophone roar through the night with tunes that keep everyone up on their feet. (Photo via Weddings By Two)
The Roaring Twenties was a time of rebellion, liberation, and cultural evolution. Remember the era by throwing a 1920's-themed cocktail or dinner party for you and your friends. Make sure to ask your guests to dress period-specific for some added fun. I love this male twenties look with suspenders, fedora, and a carefree attitude so characteristic to the decade. (Photo via A Cup of Joe)
End a fabulous night by driving away in your Model T Ford, and bask in the memories of a glamorous era recreated.