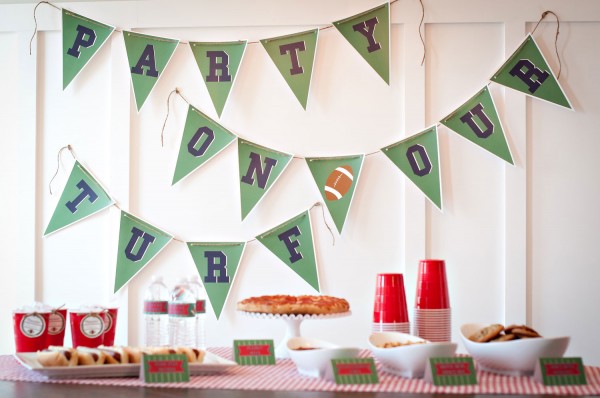 Superbowl Party Ideas: Party on Our Turf
This post is far and away the most exciting one we've had on the blog in some time. Why? Well, with the recent addition of our very own graphic designer Kendra, every photo shoot whim and hearts desire of mine and Heather's has the chance to see the light of day. Prime example: Super Bowl Party Printables! Because let's face it, there is nothing better than FREE + FRIDAY.  So without futher ado, I present to you THE vintage football printable collection, just in time for the BIG game. Available for download at the bottom of this post!
Inspired by the nostalgia of sports fans, history and super bowls of yester-year, we went for a vintage inspired look that was team-neutral. Classic red, white, blue…and turf! The star here is clearly the "Party On Our Turf" bunting — the theme of our mock celebration. Perfect as a backdrop for some delicious eats (we'll get to that later), hang yours with jute for easy (and manly) hanging!
Here our invitation takes center stage! We mounted ours with a little bit of gingham and cardstock — use your creativity! If not, these adorable invites would do just fine on their own, don't you think?
Now everyone knows that staying hydrated is one of the most important parts of the game! We've made it that much easier to take a swig in style with these "Time to Hydrate" and "Party On Our Turf" water bottle wraps. Opting for that famous red solo cup? Keeping track of your refreshing beverage is a cinch with these "Possession" drink tags. Punch a hole in the top of your cup, tie one on and get to the game!
And what's a party without FOOD, right? We've got your staples covered here with out too cute food tents: Touch Down Desserts, Game Changing Chili, Hang Time Hot Dogs, Playoff Pizza and Super Bowl Snack Mix are all available here for your table.
And because we prefer to leave no detail to chance here, we even went ahead and designed these handy dandy labels for your ketchup and mustard. The network has the game covered, we've got the party decor covered, all you have to do is invite your friends and P-A-R-T-Y!