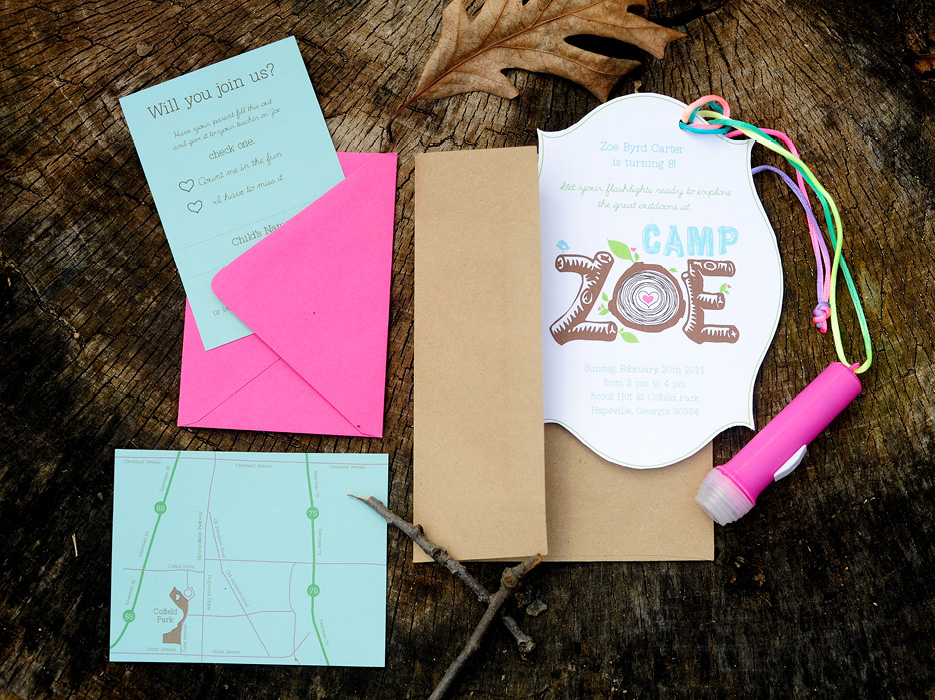 Summer Camp Themed Birthday Party
Party planner Melanie Hernquist of Lucky and Lovely decided that for birthday girl Zoe Byrd Carter, a summer camp theme would be the perfect way to celebrate her active lifestyle and love of the outdoors. Zoe's only request? That the party was f-u-n! As promised, that fun started as soon as guests received their custom invitations. Along with miniature flashlights, guests were invited to celebrate at "Camp Zoe," the birthday girl's very own magical campsite held at The Scout Lodge in Hapeville, GA. Once at the party, guests were decked out in matching hot pink and lime green "Camp Zoe" t-shirts and bandannas. An exciting nature trail hunt complete with custom loot bags kept party-goers entertained, as did the hilarious photo booth where Zoe and her friends used props like over-sized glasses and fake mustaches to create memorable snapshots. As is the case with every birthday party hit out of the park, Zoe's only critique was that the day could have lasted longer. And as for that fun requirement she'd asked for? We think it's safe to say, mission accomplished. Images by AreGrayLine Weddings.
COLORS
Zoe's favorite colors were the inspiration behind everything from the invitations to the photo booth props. Bright green, pink and turquoise painted the party and made everything distinctively Zoe!
CAKE
Made FRESH Daily Cakes played up the summer camp theme by creating a birthday cake with a lifelike tree stump base, on top of which was a miniature Camp Zoe site: tent, official flag and a real burning campfire!
Party Professionals
Photography: AreGrayLine Weddings | Planning, Invitations & Decor: Lucky and Lovely | Venue: The Scout Lodge | Caterer: Sheri Davis Catering | Cake: Made FRESH Daily Cakes | Cookies: Dandy Delights