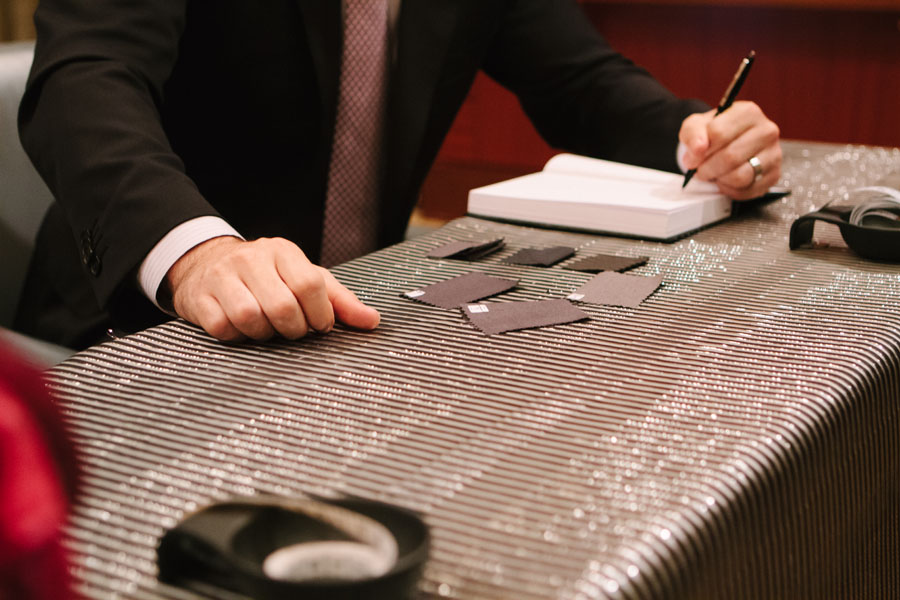 Stylish Team Training Meeting Inspiration
Business meetings can be more than just going over the latest financial reports.  Companies can bring a little internal branding to the table by picking a theme and carrying the details throughout to really energize their team. Inspired by a custom tailoring company's need to train new hires, this corporate event takes team training to a new high by thinking outside of the cubicle for its mostly male staff.  Using popular fabric patterns for suits and incorporating company colors of white, dark berry and black, this business meeting proves when you use the right stuff, your business meetings don't have to be so stuffy.  Photos by Catalina Ayubi Photography!
MASCULINE LINENS
Linens aren't always lace, silk and pretty patterns.  There are table dressings that cater to the boys too.  Here grey and black pinstripes, black quilted leather, and cool geometric patterns by Nuage Designs dressed the tables and bars and carried the masculine theme throughout.
STATIONERY
Kerry's Papery created custom stationery for the meeting by playing off of the linen and suit selections given.  The stationery was used to carry the company branding and logo throughout.
GENTLEMEN'S BAR
Men respond well to bars.  A Gentlemen's Bar was used for the "happy hour" of the corporate sales meeting.  Created with a signature drink with the trending beer cocktail, this was the perfect toast to a productive sales meeting.
Shoot Professionals
Planning & Design: Twenty7 Events | Venue: ONE Bal Harbour | Floral: Ines Naftali Floral & Event Design | Invitations: Kerry's Papery | Linens: Nuage Designs | Hair & Makeup: Niurka Mendoza of MUSE Beauty Suite | Model Jewelry: Ring Finger Studio | Photography: Catalina Ayubi Photography