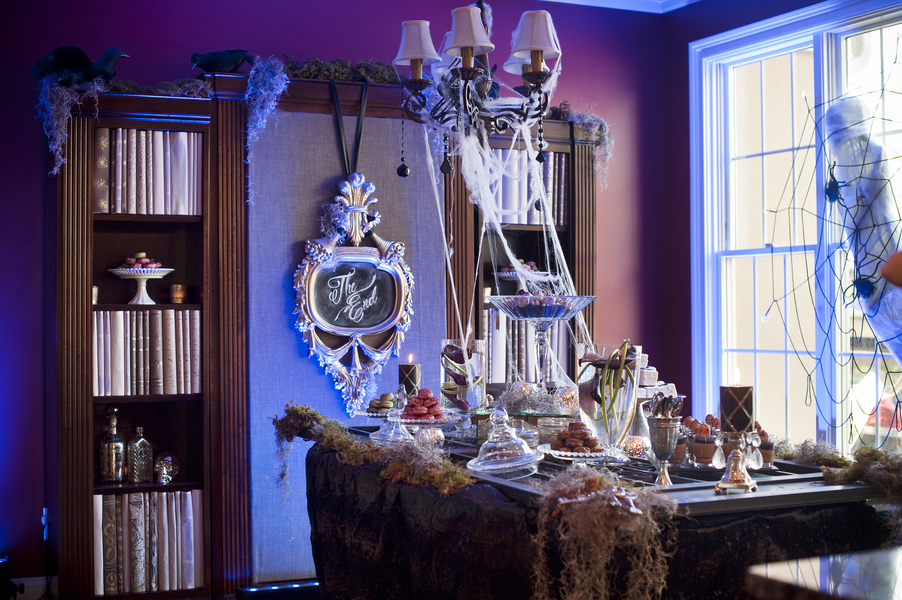 Spooky Halloween Birthday Party
Don't you just love a good Halloween party?  Then take a deep breath, because this chilling celebration is sure to make you shiver!  This spooky soiree was held at the home of Dr. Deborah Franklin.  Her birthday falls on October 31st, and she is known throughout her hometown of Knoxville, Tennessee, for her frighteningly detailed Halloween house parties.  And boy, was last year's event a hair-raiser!  The theme for the affair was "dead celebrity."  The hostess dressed up as the intriguing Queen Marie Antoinette, black spiders placed on her large white wig for an extra touch of horror.  Guests entered the front doors of the doctor's home to find cobwebs dangling from the ceiling, old skulls, stone statues, and stuffed animals seen in every nook and cranny.  Jars of hearts and creepy critters certainly kept everyone on their toes!  However, it was in the eery red lighting of the bedroom where the haunting theme of dead celebrity was brought to life.  Come along for a taste of terror with these images by Jennie Andrews Photography!
The dead wreaths hanging on the front doors of the house were certainly a bad omen of things to come!
Spooky objects were scattered all about the living room.  I'm sure I'm not the only one who thought of the chilling tales Edgar Allan Poe upon seeing the stuffed raven!
Holly's Eventful Dining provided the mouthwatering fare for the party.  Try some, if you dare!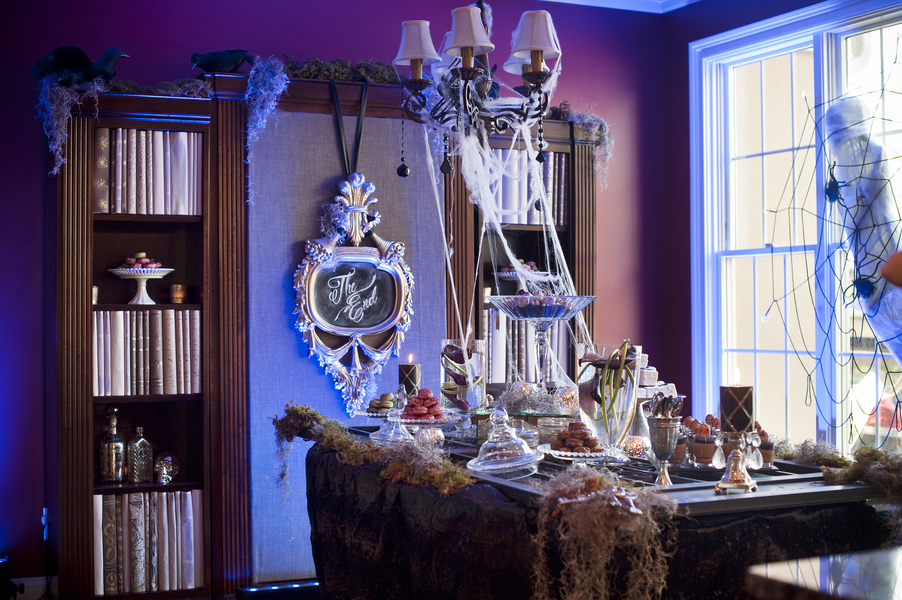 It was in the luxurious bedroom that the dead celebrity theme truly sprang to life.  Soft red lighting illuminated the images of old hollywood stars hanging from the walls.  And guests who decided to take a step into the bathroom were in for another surprise!
Party Professionals Event Design & Floral: Whimsical Gatherings | Photography: Jennie Andrews Photography | Catering: Holly's Eventful Dining |  Rentals: All Occasions Party Rentals | Lighting: Ogle Entertainment | Marie Antoinette Wig Maker: Stefanie Lindorfer | Petit Fours: Rita's Bakery | Hearse Rental: Grim Limos | Tarot Card Readings: Tea and Tarot | Film Producer: Ryan Flesher, MD | Character Portraits: Genna Sellars Photography | Paparazzi Photos: Adam Sullivan Photography | Red Carpet Emcee: Michelle Carringer | Band: Flying North