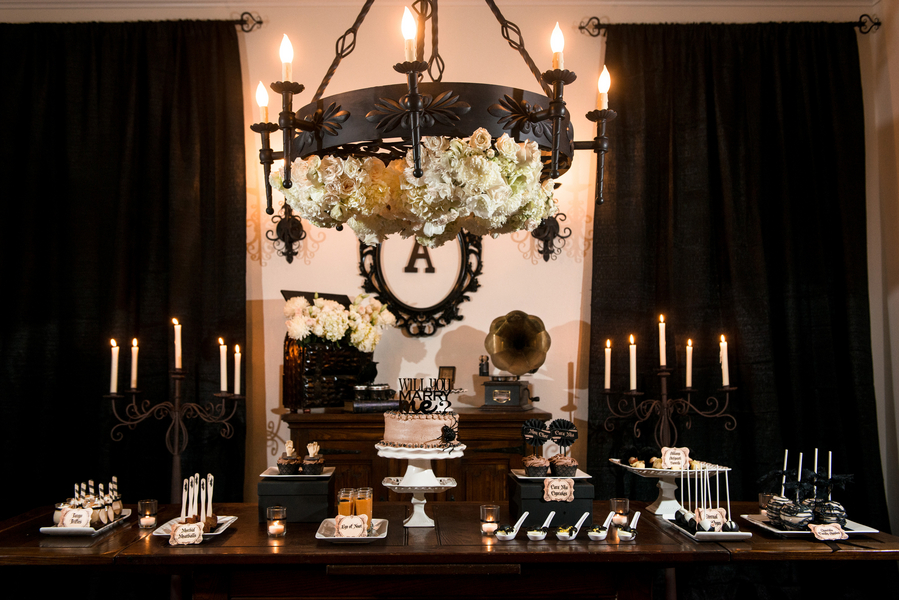 Spooky "Addams Family" Engagement Party Theme
When it comes to on-screen couples, few can rival the chemistry and romance of The Addams Family pair, Morticia and Gomez.  Without a doubt, the relationship between this classic television duo is a flawless blend of spookiness, elegance, and deep, passionate love.  So when many talented Florida vendors joined forces with Dorangela Bobet to create a styled shoot centered around Loralee Lewis's "Haunted Mansion" paper suite, a Halloween engagement party inspired by Morticia & Gomez Addams quickly sprang to life.  Chilling tones of black and tobacco pervaded the scene, splashes of white and cream lending a touch of sophistication.  The mysterious aura of dark wood furniture, burning candles, and a wrought iron chandelier was perfectly complimented by the delicate grace of pale hydrangea arrangements scattered about the scene.  And the decadent desserts including "Tango Trifles" and devil's food cake?  Wickedly delicious!  Almost too pretty to be scary, photos of this shoot are brought to you by Marc Edwards Photographs!
THEME
The theme is a Spooky Engagement. The colors were so dark and rich that The Addams Family's Morticia and Gomez came to mind. Such a great classic television couple, and I designed all of the details to play off that with some fun tongue-in-cheek details. The underlying theme is elegance, and my love of all things Spanish Revival come through in the wrought iron details and rich tobacco wood furnishings.
ITEMS TO INCORPORATE
Dark wood furnishings, wrought iron details like we had in the candelabras and chandeliers. Themed drinks, a cigar bar with lots of cigar boxes. Also lots of gorgeous feminine florals to soften it up and add romance.
PERFECT FOR
This particular shoot would be perfect for a couple who loves halloween, and or The Addams Family. It is so elegant that with very few changes it could be used as a wedding reception, birthday party as well. This would be gorgeous at a historic venue or a Spanish revival style building. I designed this shoot for a fabulous paper designer Loralee Lewis. Her work has always inspired me and I was honored that she would entrust me with creating a story surrounding one of her paper suites.
COLORS
Cream, taupe, browns, black and tobacco
FLOWERS
The flowers were a huge part of this styled shoot. There were all gorgeous shades of ivory and blush roses, hyacinth and lisianthus. My favorite floral arrangement in this shoot is the installation hanging off the wrought iron chandelier. It was absolutely breathtaking and they smelled divine! We had a vintage wine box bursting with flowers, as well as an antique cigar box with a soft bouquet as well.
WHAT TO WEAR
Although we did not photograph it (I was feeling a little camera shy that day) , as per usual when I'm working on a design I become completely absorbed in it until it is perfectly executed. I wore a long, floor-length fitted lace dress with a nude color lining that fanned out a bit at the bottom. Straight middle parted long hair and some bold red lipstick, with a huge chunky statement ring. Something I could totally see Morticia Addams wearing. As the invitation states, "Black is such a happy color" so definitely black dresses are in order. The gentlemen in some smart suits and a pinstripe or two for good measure would be fabulous! If this was to be carried out even one step further, I would ask the guests to dress in Addam's Family inspired upscale clothing, not costumes, but loose interpretations of the characters. I would totally wear a Morticia or Wednesday inspired gown to this party!
THINGS TO REMEMBER
This party would be amazing for a Halloween bride! But if Halloween isn't necessarily when you are getting married this would be stunning in a historical venue, in particular a Spanish Revival style building full of gorgeous archways and wrought iron. If you remove some of our more specific Addams Family details such as the "Thing" hands coming out of the cupcakes, the owls and the more "themed" details like those this could totally be a classic elegant Spanish Revival style party or wedding. There is a fine balance in creating something like this to not become too "theme based" or "cutesy." I start off with classic and elegant details first to make it upscale, then add a few fun and specific details like the smoking cigar drinks, the hand coming out of the cupcakes, the Gomez and Morticia cake pops to tie it into the theme. Well thought out without overdoing it.
PRICING
For all our florals and furniture rental it would cost approximately $1200, (this does not include some of the furniture that I already own and is in my home where this was shot, such as the table, sideboard, wrought iron chandelier). The stationery suite for would cost at least $200-$300 dollars depending on the number of invitations (obviously here we only needed a few and the signs and food cards were custom designed for us). For the desserts and food, depending on the number of guests, I would say from $800 and up. This includes cake, desserts, fondant pieces etc.  This would be heavily driven on the number of guest. In this shoot this would be for a smaller party of say 15 people or so. The custom wooden boxes that were featured would cost about $100. The vintage decor such as the Victrola, vintage wine boxes and cigar boxes are from my own collection but I am sure those could be rented. Same with the cake stands and platters and the peacock chair all which are my own.
SIGNATURE COCKTAIL
We had to include some signature cocktails in this shoot! For Morticia we created the Morticia Black Martini, just took a classic martini, dyed it black and then garnished it with a bamboo pick skewered with blueberries. For Gomez we created the Smokin Gomez, it was a yummy cocktail with Malibu rum and Pineapple juice, we dyed it brown and added a tiny piece of dry ice to make it "smoke" then we had some custom made mini fondant cigars to rest on the glass so it looked like it had smoke coming out of it.
TAKE IT UP A NOTCH
To take this party up a notch I would have a complete cigar bar station complete with on the spot hand rolled cigars. For entertainment you have got to have an elegant couple wearing Morticia and Gomez signature style and of course dance the tango. In my book you can never have too many flowers, I would have the whole venue bursting with floral arrangements and wrought iron candelabras surrounding the entire venue.
Shoot Professionals
Shoot Styling, Catering & Desserts: Two Prince Bakery Theater | Photography: Marc Edwards Photographs | Paper Suite: Loralee Lewis Event Paper & Fine Stationery | Floral & Decor: FH Weddings & Events | Cake Pops: Painted & Sprinkled | Cake Topper: Miss Sarah Cake | Fondant Cigars & Hands: Frog Prince Cake & Cookie Design | Beer Bottle Holder: Big Sky Rustics | Ring Box: Woodburned Doodles | Peg Dolls: Craft That Party | Wooden Cutlery: Sucre Shop | Tutu Food Skewers: TiTi's TuTu's