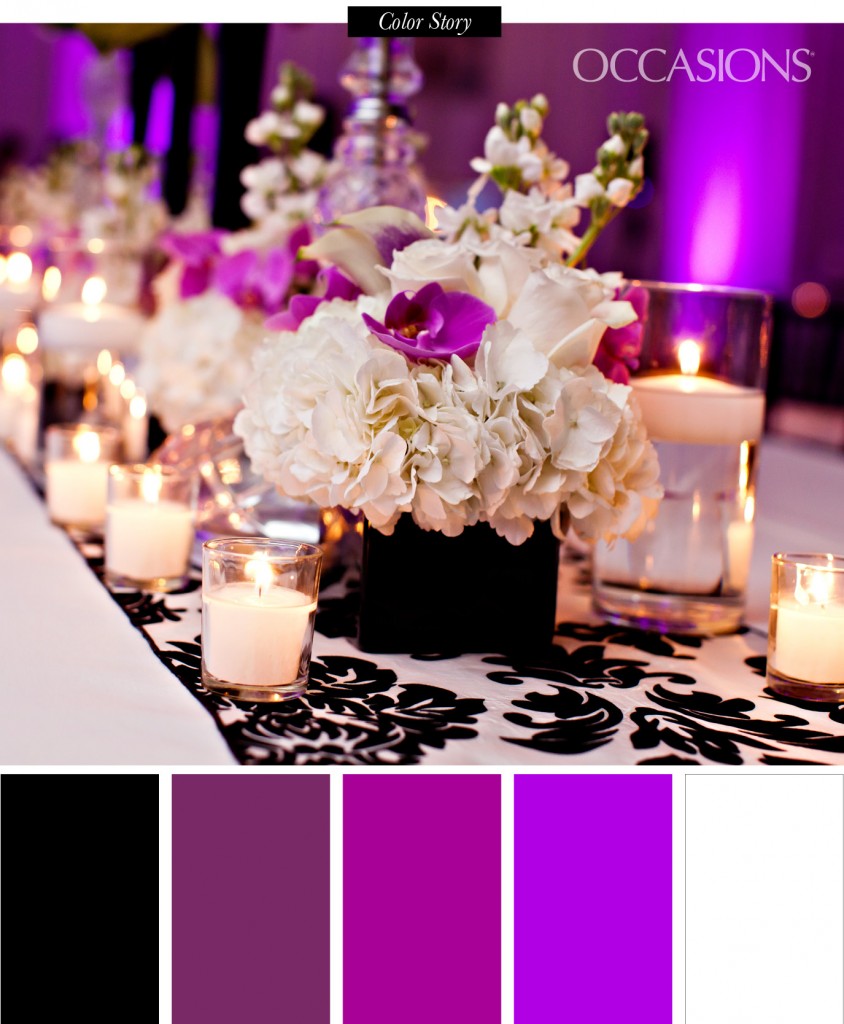 Sophisticated Black, White, and Purple Quinceanera
It's not every day a girl turns fifteen.  And for girls of Hispanic heritage, fifteenth birthdays are a passage from childhood to adulthood recognized with an extra-special celebration!  The key focuses of Megan's quinceanera?  Lavish, sophisticated, and over-the-top fun!  Held at the JW Marriot Miami, JCG Events made certain that Megan's party was a night that all would remember!  The room was a rich display of purple, black and white decor, damask table runners streaming down tables covered with white linens and magnificent centerpieces of candles, hydrangeas, and orchids.  After enjoying their fill at various food stations, the teenagers created mocktails and carried them to the dry ice station where a mixologist transformed their beverages into slushies.  Crazy hats and glasses were donned at the interactive photo booth before guests were drawn to the glossy white dance floor, where the DJ, dancers, and stilt walkers had partygoers grooving all night long!  Learn more about this celebration from planner Jessica Masi herself as you devour these photos by PS Photography!
Was there a specific theme or style?
There was no theme, it was all about the design of the event- from the damask pattern details in black and white and splashes of purple which created for an elegant and sophisticated take on a typical quince.

What were your playful twists that made the event unique?
Yes! There was a dry ice bar which took the teens non-alcoholic beverages into a slushy drink which no one had seen this before. The social media interactive photobooth was also a huge hit. The DJ booth with the plasma LED screen which allowed the teens to see the DJ mixing allowed for a more energetic party.
Tell us about the food and desserts.
The food stations were created so there would not be a formal sit down and guests could eat throughout the night. The slider station and martini mash station were both a huge hit- allowing for guests to choose their own toppings.

Splurge on….
Entertainment when it comes to a quince or a teen event.
What kind of energy did your entertainment give the event?
The DJ kept everyone on the dance floor and the entertainers – stilt walkers and dancers bought the event to another level.

If there was one thing you could change, what would it be?
There really would not be one thing we would change. All the guests were raving about what a great time they had and there was only positive feedback.

Party Professionals
Venue: JW Marriot Miami | Event Planning & Coordination: JCG Events | Cake: Edda's Cake Designs | Floral: EC Floral Design and Events | DJ: EMG | Entertainers: Junior's Entertainment Group, Inc. | Lounge Furniture: AFR Event Furnishings | Photobooth: South Beach Photobooth Company | Dry Ice Slush Station: Light F/X Pros | Videography: Concept Lounge Creations | Photography: PS Photography