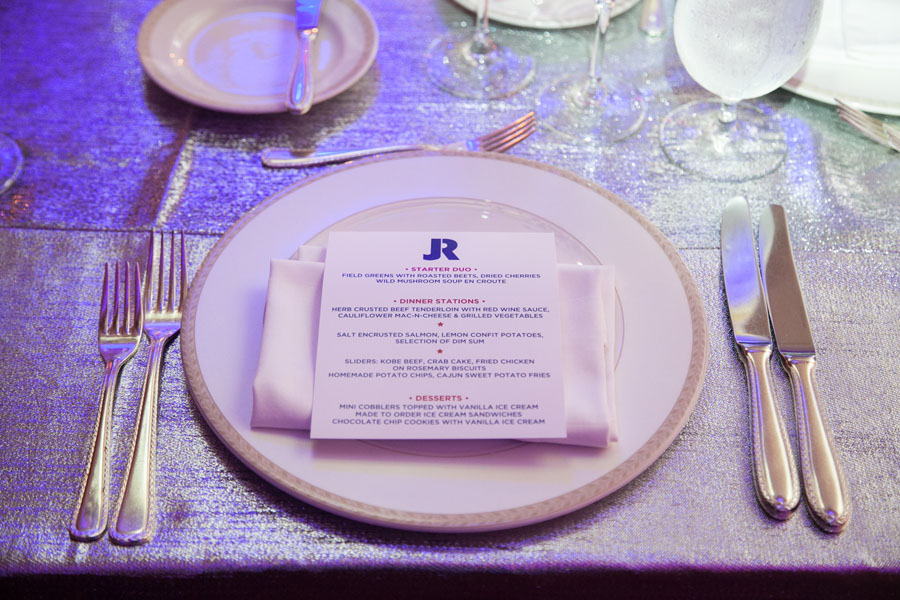 Sleek White, Blue & Red Bar Mitzvah
Following an elegant Bar Mitzvah service, Jared and his family wowed guests with a celebration that knocked their socks off!  A sleek, navy "JR" logo greeted guests at the door, and while the adults began the evening mingling and enjoying cocktails, Jared and his friends had a blast in a smaller ballroom of the InterContinental Buckhead Atlanta, playing various arcade games including Pop-A-Shot Basketball, air hockey, and simulated golf.  After that, kids and adults together entered an even larger ballroom for the main festivities: a sight that left everyone wide-eyed and speechless!  The Bar Mitzvah boy's logo flashed on giant screens set up above gleaming, multi-level dance platforms complete with LED lighting.  An abundance of sweets including lollipops, rock candy, and gummi worms was offered at the candy bar, giving guests a sugar-high that sent them flying to the dance floor.  Sunnie Dae of Rhythm Entertainment
provided a fun, hip-hop atmosphere for all, and after various dance contests were had and won, all gathered their tokens from the party and bid Jared farewell!  Photos brought to you by Wittmayer Photographers!
Party Professionals
Photography: Wittmayer Photographers | Venue: InterContinental Buckhead Atlanta | Event Planner: Sharon Fisher Events | Floral & Design: Bold American Events | Videography: Dewitt Smith Video | Green Screen & Airbrush Sweatshirts: Button It Up | DJ: Rhythm Entertainment | Games: Amusement Masters | Invitations: Presentech
Planning a Bar/Bat Mitzvah? Purchase a copy of our all-new Mitzvah Guide here!