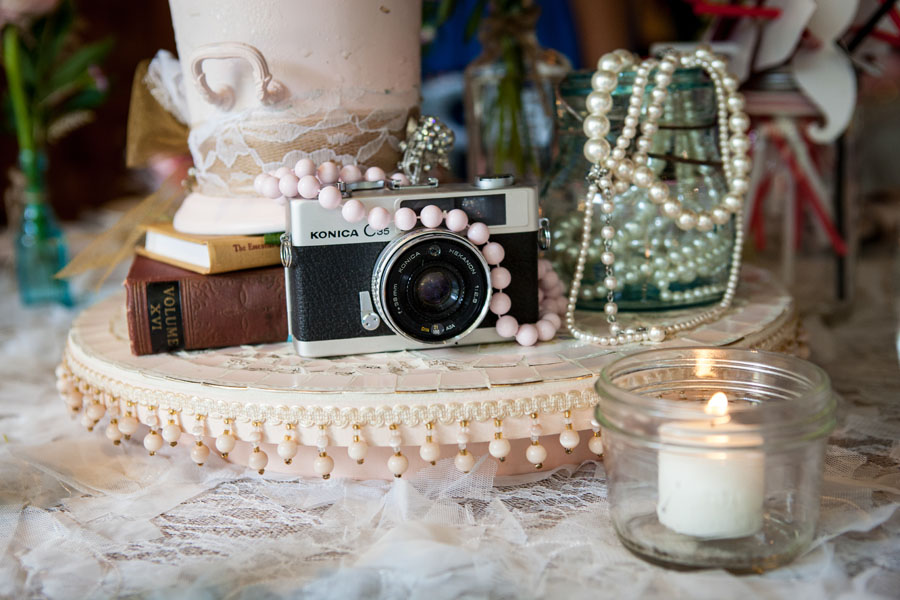 Shabby Chic Bridal Shower
Folks, I'm in love!  It began the instant I saw the first photo of this event, and the feelings only deepened as I continued to look through the rest of these gorgeous images!  The style of this bridal shower was "shabby chic," and goodness did this party at Sundy House live up to that theme!   Exquisite lace tablecloths adorned the tables, the centerpiece on each a unique and charming arrangement of antique objects including pearls, bottles, books, and cameras.  Playful arrangements of brightly colored peonies, tulips, and daisies were scattered about the space, and in the corner was a small step ladder offering cupcakes baked into mason jars — a treat for each guest to bring home at the end of the celebration.  Debra and Shane beamed with joy as they mingled with their guests at the opening of the celebration, and the cocktail hour was followed by a delicious meal and a time of fun, games, and laughter!  This oh-so-pretty occasion is brought to you by NEOART photography!
What were your playful twists that made the event unique?
The favors. We ordered bath fizzies on Etsy.com and we placed them in cupcake holders on cake pedestals. When the guests arrived, the room was filled with the scent of the bath fizzies, and they all thought they were pastries. When we would tell them they were bath fizzies, they were all shocked. Each guest, took a brown egg crate container to the fizzie bar and was able to pick 6 difference scents.
Was there a specific theme or style? What inspired it?
Shabby Chic. I am quite the girly girl, so we wanted pink, lace tablecloths, and pearls, but mixed with the rustic side of country.

What was the most memorable moment?
We ordered straws with mustaches and lips attached to them and each guest was provided with one. Our photographer took several photos with all of our guests drinking out of them. It was so much fun having everyone grouped together sipping out of straws with mustaches and lips on them.

Party Professionals
Photography: NEOART photography | Event Planning & Design: Diana Whiteman | Floral: Daniel Events | Venue & Catering: Sundy House