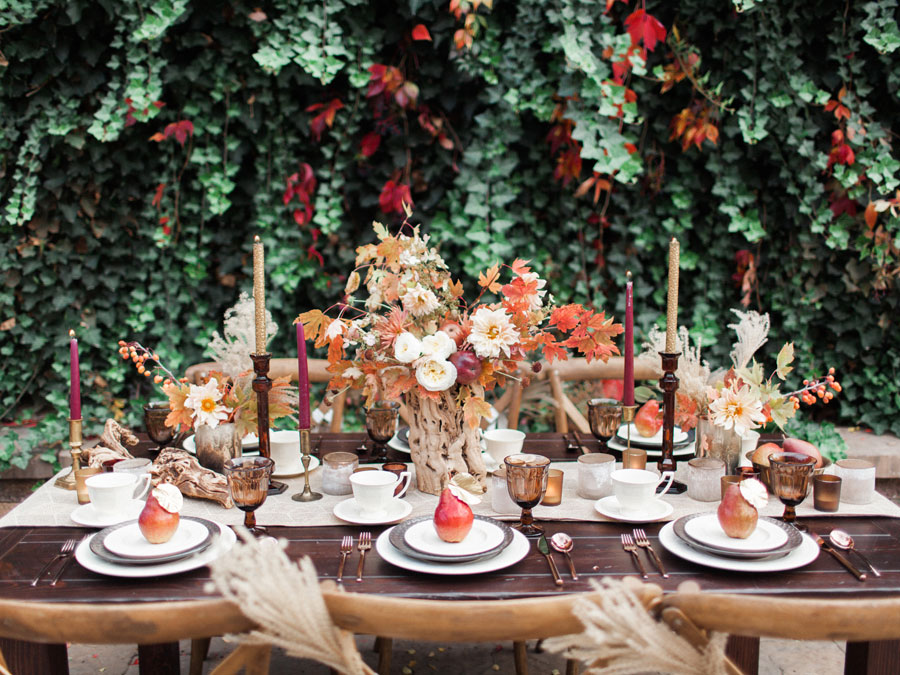 Setting the Perfect Thanksgiving Table
I love Thanksgiving, so I may be biased in saying that setting a Thanksgiving table doesn't have to be stressful.  In my opinion, the perfect Thanksgiving table is warm and inviting – yes – but that's achieved by the good food and great company! You can set a gorgeous Thanksgiving table with many items you already have, mixed with a few special elements like gold flatware or special stemware. These simple purchases can instantly take your Thanksgiving table to the next level.
I've seen some pretty gorgeous tablescapes lately, and what I've learned is this: don't be afraid to play with patterns and incorporate a variety of textures on the table. I'm a new believer in combining patterns and elements, and I'm slowly realizing I shouldn't take myself too seriously when setting a holiday table.  It's meant to be a gathering place for family friends, and doesn't have to be over the top or crazy.
Below, I've rounded up a handful of items that can spruce up your table a bit, and that still lend themselves to mix well with items you already have at home. The main thing missing in this roundup for me is a gorgeous, cascading runner with fresh florals. So dreamy!
Stakes a little higher to impress your guests on Thursday? Check out the six finalists in the recent Holiday Styling Challenge for truly awe-inspiring tablescapes.

1 – Daphne Gold Red-Wine Glasses | 2 – Portofino Dinner Plate | 3 – Festival Napkins, Clover | 4 – Gold Flatware | 5 – Suits Napkins | 6 – Piper Woven Placemats | 7 – Bunny Williams Gilded Fruit | 8 – Daphne Gold Stemless Wine Glasses