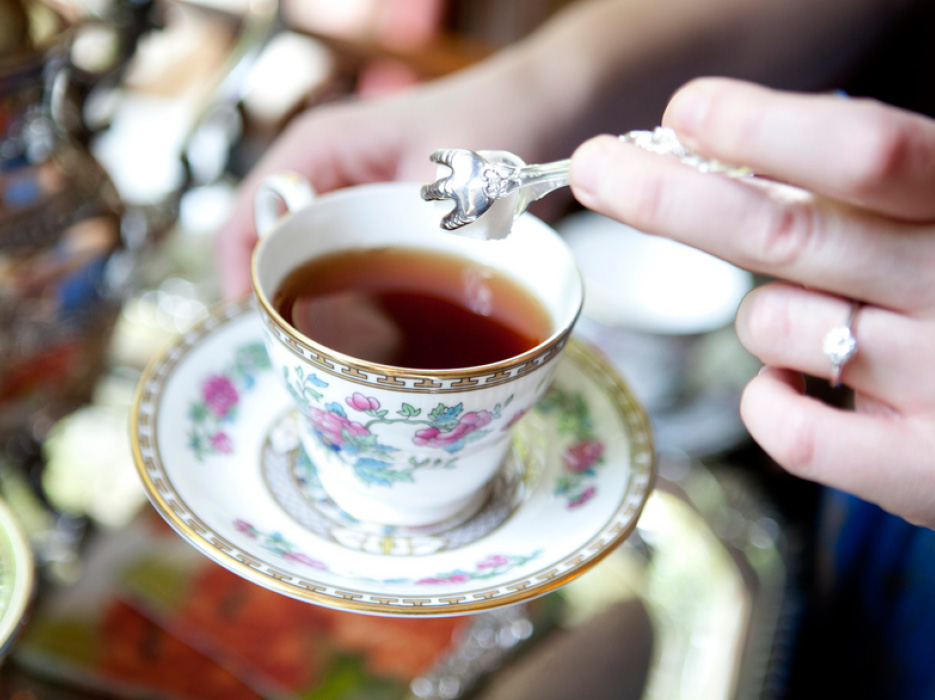 Royal Tea Party Themed Bridal Shower
On April 29, 2011, millions sat eagerly before their television screens, oohing and aahing as they watched Kate Middleton, clad in a breathtaking gown of satin and lace, wed prince of her heart — and prince of the United Kingdom! — William. One such individual (who even took a personal day off work to see the real life fairytale) was Katie Wilson, so when Katie herself became a bride-to-be, it didn't take long for her friends to decide on the perfect theme for her bridal shower: royal tea party. Katie was amazed at the flood of details poured into the event. Royal purple picture frames containing her engagement photos were placed about the room, British favorites like scones and salmon mousse were included in the cuisine, and a photobooth with British royalty props added lots fun and laughter to the occasion! Sample a taste of royalty with this celebration photographed by Pink Shoe Photography!
Can you give us an overview of the event?
I am a royal fanatic. I took a personal day from work to watch the royal wedding of William and Kate, and I have quite a collection of tea cups and coffee mugs commemorating Britain's sweetheart couple. When my friends Blake, Jenica and Andrea came to me with the idea of this bridal shower, there were two special people involved (though they didn't know it.) At the forefront of the shower-planning were Will and Kate. The girls decided that the royal couple would be the inspiration for the theme of the celebration. I couldn't have been more excited! From the royal invites to the scones and tea with sugar cubes, the party was aglow with a British air. One of the hosts of the shower was my wedding photography partner, Jenica. She came up with the smashing idea to not only photograph the party, but she also included a photo booth with royal props. She knows how much I love a good photo booth, so this was such a special surprise! A 'brilliant' time was had by all, and at the end of the day, we all had a pretty tough time removing our lovely headpieces.
Was there a specific theme or style?
Royal Bridal Shower

What inspired the theme or style?
My affinity for British Royalty inspired this bridal shower.

What were your playful twists that made the event unique?
My photography partner, Jenica set up a homemade photo booth with a props table. And all around the house were framed photos of my and John's engagement photos. The photos were in matching royal purple picture frames. They even had a double-picture frame with a photo of the Duchess on one side, and me on the other!! I thought I would never stop laughing at that one! The favours were also unique. Each guest left with a tea bag of my favorite tea (Stash's Earl Grey) that was fastened to a vintage handkerchief. This was such a cute touch!
Did you DIY any of the details?
No, I love surprises, and I wouldn't have wanted to spoil any of the amazing things that the girls planned.
What was the most memorable moment?
The most memorable moment was when I walked in and saw how beautiful everything was. The shower was hosted at my bridesmaid Blake's lovely family home, and the girls transformed the house into a high- tea setting fit for royalty. I just loved walking around and looking at all of the little touches. They put so much thought into every detail, and that just made me feel so special!

Tell us about the food and desserts.
The food was wonderful. We feasted on the usual delicious bridal shower food, like petit fores and tiny little sandwiches, but the hostesses didn't stop there. The dining room's spread featured British fare, like scones and Salmon mousse, but we also had my favorite southern dip: pimento cheese! My husband's cousin, Layne, made the scones, petit fours, and other sweet treats in her bakery, Sweet & Sinful. And what's a bridal shower without champagne?! The girls had a make-your-own Bellini station that had fresh fruit, juices, and chilled champagne. They were delicious!
If there was one thing you could change, what would it be?
I would have curled my hair like Kate's. Yep, I said that. Ha!

Party Professionals
Photographer: Pink Shoe Photography | Desserts: Sweet & Sinful | Bride-to-be's Dress: Asos UK | Invitations: Designed and printed by hostesses | Location: Private Home | Favors: Stash Tea and Vintage Handkerchiefs