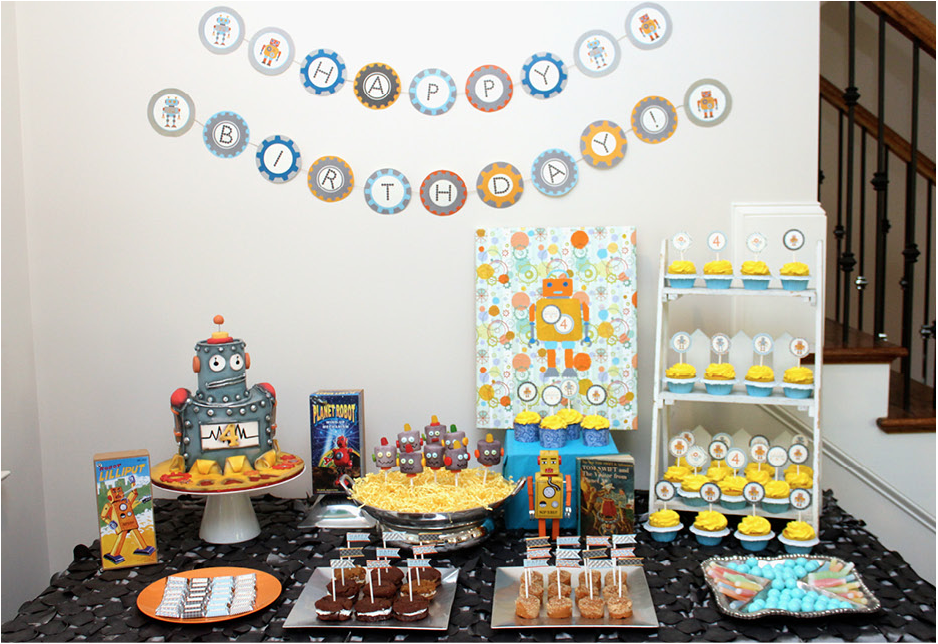 Robot Themed Birthday Party
When trying to come up with a cool new party idea, sometimes the greatest inspiration stems from our past! Take Sam's fourth birthday party for example. Event designer Lauren Weems found all the inspiration she needed in the retro robots of the 1960's, when America found itself swept up in the romance of all the space age had to offer. With a four year old friendly theme, Lauren began scouring flea markets and antique shops to find props like wind-up metal toy robots and books with titles like "Tom Swift and the Visitor From Planet X" to use for the party. Quirky, watercolor robots were featured on the custom invitation stationery and served as the design motif for so many of the party's adorable details, like the birthday crown and welcome sign. Guests celebrated the big day with a bounce house, face painting and completely decked-out sweets bar including: cupcakes, robot marshmallow pops (made by Lauren herself!), whoopie pies, mini muffins, gumballs, wax bottle candy, animal crackers and more! Add in a jaw-dropping robot cake from Not a Crumb! and a magic show from clown, Mrs. Teapot, and you've got the recipe for happy birthday bliss! Images by Inije Photography.
DESIGNER'S TIP
To save money, I found a stationery company on Etsy where you can purchase a "Birthday Party Customizable Pack." Pick your theme, and send in your child's party info, and they'll email you a PDF file that you can print out and assemble yourself!
THEME
Stuck on finding a party theme that's just right? Think outside the big box party store and hit antique stores, old book stores and other alternative inspiration locations, you never know what you'll find!
DESSERT
A certain highlight of the day was the incredible cake by Christine of not a crumb! An exact replica of the retro robot used on Sam's party invitation, the colorful confection was a true show stopper! "The detail she put into it was amazing, from the silver gears on the robot to cutting Sam's name out of fondant on the tray," said event designer Lauren Weems.
ENTERTAINMENT
Even with scrumptious treats, birthday presents and friends galore, this party wasn't complete until Mrs. Teapot the clown arrived! A favorite of Sam's, she happily interacted with the crowd and added extra sweetness to the afternoon delight.
Party Professionals
Photography: Inije Photography | Event Design & Styling: Adorned Event Design| Linens: I Do Linens | Cake: Not a Crumb! Exquisite Cakes | Stationery: Anders Ruff | Entertainment: Mrs. Teapot Clown and Bouncy House Rental